3D Systems Corporation Soars and Seagate Technology PLC Dives on Flat Day for Stocks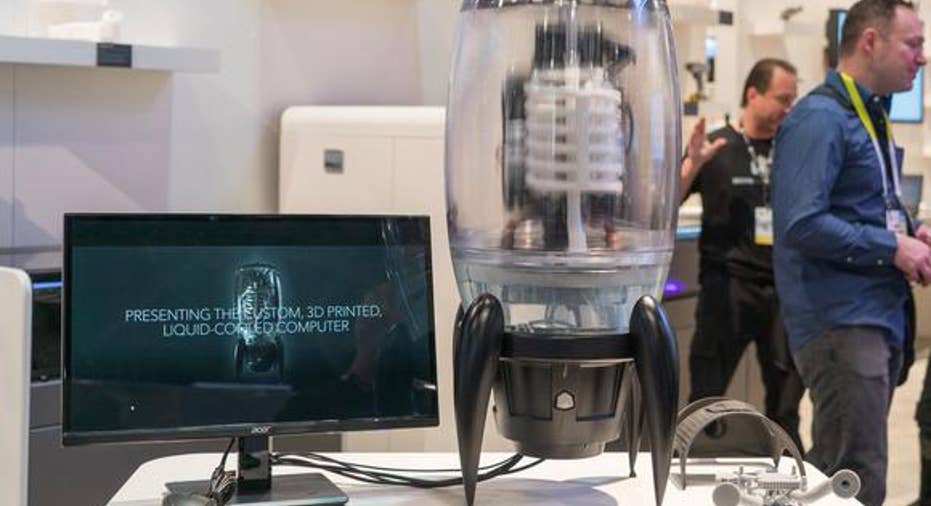 Following two straight days of significant gains, stocks barely budged on Thursday. The Dow Jones Industrial Average rose 18 points, or 0.1%, while the S&P 500 finished flat at 2,083 points. Both indexes are in solidly positive territory for the year:
Data by YCharts
A few stocks, however, saw notable swings. 3D Printing specialist 3D Systems and storage maker Seagate Technology were two of the biggest movers on Thursday.
3D Systems catches an upgrade3D Systems shares rose by as much as 19% before ending the day up 10% following an enthusiastic Wall Street upgrade. An analyst at Bank of AmericaMerrill Lynch issued a dramatic about-face, raising shares to a buy rating from the prior sell recommendation. In addition, Bank of America hiked its price target from $11 to $26 per share.
Source: 3D Systems
According to thefly.com, analyst Wamsi Mohan believes that the appointment of a new CEO will mark a turning point for 3D Systems' operations as cost cuts begin to accrue and a more focused product portfolio delivers higher profitability. In other words, Mohan sees a turnaround coming for this beaten-down stock.
Thursday's jump adds to an impressive run for 3D Systems, which rose 37% last monthand has now more than doubled year-to-date, though shares are down over the past year. While still operating in a weak environment, executives believe that cash flow, sales growth, and profitability can all improve through initiatives like shifting away from the consumer-printing space, reducing headcount, and attacking growth categories in the industrial and professional sectors. Buying shares here amounts to agreeing with that vision in the hopes that 3D Systems recovers from the slump that produced operating losses last year on nearly zero sales improvement.
Seagate gets surprised by a demand shift Seagate Technology was the worst-performing stock on the S&P 500, diving 20% after management issued surprisingly weak preliminary results for the fiscal quarter that ended on April 1. The hard drive specialist now sees revenue coming in at $2.6 billion rather than the $2.7 billion executives had forecast. Profitability will also decline to 24% of sales, they said, instead of rising to 26% as originally projected.
Source: Seagate
"We are disappointed that we did not anticipate the weaker demand in the March quarter," CEO Steve Luczo said in a press release. The management team offered several explanations for the poor showing, including weak sales of HDD enterprise products and desktop products in the Chinese markets.
More generally, demand for relatively smaller drives appears to be falling as cloud services make it easier for end users to manage data remotely. This is a long-term positive trend for Seagate, Luczo said, but it could hurt results in the meantime.
Management warned that "many complex issues" in the market right now are combining to make it unusually difficult to forecast demand. Yet it is clear that the hard drive business is being disrupted. As a result, Seagate will need to adjust its operating structure to reflect the new market realities. "The company is in the process of prioritizing our strategic positioning, manufacturing footprint, and operating expense investments to achieve the appropriate level of normalized earnings," Luczo said. Investors can expect to hear more details on these initiatives when Seagate posts its fiscal third quarter earnings on April 29.
The article 3D Systems Corporation Soars and Seagate Technology PLC Dives on Flat Day for Stocks originally appeared on Fool.com.
Demitrios Kalogeropoulos has no position in any stocks mentioned. The Motley Fool recommends 3D Systems and Bank of America. Try any of our Foolish newsletter services free for 30 days. We Fools may not all hold the same opinions, but we all believe that considering a diverse range of insights makes us better investors. The Motley Fool has a disclosure policy.
Copyright 1995 - 2016 The Motley Fool, LLC. All rights reserved. The Motley Fool has a disclosure policy.