3D Systems' Best Moves in 2016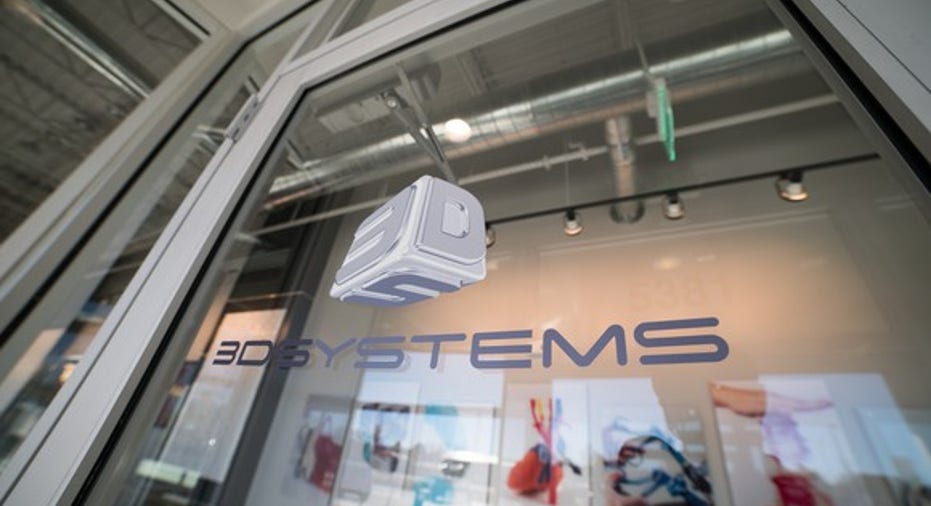 3D Systems' (NYSE: DDD)business has been having another tough year in 2016. Since early 2015, the company and fellow diversified 3D printing leader, Stratasys, have struggled to grow revenue amid a slowdown in demand for their enterprise 3D printers.
While 3D Systems has made some poor moves over the past several years, it's made a few solid moves in 2016 that have helped spur some positive market sentiment. While the company's business continues to struggle, its stock is having a great 2016, as it's up 71%, as of Dec. 5 -- a welcome bounce for longtime investors who have watched the stock get clobbered since 2014.
Here are 3D Systems' best moves, to date, in 2016.
Image source: 3D Systems.
1. Naming a new CEO with some relevant big-company experience
After what turned into a five-month search for a permanent CEO, in April, 3D Systems named Vyomesh Joshi to the top spot. Joshi was a longtime top printing exec at 2D-printing goliath HP Inc. back when it was Hewlett-Packard before the split into two companies.
While it seems a positive that 3D Systems' chose someone with Joshi's background, I'm neutral on the man himself at the moment, based upon the three quarterly earnings calls in which he's been involved.
2. Cleaning house in the C-suite
One thing Joshi has done right was making cleaning house in the C-suite one of his top priorities. In June, 3D Systems announced the resignations of its chief operating officer and chief marketing officer -- it's probably safe to say that both individuals were forced out. Neither of these positions has been filled.
Soon thereafter, the company announced a changing of the guard in the top financial spot, with John McMullen becoming the new CFO on July 1. McMullen had been serving as CFO at Eastman Kodak when his former colleague came knocking, as he worked with Joshi at the former Hewlett-Packard.
Whether 3D Systems' former CFO, COO, and CMO were performing their jobs well or not is partially irrelevant.It's common for CEOs who have been hired to turn around struggling companies to part ways with C-level execs so they can can choose their own top teams. This move was especially critical in 3D Systems' case, because the company, according to Glassdoor ratings, has long had a poor corporate culture -- which will often cause good talent to leave. Corporate culture starts at the top and is notoriously difficult to change, which means that anything but a major sweep at the top isn't likely to be effective at bringing about meaningful positive changes.
3. Developing Figure 4 technology
Image source: 3D Systems.
Earlier this year, 3D Systems introduced a new 3D printing technology that it's been developing called Figure 4. In September, the company demonstrated an updated version of this tech at the International Manufacturing Trade Show in Chicago.
Figure 4 is a robotic, modular, stereolithography (SLA) 3D printing system that the company claims is 50 times faster than conventional SLA technology. Given its speed and other key features, 3D Systems views this tech as a key component of its strategy to capitalize as 3D printing shifts from a primarily prototyping technology to one that's used in a wider range of production applications.
Joshi said on the third-quarter earnings call that Figure 4 is at least two years away from commercialization. While the technology appears impressive, the proof will be whether 3D Systems announces that it's working with some top-tier manufacturing companies on its development and how well it sells once it's commercialized.
4. Completely exiting the desktop 3D printer market
In the third quarter, 3D Systems completed its exit of the desktop 3D printer market by discontinuing making the CubePro and CubeJet, which are models generally targeted at professional users and more advanced consumers, respectively. Last December, the company discontinued its entry-level consumer model, the Cube.
Joshi said on the earnings call that this move was made so the company can redirect resources to advancing technologies that it views as more promising, specifically metal 3D printing and Figure 4. Exiting what's essentially the consumer market is a good move, as this is generally a low-margin market.
Bottom line
There have been some positive happenings at 3D Systems in 2016 that have sparked some optimism, boosting the company's stock. However, the stock performance has gotten ahead of the company's business performance, in my opinion. Investors should be cautiously optimistic, as 3D Systems is not out of the woods. It's still struggling to grow revenue -- year-over-year revenue inched up just 3.2% in the third quarter -- and still posting losses from a generally accepted accounting principles (GAAP) basis.
10 stocks we like better than 3D Systems When investing geniuses David and Tom Gardner have a stock tip, it can pay to listen. After all, the newsletter they have run for over a decade, Motley Fool Stock Advisor, has tripled the market.*
David and Tom just revealed what they believe are the 10 best stocks for investors to buy right now... and 3D Systems wasn't one of them! That's right -- they think these 10 stocks are even better buys.
Click here to learn about these picks!
*Stock Advisor returns as of Nov. 7, 2016
Beth McKenna has no position in any stocks mentioned. The Motley Fool recommends 3D Systems and Stratasys. Try any of our Foolish newsletter services free for 30 days. We Fools may not all hold the same opinions, but we all believe that considering a diverse range of insights makes us better investors. The Motley Fool has a disclosure policy.