3D-Printed Shoe Race: Under Armour: 1; Nike, Adidas, and New Balance: 0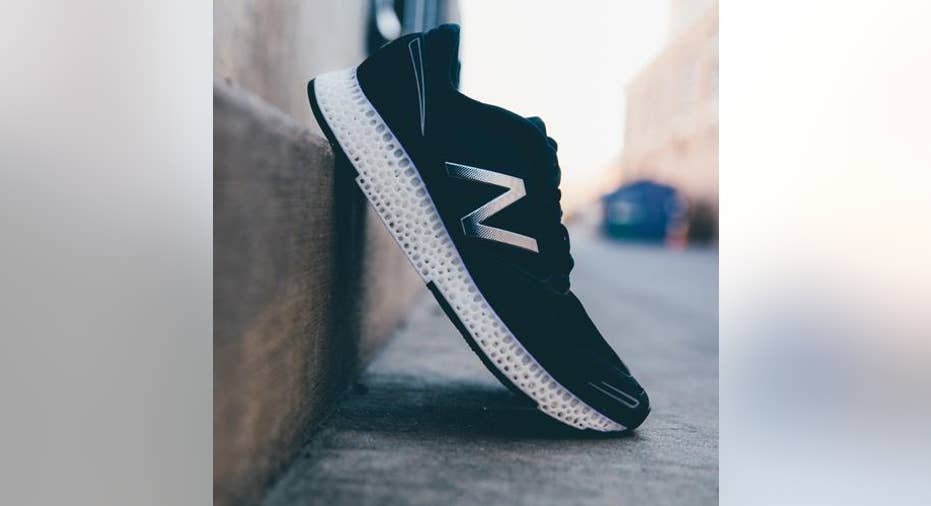 On March 7, athletic apparel giant Under Armour introduced its first partially 3D-printed performance training shoe, the UA Architech, which sports a 3D-printed lattice-structure midsole. The shoe was available for $300 in a very limited edition of 96 pairs on March 18 via the company's website and at its flagship Brand House store in its hometown of Baltimore. It sold out online before 7 a.m. that day, according to my check.
Under Armour was founded in 1996, so the limited edition number "ties" into the company's 20thanniversary celebration. More significantly, however, this launch vaulted the relative newcomer to the athletic shoe category ahead of industry goliathsNike and Adidas and well-established New Balance in the race to offer a 3D-printed athletic shoe to the general consumer market.
Here's what you should know.
Image source: Under Armour.
The UA ArchitechUnder Armour decided to release a 3D-printed all-purpose training shoe in part because its competitors are working on 3D-printed running shoes and in part because the company's roots are in training, Under Armour vice president of outdoor and training footwear Chris Lindgren told SI.com.
The Architech is a multipurpose trainer, which means an athlete can go from an exercise such as weight training to sprinting without changing shoes. In order to accomplish this "feat," Under Armour had to design the shoes to be stable yet lightweight, and provide significant flexibility and cushioning. The secret sauce is the 3D-printed lattice-structure heel, which is produced from a combination of polymers and elastomers that "makes it soft enough and strong enough to protect and provide structure, but with cushioning underfoot," SI.com quoted Lindgren as saying.
Under Armour has reportedly been working on the Architech for two years. The process involved studying various different geometric shapes and structures in nature and architecture -- hence, the shoes' name -- to develop a midsole design best suited for a quality multipurpose trainer.Notably, Autodesk's Within software was used to generatively design the lattice midsole, which required 3D printing to produce, as it couldn't be made using traditional manufacturing techniques. Generative design is an emerging technology where a computer algorithm creates structures based on criteria like durability, flexibility, and weight. Autodesk Fusion 360 software was also used in the shoe's development.
Under Armour reportedly worked with more than 80 athletes who tested and provided feedback on the countless iterations of the trainer, which were tested for more than 120 hours both by athletes and in the company's lab. The rapid prototyping involved was enabled by 3D printing.
Under Armour reportedly plans to release several other 3D-printed shoe models this year.
Under Armour dashed past New Balance for this win
New Balance's 3D-printed running shoe will launch in April in Boston. Image source: New Balance.
The Architech's release means that Under Armour sprinted ahead of New Balance to become the first company to offer a 3D-printed athletic shoe to the general consumer market. Privately held, Boston-based New Balance announced in November that it plans to launch a limited edition 3D-printed running shoe in Boston this April -- no doubt to coincide with the Boston Marathon on April 18 -- and then in select New Balance retail locations around the world.
The two titans in the athletic shoe business, Oregon-based Nike and Germany's Adidas, are currently no-shows in this competition. However, both announced last October plans to step-up their use of 3D printing to include producing customized athletic shoes for the general consumer market. Adidas unveiled Futurecraft 3D, its concept for a running shoe with a 3D-printed midsole customized to provide the right fit and cushioning for a specific consumer's foot. Nike's announcement at its investor day event didn't provide any details. Both companies have used the innovative technology to make extremely limited edition, customized spikes for athletic shoes for elite athletes.
Customization: the Olympics for 3D-printed shoes
The future of the UA Architech and other 3D-printed athletic shoes? Customization. Image source: Under Armour.
Under Armour's win in the race to become the first company to sell 3D-printed athletic shoes to the general public is impressive; one would have thought that the industry biggies would have moved a little faster to secure this victory. It's great PR, and first-mover advantages can be lasting. (New Balance, however, will become in April the first company to sell a 3D-printed running shoe to the general consumer market, unless one of its competitors makes a last-minute plunge for the finish line.)
The much bigger prize in terms of revenue and profit, however, lies ahead with customized 3D-printed athletic shoes. This product category should explode in size as 3D-printing technology further advances. It seems probable that within just a couple of years, consumers will be able to go into select athletic shoe companies' retail stores to have their feet digitally (excuse the pun) scanned or will do the scanning in the comfort of their homes. In the latter scenario, they'll upload the scan and other relevant information with their order. The shoes will then be 3D-printed, perhaps by a partner company, and shipped to the customer.
Such customized shoes will surely be priced at a premium, allowing for a greater profit margin (at least eventually) for athletic shoe companies. Investors looking to profit from this trend could consider investing in Nike, Adidas, and Under Armour. Share of the former two have raced to total returns of nearly 30% and 53%, respectively, for the one-year period ending March 18, leaving the S&P 500's flat performance in the dust. Under Armour has returned 4% over the same period, though it's the longer-term winner, with a five-year return of 433% that considerably outpaced Nike's 264% and Adidas's 101% returns.
The article 3D-Printed Shoe Race: Under Armour: 1; Nike, Adidas, and New Balance: 0 originally appeared on Fool.com.
Beth McKenna has no position in any stocks mentioned, but as a Fool 3D-printing specialist and longtime runner, finds this story to be like Christmas in...March. The Motley Fool owns shares of and recommends Nike and Under Armour. Try any of our Foolish newsletter services free for 30 days. We Fools may not all hold the same opinions, but we all believe that considering a diverse range of insights makes us better investors. The Motley Fool has a disclosure policy.
Copyright 1995 - 2016 The Motley Fool, LLC. All rights reserved. The Motley Fool has a disclosure policy.