3 Worst Performing Stocks in November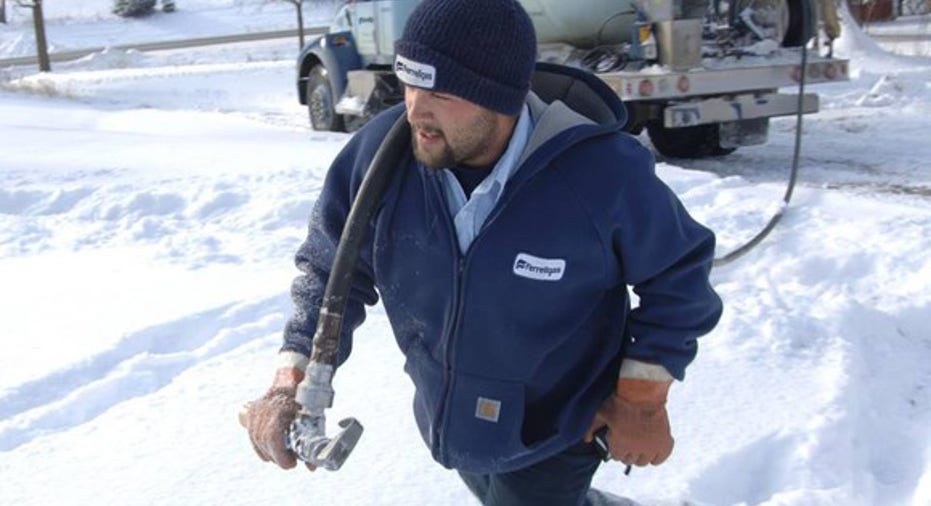 The stock market may be rising after November's elections, but these stocks cratered. Image source: Getty Images.
November will be remembered as a month of tumultuous upsets, a time when millions will be giving thanks for bringing to a close a tumultuous year. Sure, there's still December to go through, but compared with everything else that's gone on in 2016, fighting the crowds for Christmas gifts this month will seem as strenuous as sipping a cup of hot cocoa on a cold, wintry day.
A chill wind is blowing
There's also an investing saying that when it comes to November, the last shall be first and the first shall be last. Over time, the so-called "November Effect" takes the stock market's winners over the past 11 months and turns them into losers, while taking the losers during that period and catapulting them into winners.
The three following stocks don't seem to be victims of mutual fund "window dressing," one of the prominent theories of the November Effect, which holds that funds end their fiscal years on Oct. 31 and sell off their worst performers to offset the capital gains on their winners, as well as to look more impressive to investors.
No, these three companies weren't having a great year as it was, but November was even worse for them, making them among the worst performers in the entire market this month. Let's jump in to find out why.
Image source: Ferrellgas Partners.
Ferrellgas Partners, down 36.3%
Propane distributor Ferrellgas Partners (NYSE: FGP) wasn't exactly having a bad year in 2016, as its shares traded in a fairly consistent band between $15 and $20 a share through most of the summer, but the bottom fell out of the stock in September, when the master limited partnership reported a steep net loss of $668 million, or $6.68 per unit, compared with analyst expectations of a loss of just $0.34 per unit and last year's net loss of $59 million. Then the CEO said he was stepping down.
Shares fell 20% on the day, kept falling thereafter, and have now lost two-thirds of their value since, 36% of it in November alone. Ferrellgas got slammed after slashing its quarterly distribution 80% to just $0.10 per unit from $0.5125, after losing its biggest customer, Jamex Transfer Services.While the unusually mild weather in 2016 caused propane demand to fall, it's looking as if it will be a very chilly winter for Ferrellgas Partners investors.
Image source: Fitbit.
Fitbit, down 37%
Shares of wearable-technology leader Fitbit (NYSE: FIT) look like the screen of a heart-rate monitor as the stock has bounced up and down all year long, but its third-quarter earnings report at the start of November sent the fitness-band maker plunging.
While Fitbit managed to meet analyst profit expectations of $0.19 per share, revenue came up short at $504 million, $3 million less than what Wall Street was anticipating. Worse, its guidance for the fourth quarter of at most $750 million widely missed consensus forecasts of $985 million. Investors are worried that Apple (NASDAQ: AAPL) may be stealing more of its market share with the new Apple Watch 2.0 it released in September than previously thought. Since its IPO in June at $20 a share, Fitbit stock has lost 57% of its value and more than a third of it this month alone. Such a deep plunge is bound to give anyone heart palpitations.
Image source: Getty Images.
Diplomat Pharmacy, down 38.9%
There just no diplomatic way of putting it: Diplomat Pharmacy (NYSE: DPLO) was the worst performing stock in November, losing 39% of its value.
Having recovered from a poor financial report in March, the specialty pharma operator started sliding in March, as it also reported a mixed bag of results in quarterly earnings in August. But that turned into a massive rout at the start of November, when third-quarter results also undershot expectations.
While it had solid revenue growth for the period, rising 24% to almost $1.2 billion, more than half of that figure came as a result of Diplomat's acquisition of TNH Advanced Specialty Pharmacy. Coupled with price concessions made to Medicare Part D plans and a switch from old, more profitable drugs to new, lower-margin ones, it was a less than inspiring performance.
Diplomat was hit especially hard in its hepatitis C business and in direct and indirect remuneration fees, which led to a big reversal in its guidance for the year. Where it previously expected revenues of $4.5 billion and $4.9 billion, it now anticipates they'll come in only between f$4.4 billion and $4.6 billion, while earnings have also been revised downward to between $0.83 and $0.87 per share compared with its prior forecast of between $0.90 and $0.95 per share.
More acquisitions could help turn Diplomat Pharmacy's shares around, but investors have been less than diplomatic about selling off its stock.
10 stocks we like better than Ferrellgas Partners When investing geniuses David and Tom Gardner have a stock tip, it can pay to listen. After all, the newsletter they have run for over a decade, Motley Fool Stock Advisor, has tripled the market.*
David and Tom just revealed what they believe are the 10 best stocks for investors to buy right now... and Ferrellgas Partners wasn't one of them! That's right -- they think these 10 stocks are even better buys.
Click here to learn about these picks!
*Stock Advisor returns as of November 7, 2016
Rich Duprey has no position in any stocks mentioned. The Motley Fool owns shares of and recommends Apple and Fitbit. The Motley Fool has the following options: long January 2018 $90 calls on Apple and short January 2018 $95 calls on Apple. The Motley Fool recommends Diplomat Pharmacy. Try any of our Foolish newsletter services free for 30 days. We Fools may not all hold the same opinions, but we all believe that considering a diverse range of insights makes us better investors. The Motley Fool has a disclosure policy.