3 Ways Wal-Mart Stores Is Countering Amazon.com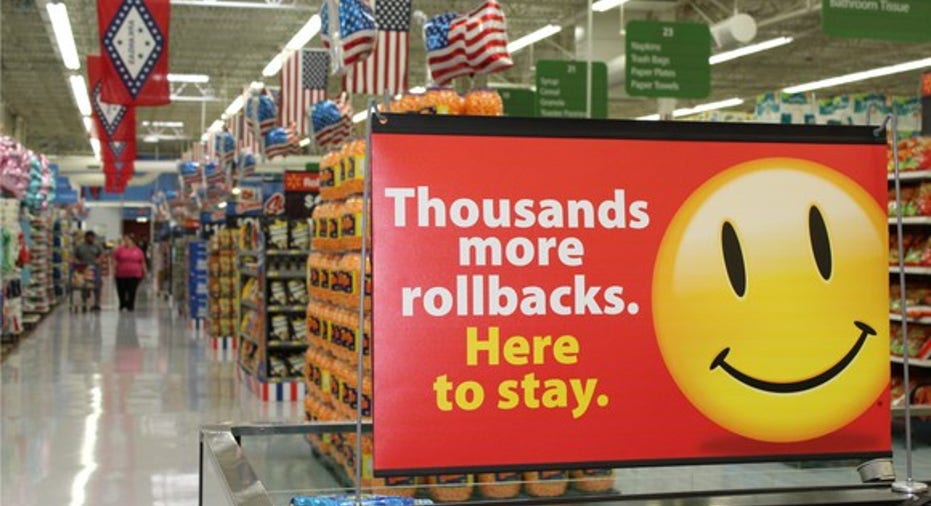 Shares of Wal-Mart have rallied 20% since the beginning of the year, thanks to a return to positive revenue growth, higher U.S. comps growth, and stronger cash flows from lower inventories last quarter.
Image source: Wal-Mart.
That was an impressive rebound from last year, when the stock plunged to multi-year lows on doubts that Doug McMillon -- who became the company's fifth CEO in2014 -- could reinvent the company by investing billions of dollars on higher wages, employee training, and an e-commerce expansion to counter Amazon . A look back at Wal-Mart's sales growth in comparison to Amazon's over the past decade shows why investors were skeptical.
Source:YCharts
Nonetheless, McMillon has made it clear that Wal-Mart plans to counter some of Amazon's most aggressive tactics instead of sitting idly by as it becomes a showroom for online purchases. Let's take a look at three key ways Wal-Mart is finally fighting back.
Matching Amazon's prices
Many of Wal-Mart's stores became showrooms for Amazon purchases because shoppers would walk in the store, scan an item with their phones, and buy the cheaper product online. To counter that habit, Wal-Mart started offering to match the prices of Amazon and other online retailers in 2014. This was a risky move, since Wal-Mart paid higher overhead costs to run brick-and-mortar stores -- meaning that it was accepting lower margins than Amazon.
Amazon fought back by blurring the lines with its $99 per year Prime memberships, which offer special discounts and free shipping on select items. Wal-Mart won't match Prime prices because they're considered "club" discounts, but it can't ignore this growing problem -- Amazon's Prime membership base in theU.S. rose 35% year-over-year to 54 million in January, according to research firm CIRP.
Countering Amazon Prime
To fight back against Amazon Prime, Wal-Mart recentlyintroduced ShippingPass, which gives shoppers free two-day shipping on any item for $49 per year. To counter Amazon's 30-day trial of Prime, which CIRP claims converts 73% ofusers to paid memberships, Wal-Mart is offering a month of freeshipping for trial customers. This move might steal some thunder from Amazon's Prime Day off-season sale in July.
Wal-Mart is also striking back against Amazon Prime Fresh, Amazon's $299 per year plan which adds free same-day grocery deliveries to its basic Prime package. Wal-Mart's plan is much simpler -- it's adding free curbside pickup of groceries in several markets. Itrecently expanded that service to about 200 locations in 30 cities.
Digital ecosystem expansion
Wal-Mart is doing an admirable job blocking Amazon's blows, but it's woefully behind in terms of digital expansion. Amazon tethers millions of users to Prime by offering them access to free e-books, music, videos, cloud storage, and other perks.
When combined with free shipping and discounts, Amazon Prime becomes a very lucrative bundle for many shoppers. Amazon's recent introduction of buttons for automatic reorders, appliances which reorder consumables, and the Echo speaker all strengthen its grip on Prime members. That's why CIRP estimates that 91% of Prime members renew their memberships after the first year.
Wal-Mart's attempts to grow a digital ecosystem have been clunky and fragmented. It stopped selling Amazon's Kindle and started selling its own e-books for mobile devices. In 2010, Wal-Mart acquired its own on-demand video streaming service, Vudu, but the service has been overshadowed by bigger subscription-based services like Netflix, Hulu, and Amazon Prime Video.
Last year, Wal-Mart launched the Vudu Spark, a streaming stick intended to challenge Amazon's Fire TV Stick, but the device trails far behind Roku, Chromecast, Fire TV, andApple TV in U.S. market share.
The Vudu Spark. Image source: Vudu.
Wal-Mart also recently expanded itsown payment app, Walmart Pay, to over two-thirds of the U.S., but that app is mainly designed to counter Apple Pay instead of streamlining payments across its digital ecosystem. Unless Wal-Mart can somehow bundle all these platforms into a single package with ShippingPass, it's unlikely that it can fully match Amazon Prime's appeal.
The quest to become number two
Wal-Mart is currently the world's largest brick-and-mortar retailer, but its e-commerce revenues accounted for just 3% of its constant currency sales in2016. Wal-Mart is the fourth largest e-commerce company in the world by sales, according to Deloitte, trailing behind Amazon, Apple, and Chinese e-commerce giant JD.com -- in that order.
No one really expects Wal-Mart to overtake Amazon, but its new strategies could remind customers that Amazon isn't the only provider of free shipping and steep discounts. This e-commerce push, which cost nearly $1.3 billion in investments last year, will likely weigh down earnings but prevent it from fading away like other forgotten retailers.
The article 3 Ways Wal-Mart Stores Is Countering Amazon.com originally appeared on Fool.com.
Leo Sun owns shares of Amazon.com. The Motley Fool owns shares of and recommends Amazon.com, Apple, and Netflix. The Motley Fool has the following options: long January 2018 $90 calls on Apple and short January 2018 $95 calls on Apple. Try any of our Foolish newsletter services free for 30 days. We Fools may not all hold the same opinions, but we all believe that considering a diverse range of insights makes us better investors. The Motley Fool has a disclosure policy.
Copyright 1995 - 2016 The Motley Fool, LLC. All rights reserved. The Motley Fool has a disclosure policy.