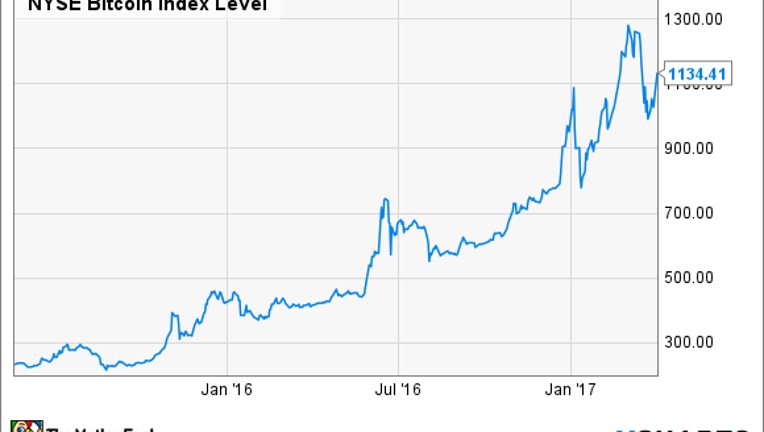 Investors in bitcoin have enjoyed an incredible year. Twelve months ago, the price for one unit of the cryptocurrency stood at just about $420. As I write, one bitcoin trades for $1,045 -- an approximate 149% gain in just one year.
However, the dramatic rise in bitcoin over the past year doesn't begin to tell the story of its volatile trading history. In late 2013, the trading price for one bitcoin was over $1,100. By January 2015, the price had plunged again, this time to under $200. Following this incredible drop, the digital monetary unit began its current meteoric rise. This instability is inherent in investing in a currency that is not backed or regulated by any national government, or based on something of tangible value, like gold. Check out this chart showing bitcoin fluctuations.
It's not just the currency's stomach-churning volatility that turns some people off from investing in bitcoin. The lack of regulation or palpable value behind the currency causes many people to consider bitcoin somewhat akin to Monopoly money. On the other hand, the blockchain technology behind bitcoin has a chance to be disruptive across so many different industries and investors might be more willing to get behind that.
Blockchain technology is essentially a publicly distributed ledger. When transactions using this technology are completed, they are recorded on the newest "block." When a block's capacity is filled, it is added to the end of the "chain" in linear order. This way of transferring money, supplies, or other assets eliminates the need for each transaction to go through various middlemen, like brokerages, payment processors, and even banks. The fewer third-parties involved in facilitating transactions, the fewer players that take a small cut.
Here are three companies that clearly see many opportunities ahead for this potentially transformative technology, and that are working to incorporate it in their respective fields.
Image source: Getty Images.
Blockchain's impact on the financial industry
Count Broadridge Financial Solutions, Inc. (NYSE: BR) CEO Rich Daly among those who see the opportunities for blockchain technology in finance. Last summer, Daly wrote in Forbes:
Broadridge Financial handles mundane tasks for brokerages and financial institutions such as facilitating proxy votes and processing equity trades. The company believes blockchain technology can streamline these processes, making them faster, cheaper, and more secure.
In the same editorial quoted above, Daly lists syndicated loans as an example where blockchain technology would accomplish these goals. Syndicated loans, Daly states, currently take up to 20 days to settle in a labor-intensive process. With blockchain, the process would be much faster and would cost less in legal fees and to close.
Last September, Broadridge made its latest investment in this space, buying the technology assets of Inveshare, Inc. for a total of $135 million. The acquisition was for the sole purpose of accelerating Broadridge's use of blockchain technology in its proxy business.
Revolutionizing equity trading
Nasdaq, Inc. (NASDAQ: NDAQ) is the world's second largest stock exchange and has been experimenting with blockchain technology for years. In the final days of 2015, Nasdaq announced it had completed the first issuing of a private company's shares to an investor via blockchain technology on the company's Linq platform.
The use of blockchain technology eliminated the need to issue paper stock certificates and "significantly" reduced the transaction's settlement time, according to Nasdaq, which believes the technology holds the same promise for stocks sold on the public markets. In the press release announcing the historic transaction, Nasdaq CEO Bob Greifeld said:
This isn't the only way Nasdaq has experimented with using blockchain technology. Earlier this year, the company successfully used the technology to process proxy voting on its Estonian exchange. It is now contemplating whether to use the same process for proxy voting across all of its exchanges.
Big Blue's blockchain bet
Perhaps no company has more invested in blockchain technology than International Business Machines Corp. (NYSE: IBM). The company just launched IBM Blockchain, a platform that will enable enterprise customers to build applications in IBM's cloud using blockchain. The company believes its cloud-based blockchain offerings -- a type of blockchain-as-a-service -- will differentiate it from its many cloud competitors.
Image source: International Business Machines Corp.
CEO Ginni Rometty believes it cannot be overestimated how important blockchain technology is to the company's future. In the company's 2016 annual letter, she stated:
Rometty says the company is currently working with over 400 clients on blockchain initiatives. These offerings are as diverse as using the platform to work with Wal-Mart Stores to track food inventory, and with the London-based start-up Everledger to track diamonds.
Broadridge Financial, Nasdaq, and IBM are multibillion-dollar companies with many moving parts. Their futures do not hinge on blockchain technology, but each is aiming to use it in ways that will cut costs, allow for faster service, or differentiate their business services from competitors. All three companies are avenues investors can explore to gain decent exposure to blockchain technology without buying bitcoins.
10 stocks we like better than IBMWhen investing geniuses David and Tom Gardner have a stock tip, it can pay to listen. After all, the newsletter they have run for over a decade, Motley Fool Stock Advisor, has tripled the market.*
David and Tom just revealed what they believe are the 10 best stocks for investors to buy right now... and IBM wasn't one of them! That's right -- they think these 10 stocks are even better buys.
Click here to learn about these picks!
*Stock Advisor returns as of February 6, 2017
Matthew Cochrane has no position in any stocks mentioned. The Motley Fool owns shares of Broadridge Financial Solutions. The Motley Fool recommends Nasdaq. The Motley Fool has a disclosure policy.