3 Ways That SodaStream Can Bounce Back in 2016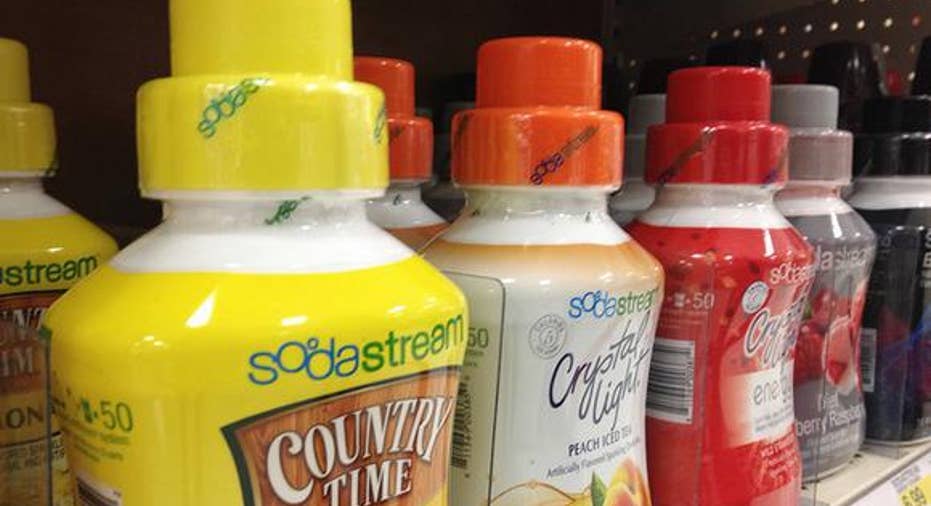 A brutal year forSodaStream investors only got worse during the final trading day of 2015. SodaStream shares slumped 9% on Thursday, bringing its slide to 19% for the entire year.
It's a rough year, but it certainly wasn't as bad as the 59% plunge stockholders experienced in 2014.
There wasn't any material news behind the stock's slide late last week. It may be instinctive to blame tax-loss selling for the swoon, but shares of SodaStream actually moved 12% higher through all of December. The stock's $16.31 close is SodaStream's highest monthly close since July.
This doesn't mean that SodaStream is turning the corner. Sales are still in a funk, and the brand is as rudderless as it's ever been. However, there are plenty of things that can go right in 2016 after back-to-back years of double-digit percentage declines. Let's go over three things that can make SodaStream a market darling again.
1. New machines might come to the rescueSodaStream systems aren't selling briskly these days. Sales of SodaStream beverage makers plunged 28% in the third quarter of last year since the same period a year earlier. Folks are still fizzing up still water through SodaStream machines. A record 7 million CO2 refills were sold during the same quarter, 10% more than a year earlier.
SodaStream is hoping that new platforms will woo back hobbyist mixologists. This past summer it pointed to the late 2016 release of Mix -- a beverage maker that will be able to carbonate any kind of liquid -- and Ultimate.
Mix may wind up being a cult fave for bartenders and foodies, but Ultimate could have much broader appeal. It is SodaStream's response to Keurig Green Mountain's Keurig Kold, and even though Keurig Green Mountain's first foray into chilled carbonated beverages has been rocky, it can be a kinder climate when SodaStream Ultimate hits the market later this year.
Ultimate will be able to crank out single-serve and multi-serve cold and hot beverages including soft drinks and coffee. It's an ambitious response to Keurig Green Mountain on all fronts, and if Mix or Ultimate is even a modest success, it could move the needle.
2. Keurig Kold can succeedKeurig Green Mountain has been facing an uphill battle since the release of Keurig Kold three months ago, but it's not giving up the fight. Keurig Green Mountain will have a global parent company in a few weeks, and that will only give Keurig Kold a more powerful global push.
Kold's success would be a good thing for SodaStream. It would make home-crafted carbonated beverages cool again, and since Keurig Kold retails for a stiff $369.99 (Keurig itself is selling it at a $70 discount via its website), it could send potential buyers scrambling to SodaStream's cheaper options.
3. Europe can bounce back in 2016SodaStream is unusual. It's an Israeli company that generates most of its revenue in Europe. The U.S. provided a healthy kick when SodaStream made its stateside push five years ago, but it's been thriving in some European countries for decades.
Western Europe is accounting for 62% of SodaStream's revenue these days. That's a thick slice. European sales slipped through the first half of last year, but inched up slightly -- on a constant currency basis -- during the third quarter. If the rebound can continue, it can be enough to offset the lingering weakness elsewhere.
Analysts see revenue starting to recover starting in the second quarter of 2016, growing 4% for the entire year. A heartier recovery in its stronghold of Western Europe can make the stock snap its way out of the teens.
The past two years have been flat, but 2016 could be the year that SodaStream gets its fizz back.
The article 3 Ways That SodaStream Can Bounce Back in 2016 originally appeared on Fool.com.
Rick Munarriz owns shares of Keurig Green Mountain and SodaStream. The Motley Fool owns shares of SodaStream. Try any of our Foolish newsletter services free for 30 days. We Fools may not all hold the same opinions, but we all believe that considering a diverse range of insights makes us better investors. The Motley Fool has a disclosure policy.
Copyright 1995 - 2016 The Motley Fool, LLC. All rights reserved. The Motley Fool has a disclosure policy.