3 Ways Starbucks Corporation Can Keep Brewing Strong Growth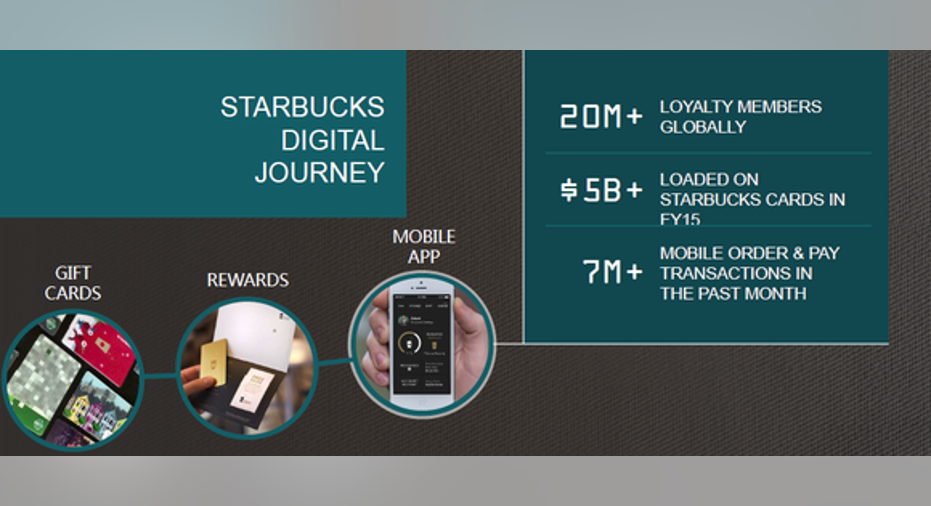 How much growth will this card drive for Starbucks? Time will tell. Image source: Starbucks.
Starbucks Corporation has steadily grown sales and profits at a remarkable pace over the past decade, and CEO Howard Schultz is convinced that the coffee beverage behemoth can keep it up. As a matter of fact, management says that the company can get to $30 billion in sales by 2019. Considering that the company "only" reported $19.2 billion in sales last year, that's a pretty big rate of continued sales growth the company is targeting over the next four years.
With the company set to report second quarter's results on April 21, what should investors be watching for? In short, there are three major areas Starbucks is putting huge focus on: expansion in Asia; channel development; and expanding and improving its digital platforms -- all keys to both short- and long-term success.
Let's take a closer look.
Asian growth starts with ChinaMake no bones about it, China is hugely important to Starbucks' growth plans. Schultz summed it up with this slide at the company's annual meeting in March:
Image source: Starbucks presentation.
That's right: Between now and 2022, China's middle class -- which is already almost as large as the entire U.S. population -- will swell to 600 million people. Starbucks, which has operated in China for nearly 20 years already, has more than 2,000 stores in the country, yet plans to open around 500 new stores in the country every year for the next five years.
There's more to Chinese growth than just stores, though. In March 2015, the company announced a partnership with Tingyi Holding to bringStarbucks' entire line of ready-to-drink (or RTD) beverages to the company. While Starbucks RTD beverages were already available in 6,000 locations in China at the time of the announcement last year, this expansion also included manufacturing, packaging, and expanded distribution in local markets. According to the release, the RTD coffee and energy beverage market is a $6 billion annual business in China, and is growing along with the middle class.
The opportunity for Starbucks in Asia is larger than just China, with tremendous growth potential in India as well as Japan. But for the next several years, expect to hear management regularly speak about what's happening in the Middle Kingdom, where it's investing major resources to ride the wave of an exploding middle class population.
Starbucks outside of StarbucksOn its own, the company's retail channel sales are a hugely profitable multibillion-dollar business:
Image source: Starbucks presentation.
This segment encompasses every way you can consume a Starbucks product outside of a Starbucks coffee shop, including bottled iced beverages at your favorite convenience store; single-serve, instant, whole, and ground coffees at your local CostcoorKroger;or hot coffee on your nextDelta Air Linesflight.
The company's channel development segment is second only to China/Asia Pacific as the company's fastest-growing, and with operating margins of 37.7% last quarter, it produced more operating income than that segment. As a comparison, Starbucks' Americas segment produces operating margins of around 25%.
Yes, Starbucks has done an excellent job of finding ways to drive more traffic to the stores, and is likely to continue to do so. But at the same time, expanding the availability of Starbucks beverages at other retailers has proven to be very profitable.
More context: In the first quarter, channel development generated slightly less than 10% of revenue but 17.6% of operating income. This is a very important part of the business that's only likely to grow in importance over time.
Tying connected customers to StarbucksStarbucks has been one of the most innovative retailers out there when it comes to using technology to connect with customers.
Image source: Starbucks presentation.
Whether it's the company's loyalty program, mobile order and pay via the Starbucks app, delivery options in some locations, and perks like free music downloads,Starbucks has consistently developed new and innovative digital tools to improve the customer experience and build customer loyalty. This has been a key reason why it has regularly reported strong comparable-store traffic and sales growth for years.
The upcoming Starbucks Rewards prepaidVisadebit card looks to be the next step.The card, which will be issued by JPMorganChase, will be accepted anywhere that takes Visa, and users will collect Starbucks rewards with every purchase they make at any retailer. Specifics haven't been announced, and it could be year-end before the card is launched, but it's yet another program to reward customers.
It's also unlikely to be the last development from Starbucks that makes it easier or more rewarding for customers.
Looking ahead Company guidance for 2016 financial performance is for 10% sales growth (before a 2% gain from a 53rd week in this fiscal year), "somewhat above" mid-single-digit comps growth, and slightly improved operating margins overall. The only quarterly guidance Starbucks gives is for earnings, and the expectation is for $0.37-$0.38 per share. That would be a 15% increase from last year's Q3 result of $0.33 per share.
If the company can continue executing on its key growth initiatives -- especially the three above -- chances are, the growth story will continue for years to come. Stay tuned for more when earnings come out on the 21st.
The article 3 Ways Starbucks Corporation Can Keep Brewing Strong Growth originally appeared on Fool.com.
Jason Hall owns shares of Costco Wholesale and Starbucks. The Motley Fool owns shares of and recommends Costco Wholesale, Starbucks, and Visa. Try any of our Foolish newsletter services free for 30 days. We Fools may not all hold the same opinions, but we all believe that considering a diverse range of insights makes us better investors. The Motley Fool has a disclosure policy.
Copyright 1995 - 2016 The Motley Fool, LLC. All rights reserved. The Motley Fool has a disclosure policy.