3 Ways General Electric Is Tilting the Industrial Landscape in Its Favor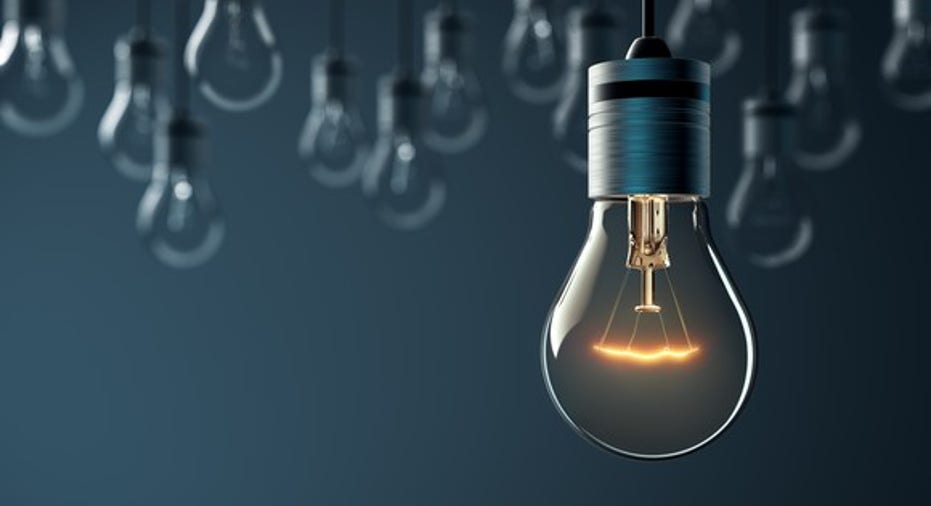 General Electric's light bulb business has taken a back seat to its software business. Image source: Getty Images.
It's time we all stop associatingGeneral Electric with light bulbs and refrigerators and start associating it with software and computers.
While the company no longer makes fridges -- it completed the sale of its appliances unit to Chinese companyHaierearlier this month -- it's still in the lighting business...at least for now. But far more of the company's revenue and profits now come from software than from 60-watt bulbs.
Together with the divestiture of much of its financial businesses, this transition to becoming "the Digital Industrial company" represents a seismic shift for GE.It's going to end up looking much more like competitorsHoneywell andSiemens than its former self.
This should benefit investors since GE's new focus is radically reshaping the industrial landscape in its favor. Here's how.
If you build it...
GE has made a lot of money by building complex machinery and selling it to clients large and small. And once a machine like a steam turbine or locomotive engine is sold, the company often derives additional revenue through profitable service contracts.With its recent acquisition of Alstom, GE has even been able to start servicing the equipment of its competitors, including Siemens.
GE is taking a similar approach to its software, investing time and money in the creation of Predix, its software platform for industrial applications. And we're not talking chump change, here:GE expects to be operating a $15 billion software business in four years. That would make it one of the top 10 software companies in the world.
As anyone familiar withApple's iOS knows, controlling the platform on which applications are built can be enormously significant -- and enormously lucrative. But, like iOS, Predix isn't the only system out there. Honeywell has likewise devoted significant time and resources to its own HOS Gold operating system. Siemens, by contrast, has not. But GE is going the extra mile to try to ensure Predix's success.
There's an app for that...or there will be soon
Like Apple has done with its iOS, GE has opened up its Predix platform to third-party app developers. "We launched Predix and attracted 7,500 developers in just 30 days," CEO Jeff Immelt said in the company's Q1 earnings call. That number has swelled to more than 11,000 today, and it doesn't include the 14,000 developers employed by GE.These developers will be able to create Predix applications to measure and operate...well, anything industrial that needs measuring or operating.
GE isn't merely allowing developers to use Predix, it's actively encouraging them to work with the platform. On June 14, the company announced a new "Digital Foundry" to be opened in Paris. At the Foundry,GE's digital unit will "incubate local start-ups, collaborate with customers to develop new applications and extend the growing community of industrial developers in Europe," according to a company press release.
Joseph R. Mastrangelo, the president and CEO of GE's gas power systems unit, gave an example of how a Predix app could help GE's customers extract more value out of their GE equipment. In a gas turbine, he explained, the first two stages of turbine blading have thousands of small holes. These holes allow the metal to safely operate above its melting point. GE tests different hole configurations using thermal paint and, in the process, generates more than 7,000 data streams and over 500 terabytes of data.
A Predix-enabled application could use this data to help a GE customer maximize performance while still operating the equipment safely, potentially delivering $10 million in valueover the course of a single year through increased output and reliability.
Start with the man in the mirror
But why should GE's customers and third-party developers have all the fun (and all of the benefits)? GE isn't just deploying its Predix platform and developers to help its customers: It's also utilizing them to help itself through its "Brilliant Factory" initiative.
According to GE's Global Technology Director Christine Furstoss, a "Brilliant Factory" is one that uses software and data analytics to make itself more efficient. GE is already using "Brilliant Factory" features to improve its operations. A factory in Albany, New York, for example, features more than 10,000 sensors that measure temperature, humidity, air pressure, and machine operations data. This allows workers to remotely monitor production and make operational adjustments from tablets.GE has opened other "Brilliant Factory" facilities across the globe and is using the data gathered to improve its overall operations.
One result of the initiative was the realization that lack of plantwide visibility was resulting in missed opportunities for efficiency. In response, GE developed and deployed a new technology called "Plant Pulse Optimizer," which allows all factory personnel to view all production activity at a plant. GE is now offering Plant Pulse Optimizer for sale to its customers.
Predix's "Brilliant Manufacturing" software is running the "Brilliant Factory" initiative at GE, and in the third quarter of this year, the company plans to release a "Brilliant Manufacturing" software suite to its customers.
Foolish takeaway
GE is doing much more than just paying lip service to being the "Digital Industrial Company." It has gone all-in on its digital efforts, a fact borne out by the numbers: 25,000 Predix app developers, plans to become a top 10 software company in four years, and an active interest in using these tools to streamline -- if not revolutionize -- its own operations.
CEO Jeff Immelt anticipates Predix will help grow the company's services revenue sooner rather than later. In response to a question on the company's Q1 earnings call, he stated he believed the effects of the Predix launch would start filtering through the backlog and have a growing impact between the second half of 2016 and 2018. "I still fully expect, along with the service leaders in the business, to have organic services growth at 5% or greater as we look at 2016 and beyond," he said.
If GE can successfully leverage the Predix platform into an essential tool for its customers, it will fundamentally shift the landscape in its favor. Customers will have less incentive to buy equipment or service packages from GE's rivals. GE will sell more software and services packages.And by all accounts, GE is going to stop at nothing to bring that plan to fruition.
Over the next several quarters, investors should keep an eye on revenue growth from services to see if it is meeting or exceeding management's predicted 5% organic growth threshold. If not, then either Predix isn't measuring up to its potential or it isn't getting there as quickly as hoped. Either would be a bad sign for GE's "Digital Industrial" plans.
The article 3 Ways General Electric Is Tilting the Industrial Landscape in Its Favor originally appeared on Fool.com.
John Bromels has no position in any stocks mentioned. The Motley Fool owns shares of General Electric. Try any of our Foolish newsletter services free for 30 days. We Fools may not all hold the same opinions, but we all believe that considering a diverse range of insights makes us better investors. The Motley Fool has a disclosure policy.
Copyright 1995 - 2016 The Motley Fool, LLC. All rights reserved. The Motley Fool has a disclosure policy.