3 Ways Disney World Is Promoting "Avatar Land"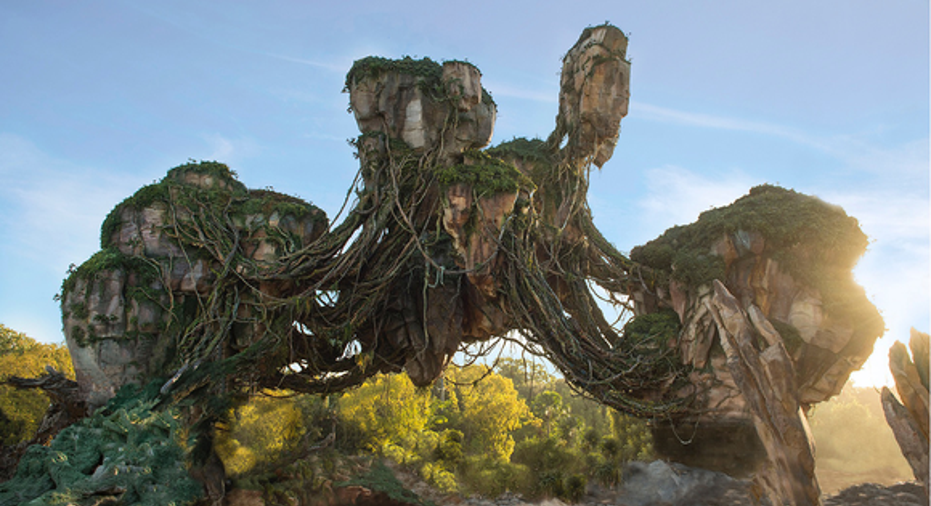 We're now three months away from the planned opening of Disney's(NYSE: DIS)Avatar-themed expansion. Pandora -- The World of Avatar will open at Disney's Animal Kingdom in Florida.
Pandora -- The World of Avatar is the theme-park operator's most ambitious addition to its domestic resorts since 2012, when it opened Cars Land in California and New Fantasyland at Disney World. With the May 27 official grand-opening date closing in, Disney can't afford to drop the ball. It just raised ticket prices on Sunday, and attendance at Disney World has declined in three of the past four quarters.
Let's go over a couple of the things Disney is doing to make sure its most ambitious expansion in five years is a hit that brings back crowds who won't flinch at the higher ticket prices.
Image source: Disney.
1. The launch of VisitPandora.com
There are many unique challenges to promoting Pandora -- The Land of Avatar. Unlike the New Fantasyland andCars-themed Cars Land expansions, Disney doesn't own the intellectual property, here. James Cameron is Avatar's creator, and Disney isn't even the studio behind the movie franchise;Fox (NASDAQ: FOX) is the studio behind the franchise.
However, a bigger obstacle than being at the mercy of someone else's handiwork is educating consumers about the property itself. A popular knock on Disney's push for an Avatar-themed land is that mainstream audiences have forgotten about the 2009 movie. Ask a random person about Pandora, and odds are good that they will bring up the streaming-music service or the charms-saddled bracelets before they get to the fictionalAvatarmoon.
Avatar was a box-office hit in 2009, but few outside of the film's hardcore fans even remember the name of the Na'vi tribe or the film's principal characters. The media played this up as Disney's response to The Wizarding World of Harry Potter at rival Comcast's (NASDAQ: CMCSA) Universal Studios theme parks in Florida and, more recently, California and Japan. However, the breadth of knowledge is deep when it comes to folks who read J.K. Rowling's seven-book series and saw its eight movies.
There's a fine line between ignorance and apathy, but Disney is trying to get ahead of the situation with last week's launch of VisitPandora.com, a website that introduces (or reintroduces) the Avatar lore to the site's visitors. It plays out as a visitor guide, dabbling into the mystique of the floating mountains and the bioluminescent landscapes. Website visitors are pitched the Kaspavan River that they will be able to explore in one of the expansion's two new rides. The site also plays up the mountain banshees that guests will be able to ride as a simulation in the new area's thrill ride.
2. Rivers of Light is finally opening
The ballyhooed nighttime show on the lake that was supposed to catapult Animal Kingdom into joining its peers as a full-day destination failed to open on Earth Day last year. Technical issues tripped up its rescheduled debut in late May, and its replacement wasn't enough to justify keeping the park open until that summer's 11 p.m. close.
We're now 10 months late, but Rivers of Light finally began offering preview performances last week. The show officially opens this weekend. This will give the park just enough buzz and momentum to head into the Memorial Day weekend ready to justify extended hours. If Rivers of Light can overcome its initial technical snags, it could be a big piece in drawing guests into the park if Pandora doesn't do the trick on its own.
3. More movies are coming
A Fox sequel to Avatar has been in the works for years, even before Disney's deal in 2011 to compete against Comcast's Potter push by building out Pandora. Six years is a long time, and it's a safe bet that this would've been an Indiana Jones-themed expansion if Disney had acquired Lucasfilm before this deal was announced.
Thankfully for Disney, the Avatar franchise will be coming to a multiplex near you reasonably soon. Signs point to a late 2018 Fox release for the first of what should be several Avatar sequels. If guests at Disney's Animal Kingdom fail to warm up to Pandora the way they have to Comcast's take on Hogwarts and Diagon Alley this year, that could change in the coming years as Cameron's fictional realm gets refreshed on the big screen.
A lot is riding on Pandora -- The World of Avatar to turn around grim attendance trends at Disney World. A promotional website, a magnetic side attraction, and more multiplex visibility should do the trick.
10 stocks we like better than Walt DisneyWhen investing geniuses David and Tom Gardner have a stock tip, it can pay to listen. After all, the newsletter they have run for over a decade, Motley Fool Stock Advisor, has tripled the market.*
David and Tom just revealed what they believe are the 10 best stocks for investors to buy right now...and Walt Disney wasn't one of them! That's right -- they think these 10 stocks are even better buys.
Click here to learn about these picks!
*Stock Advisor returns as of February 6, 2017.
Rick Munarriz owns shares of Walt Disney. The Motley Fool owns shares of and recommends Walt Disney. The Motley Fool has a disclosure policy.