3 Warren Buffett Stocks to Buy in May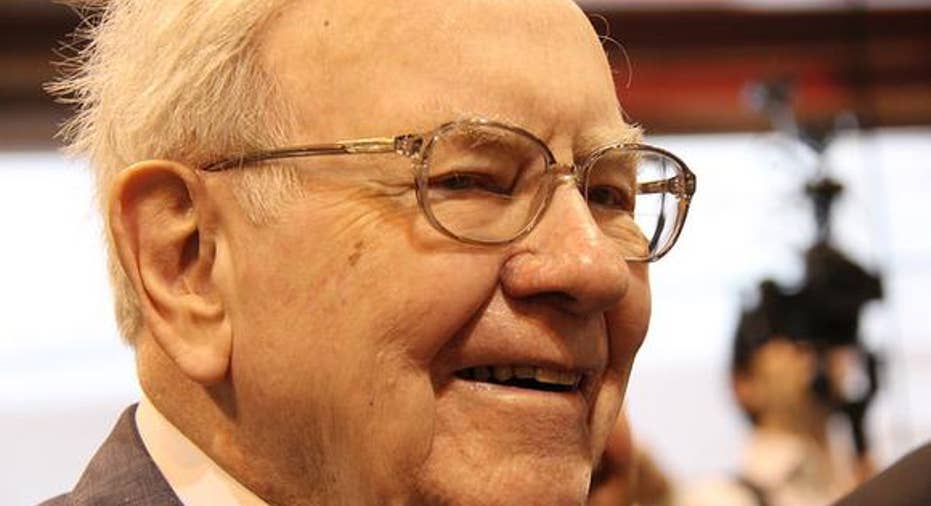 The stock market has performed quite well lately. In fact, since the February lows, the S&P 500 has rallied by more than 14%. While the market might look like it's getting a little expensive, that doesn't mean you need to stay on the sidelines. There are still some great stocks you can buy and hold for the long term. In fact, here are three from Warren Buffett's portfolio.
Still the best in its businessAt Berkshire Hathaway's annual meeting, Warren Buffett defended his massive stake in American Express , despite the stock being down 14% over the past year.
Despite their business model being "under attack" as Buffett put it, he said he's happy with American Express and has no plans to sell.
My reason for being an American Express shareholder, and one of Buffett's as well, is the company's rock-solid brand. Amex credit cards average significantly higher spending than those of rivals, and collects higher swipe fees than other card processors.
There are certainly some challenges facing Amex. Most significantly, Amex has lost some co-branding relationships recently, such as Costco and Fidelity. Competition among credit card issuers is intensifying as banks are aggressively growing their credit card businesses to take advantage of the attractive margins available. There is also foreign exchange risk, which has been a drag on revenue growth.
And, despite these challenges, the company appears to be doing quite well. In fact, during the first quarter, the company issued 2.1 million new cards including many former Costco co-branded card holders who have since signed up for other Amex products. Revenue actually increased year-over-year, and the company kept its 2016 guidance in the range of $5.40-$5.70 per share. At the current share price, this translates to a P/E ratio of 11.6 -- well below the S&P 500's average, and low on a historical basis.
In short, despite some headwinds, Warren Buffett is sticking with Amex, and I am too.
The best automaker to buy now (and it's not Tesla) General Motors is another Buffett stock I believe you can buy right now. This one is simply too good of a value to overlook.
This is not the old GM. The company now has a solid balance sheet consisting of $18.5 billion in cash compared with just $10.8 billion in long-term debt. Additionally, the company's pension liabilities have shrunk recently and shouldn't present too much of a problem going forward.
The company is also quite profitable, thanks to strong sales of high-margin SUVs and crossovers, as well as the fact that many new models (like the Malibu) produce more profits per sale than the models they replace. In fact, the company's first-quarter net income more than doubled from a year ago, and the EBIT-adjusted margin grew from 5.8% to 7.1%.
As far as valuation goes, GM trades for an unheard-of 5.3 times TTM earnings. Sure, there are some risks investors should be aware of. For example, if gasoline prices spike, auto sales -- particularly SUVs -- could plummet. If auto sales drop and profits erode, the pension liabilities (currently underfunded by $19.4 billion) could become more of a problem. However, I feel that all the risks are more than included in the stock's price.
Buffett's favorite bankFinally, Buffett's largest stock holding, Wells Fargo could be a good addition to your portfolio, especially while bank stocks are beaten down. Wells Fargo currently trades for more than 10% less than it did six months ago, and this creates a nice opportunity.
The good news is that most of the reasons for the downturn in bank stocks are temporary, and not specific to any one company. The persistent low interest rates have kept margins low, but this should change when rates rise. And, big banks (including Wells Fargo) all have significant exposure to energy lending, and if oil and gas prices stay low or get even lower, there's a fear that banks could see defaults.
However, Wells Fargo has proven that it's a long-term winner with smart risk management. Its profitability is consistently the best among the "big four" banks.
Wells Fargo avoids complex investment banking aspects of the business, such as trading, underwriting, and market making. In fact, Wells Fargo's business model more closely resembles a traditional savings & loan than it does most of its megabank peers. Wells Fargo is also the best dividend payer among the big banks with a 3% yield, so you'll get paid pretty well while you wait for the sector to rebound.
Don't buy these stocks for the short-termSince this is an article about Buffett stocks, it's important to mention that Buffett himself wouldn't necessarily want to own any of these stocks for the short-term. Amex could potentially lose another co-branding partner, gas prices could soar and cause GM's profits to temporarily fall, and interest rates could stay low for longer than we expect. Or, a recession or overall market drop could drag on these stocks' prices. In other words, any of these stocks could potentially drop in the next couple of years.
On the other hand, if you have a reasonably long timeframe, say five years or more, all of these three stocks would be excellent additions to your portfolio.
The article 3 Warren Buffett Stocks to Buy in May originally appeared on Fool.com.
Matthew Frankel owns shares of American Express, Bank of America, Berkshire Hathaway, and General Motors. The Motley Fool owns shares of and recommends Berkshire Hathaway, Costco Wholesale, and Wells Fargo. The Motley Fool has the following options: short May 2016 $52 puts on Wells Fargo. The Motley Fool recommends American Express, Bank of America, and General Motors. Try any of our Foolish newsletter services free for 30 days. We Fools may not all hold the same opinions, but we all believe that considering a diverse range of insights makes us better investors. The Motley Fool has a disclosure policy.
Copyright 1995 - 2016 The Motley Fool, LLC. All rights reserved. The Motley Fool has a disclosure policy.