3 Vitally Important Numbers From Vanguard Natural Resources, LLC's Q1 Results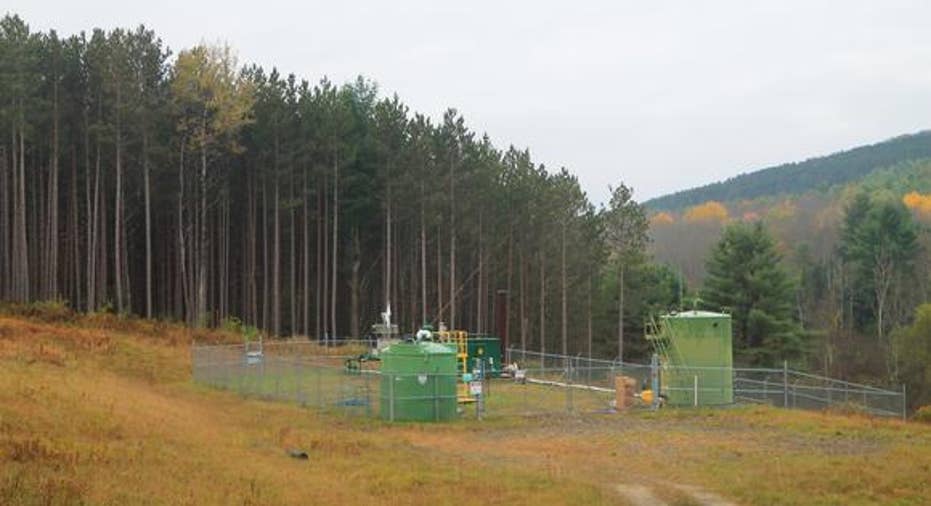 Image Source: Flickr user Andy Arthur.
Beleaguered oil and gas MLP Vanguard Natural Resources reported its first-quarter results after the closing bell on Monday. While the report was operationally solid, given the state of the sector and the company's own balance sheet woes there were just three numbers from the report that matter right now: The impact of hedging, cash flow, and liquidity. Here's a closer look at those vitally important numbers.
1. Hedging pays big dividendsDuring the first quarter Vanguard Natural Resources realized a paltry $26.57 per barrel of oil produced, down 24% from last quarter and 37% year-over-year. However, thanks to its oil hedges the company was able to boost its actually price realization for oil up to $46.48 per barrel. In other words, the company captured an extra $20 a barrel, or 75% more, due to its strong oil hedges.
Vanguard captured similarly strong gains for both its natural gas and its NGL hedges, pulling in $31.8 million from net gains on commodity hedging contracts. That helped support the company's distributable cash flow, though it still decreased 36% from last quarter to $42 million. That said, without these hedges the company wouldn't have generated much, if any, excess cash flow during the quarter.
2. Cash continues to flow inAs mentioned, Vanguard Natural Resources produced $42 million in distributable cash flow last quarter. That's down from the $65.5 million it produced last quarter due in part to the roll off of some of its oil and gas hedging contracts at the end of the year. Still, the company is generating a good bit of free cash flow right now, even after paying $28.3 million of interest on its debt and funding $20.3 million in oil and gas capex during the quarter.
The company is currently using its cash flow to build a bit of a liquidity cushion, ending the quarter with $25 million of cash, which is up from $10 million last quarter. That cash cushion gives the company some extra financial flexibility at a time when that's in short supply.
3. Liquidity is about to get even tighterSpeaking of Vanguard Natural Resources liquidity, the company ended the quarter with just $113 million of total liquidity after taking into account the available capacity on its revolving credit facility. However, that number is about to change drastically, with its banks in the process of redetermining the borrowing base on that facility amid crashing commodity prices.
While Vanguard currently estimates it will be able to pay down a portion of its outstanding borrowings on that facility with the proceeds from the recently announced sale of its STACK/SCOOP assets, that's not expected to be enough to satisfy its lenders. Instead, the company "expect[s] that our borrowing base will be redetermined to a level below our outstanding borrowings in our May 2016 redetermination causing a small deficiency." However, it went on to note that,
In other words, the company firmly believes it has the resources to pay back its banks thanks to the cash flow it expects to generate this year due to its strong oil and gas hedges. That being said, the company will undergo another redetermination this fall and those hedges will roll off significantly in 2017. So, while the company believes it can sail past this redetermination without a problem, it could still be sunk if oil prices sink again later this year.
Investor takeawayVanguard Natural Resources is in a real tight spot right now due to the deep downturn in the energy market. However, thanks to its oil and gas hedges, it's generating excess cash flow, which is coming at a key time given its looming credit facility redetermination. While that puts it in the position to survive for the next few months, it's long-term survival is still questionable given its overall indebtedness and the fact that its cash flow could fall off a cliff next year if commodity prices don't improve. That's why these three numbers need to be watched very closely in 2016.
The article 3 Vitally Important Numbers From Vanguard Natural Resources, LLC's Q1 Results originally appeared on Fool.com.
Matt DiLallo has no position in any stocks mentioned. The Motley Fool has no position in any of the stocks mentioned. Try any of our Foolish newsletter services free for 30 days. We Fools may not all hold the same opinions, but we all believe that considering a diverse range of insights makes us better investors. The Motley Fool has a disclosure policy.
Copyright 1995 - 2016 The Motley Fool, LLC. All rights reserved. The Motley Fool has a disclosure policy.