3 US banks post higher profits with huge assist from tax law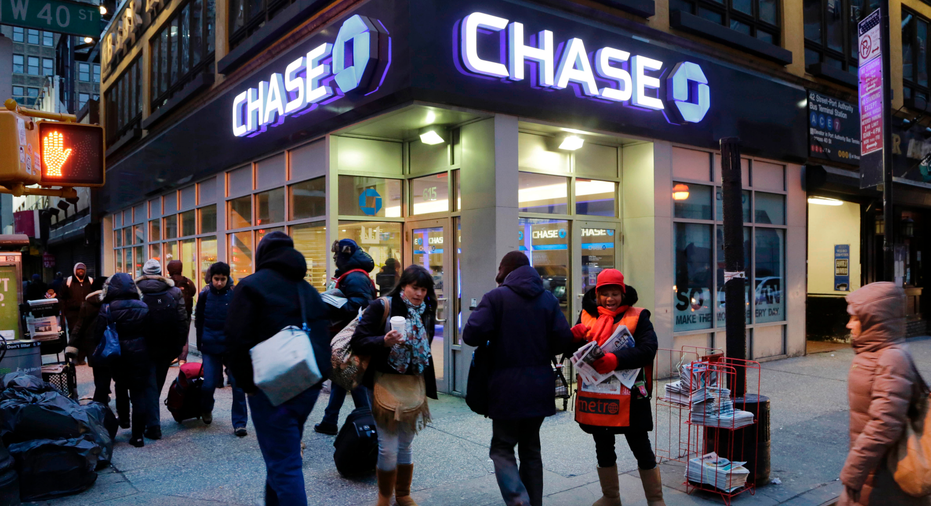 Three of America's biggest banks reported higher profits Friday, with a huge assist from the tax law passed late last year.
JPMorgan reported a record quarterly profit, while Citigroup and Wells Fargo topped analyst expectations.
Banks are expected to be major beneficiaries of the tax overhaul, which sharply lowered corporate tax rates. Comparing each of the effective tax rates from last year to this year, the three Wall Street banks that reported earnings Friday appeared to have saved roughly $1.6 billion altogether.
The first-quarter earnings season will give investors and the public their first good look into how President Trump's tax law is impacting Corporate America. Publicly traded banks are the first major industry to report their results each quarter.
Net income at JPMorgan Chase, the nation's largest bank by assets and deposits, rose 35 percent to $8.71 billion. The result was primarily driven by two factors: higher interest rates, which have allowed banks such as JPMorgan to charge more for customers to borrow, and the lower corporate tax rate.
However, JPMorgan had to set aside more money to cover bad loans in its consumer bank, where delinquencies have been steadily edging higher. JPMorgan shares fell 2.7 percent, while shares of Wells Fargo slipped 3.4 percent and Citigroup shares dropped 1.6 percent.
While JPMorgan's pretax income rose by $2 billion in the quarter, the company said it effectively paid $240 million less in taxes compared to a year earlier. The bank paid an effective tax rate of 18.3 percent in the quarter, compared with a rate of 22.7 percent a year earlier. Before the changes to tax law, JPMorgan's effective tax rate averaged in the high 20-percent range.
JPMorgan Chief Executive Officer Jamie Dimon has been a big promoter of the tax overhaul, saying it would be good for businesses as well as average Americans. Soon after President Donald Trump signed the law into place, the bank announced higher salaries for most of its retail bank employees, and said it would open branches in a handful of new markets. It also announced an expansion of small business lending.
"The global economy continues to do well, and we remain optimistic about the positive impact of tax reform in the U.S. as business sentiment remains upbeat, and consumers benefit from job and wage growth," Dimon in a statement.
Other bank executives were just as optimistic when speaking about the tax law's impact. Citigroup Chief Financial Officer John Gerspach told reporters Friday that businesses had only begun taking advantage of the changes.
"I think the best is yet to come," he said.
Rising interest rates helped JPMorgan Chase and Citigroup, but not Wells Fargo, which continues to struggle under the weight of several scandals and investigations. Wells disclosed as part of its earnings that they may have to pay as much as $1 billion to federal regulators to settle investigations being conducted by financial regulatory agencies.
The Federal Reserve has been steadily raising interest rates for more than two years. Net interest income at JPMorgan was $13.3 billion, up 10 percent from a year earlier. At Citigroup, net interest revenues were $16.33 billion, up 12 percent from a year earlier. Wells Fargo reported a slight decline in interest income.
JPMorgan's investment bank also had a solid quarter, helped by much more volatile and active markets last quarter. Net income in the investment bank was $3.97 billion, up from $3.24 billion a year earlier.
There were some concerns about JPMorgan's credit quality, however. The bank had to set aside more money to cover potentially bad loans, and the bank's total charge-off rate — the percentage of loans it expects are not likely to be repaid — climbed to 1.20 percent of all loans. That compares to 1.07 percent of loans in the second quarter of 2017.
Citi also had to add to its loan-loss reserves, and reported an 8 percent increase in its total credit losses in the quarter.
JPMorgan's quarterly revenue was $28.52 billion, up from $25.85 billion. On a per-share basis, JPMorgan earned $2.37 a share, up from $1.65 per share, beating analysts' forecasts.
Citigroup reported a profit of $4.62 billion, or $1.68 a share, compared with a profit of $4.09 billion, or $1.35 per share, in the same period a year earlier. The results beat analysts' forecasts for earnings of $1.61 a share, according to FactSet. It was the largest quarterly profit that Citi has reported since 2015.
Wells reported first-quarter earnings of $5.9 billion, or $1.12 per share, topping Wall Street's per-share expectations by 6 cents, according to a FactSet survey, That profit exceeds last year's $5.46 billion, or $1.03 per share, in profit.
Wells paid $1.37 billion in taxes in the first quarter, about 36 percent less than the $2.13 billion it paid last year.
___
Ken Sweet covers banks and the Consumer Financial Protection Bureau for The Associated Press. Follow him on Twitter at @kensweet.