3 Troubling Comments From GoPro Inc's Earnings Call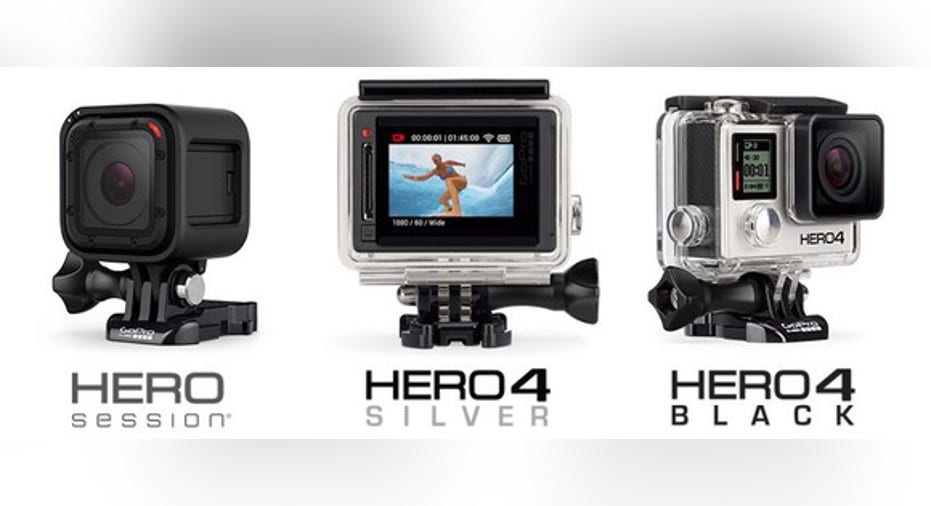 GoPro stock recently plunged to all-time lows after the action camera maker reported dismal first quarter numbers. Sales fell 49.5% annually to $183.5 million, and its non-GAAP earnings dropped from a profit of $35.6 million a year ago to a loss of $86.7 million. GoPro expects sales to fall between 7% to 17% for the full year, compared to 16% growth in 2015 and 41% growth in 2014.
Image source: GoPro.
Those numbers were terrible, but GoPro then delivered a conference call which added insult to injury. Let's discuss three troubling comments from that call, and why investors should be concerned.
1. Clueless about Karma
The most disappointing announcement during the call was the delay of Karma, its eagerly anticipated drone, to the holiday quarter. But it's the way that CEO Nick Woodman announced the delay that really bothered me:
How could Woodman, who announced the Karma last June, think that the drone was still on schedule "as late as this week?" Since the Karma was expected to drive revenue growth in the first half of the year amid sluggish camera sales, Woodman should be regularly checking in on its progress. Instead, it sounds like GoPro outsourced the development of the drone to a third party and just realized -- a week before its earnings report -- that it wasn't ready.
Instead of adding "revolutionary features," GoPro likely either encountered technical problems or realized that it couldn't compete against market leader DJI Innovations, which launchedits Phantom 4 drone in March. Apple alreadylaunched big "feature bay" displays for the Phantom 4 at over 400 of its brick-and-mortar stores -- which could make it hard for GoPro to grow its mindshare among drone enthusiasts or Apple customers.
A DJI display in an Apple Store. Image source: DJI.
2. Emphasizing the sell-through numbers
Woodman also emphasized the difference between GoPro's sell-in (sales to retailers) and sell-through (sales from retailers to customers) rates during the call. Here's what Woodman said:
Woodman also stated that based on third-party data and GoPro's own estimates, "first quarter sell-through exceeded sell-in by approximately 50%, and drove down channel inventory by over 20%." But Woodman glossed over the fact that the increased sell-through was boosted by two price cuts on the Session, which reduced its original price of $400 to $200. That move dramatically reduced its non-GAAP gross margin, which fell 1,260 basis points annually to 33%.
As I mentioned in previous articles, the Session should have been GoPro's equivalent of Apple's iPod Shuffle. But instead of pricing the Session as an entry-level device like the Shuffle, GoPro overestimated its brand appeal and priced it as a premium device. Therefore, higher sell-through isn't a great indicator of strong "consumer demand" -- it just means that consumers are willing to buy marked down GoPro cameras.
Image source: GoPro.
3. A smaller portfolio could throttle sales
GoPro recently discontinued its three low to mid-range devices -- the $130 Hero, $200 Hero+, and $300 Hero+ LCD. But by doing so, GoPro stands to lose a lot of revenue. Here's what Woodman said about the breakdown in sell-through rates during the first quarter:
This means that the three discontinued units accounted for 32% of the sell-through during the quarter. By discontinuing those products, GoPro hopes that customers who were looking at a Hero or Hero+ would buy the Session, and that those eyeing the Hero+ might consider buying the Silver. However, that move could simply convince customers to buy cheaper cameras from GoPro's rivals instead, causing sales to decline at an even faster rate.
GoPro needs to get its act together
GoPro has made a lot of mistakes over the past year, and I'm not confident that it can get its act together. The company was a first mover in action cameras, but that advantage is fading and the market remains a niche one.
Its pricey VR rigs target an even smaller audience than its action cameras, and its drones could be lost in a saturated market by the time it finally arrives. Looking ahead, GoPro's management should be more straightforward with its investors, instead of desperately spinning product delays and weak sales into positive soundbites.
The article 3 Troubling Comments From GoPro Inc's Earnings Call originally appeared on Fool.com.
Leo Sun has no position in any stocks mentioned. The Motley Fool owns shares of and recommends Apple and GoPro. The Motley Fool has the following options: long January 2018 $90 calls on Apple and short January 2018 $95 calls on Apple. Try any of our Foolish newsletter services free for 30 days. We Fools may not all hold the same opinions, but we all believe that considering a diverse range of insights makes us better investors. The Motley Fool has a disclosure policy.
Copyright 1995 - 2016 The Motley Fool, LLC. All rights reserved. The Motley Fool has a disclosure policy.