3 Tremendously Promising Diabetes Drugs Potentially on the Way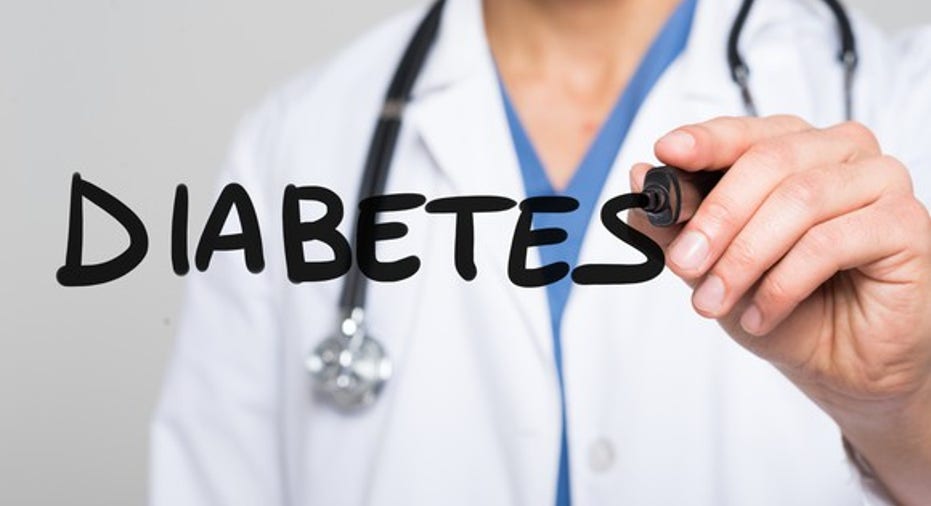 Here's the scary thing about diabetes: Over 30 million Americans have it, with an additional 1.4 million new diagnoses each year. The disease is the seventh-highest cause of death in the U.S.
Those are concerning statistics, but there are also some numbers that provide hope. Over 170 new medicines are currently in development targeting treatment of diabetes and diabetes-related conditions. Here are three of the most promising diabetes drugs from five of the most innovative drugmakers in the world: Merck (NYSE: MRK), Pfizer (NYSE: PFE), Lexicon Pharmaceuticals (NASDAQ: LXRX), Sanofi (NYSE: SNY), and Novo Nordisk (NYSE: NVO).
Image source: Getty Images.
1. Ertugliflozin
Merck and Pfizer are collaborating on development of ertugliflozin, an experimentaldrug for treating patients with type 2 diabetes. The drug could be approved in the U.S. later this year as a stand-alone treatment, in combination with Merck's Januvia, and in combination with metformin.
Ertugliflozin belongs to a class of medicines known asSGLT2 inhibitors. These drugs lowerblood sugar by causing the kidneys to remove sugar from the body through the urine. Several SGLT2 inhibitors are already available, including Farxiga, Invokana, and Jardiance.
Results from late-stage clinical studies conducted by Merck and Pfizer were very encouraging. Not only did ertugliflozin help lower blood sugar levels, but patients taking the experimental drug also experienced weight reduction and lower blood pressure levels.
2. Sotagliflozin
Another promising SGLT inhibitor might not be too far behind ertugliflozin. Lexicon and Sanofi are evaluating sotagliflozin in late-stage studies. The drug could potentially reach the market within the next couple of years if all goes well.
Sotagliflozin inhibits SGLT1 and SGLT2 proteins. SGLT1 is responsible for glucose absorption in the gastrointestinal tract, while SGLT2 is responsible for glucose reabsorption by the kidney.Lexicon, which originally developed sotagliflozin, is focusing on clinical studies for type 1 diabetes, while Sanofi is handling clinical development and potential commercialization for type 2 diabetes.
Lexicon reported positive results from the first two late-stage studies of sotagliflozin in treating type 1 diabetes in 2016, with significant reductions in patients' blood sugar levels. The company has one other late-stage study in progress for the indication; results should be available by mid-2017. Sanofi also has three additional clinical trials underway evaluating the drug in treating type 2 diabetes.
3. Semaglutide
Novo Nordisk hopes to win regulatory approval for its newest diabetes drug, semaglutide, by Dec. 5, 2017. The pharmaceutical company submitted for approval in the U.S. and in Europe late last year.
Semaglutide targets type 2 diabetes by mimicking the action of theglucagon-like peptide-1 (GLP-1) receptor. GLP-1 stimulates the release of insulin and reduces glucagon, a hormone that increases blood sugar levels. If approved, semaglutide would join other GLP-1receptor agonists such as Trulicity and Victoza.
Late-stage studies found that semaglutide lowered blood sugar levels and resulted in weight reduction in patients taking the drug. In addition, semaglutide demonstrated reduction in cardiovascular risk compared to placebo.
Into the future
An even more exciting diabetes treatment could be available in the future. Glucose-responsive insulin (GRI), also known as "smart insulin," holds the potential to detect blood sugar levels and automatically release the correct dosage to adjust those levels.
At least two of the companies already mentioned are developing glucose-responsive insulin products. Merck's MK-2640 is in early-stage testing. Sanofi has partnered with diabetes research group JDRF to develop glucose-responsive insulin.
It will take several years before these products could be on the market, however. And there's always a risk that issues arise in the clinical-development or regulatory-approval processes. (By the same token, the possibility also exists that ertugliflozin, sotagliflozin, and/orsemaglutide could stumble along the way.) However, the chances that diabetes becomes less scary in the future thanks to new treatments appear to be pretty good.
10 stocks we like better thanWal-MartWhen investing geniuses David and TomGardner have a stock tip, it can pay to listen. After all, the newsletter theyhave run for over a decade, the Motley Fool Stock Advisor, has tripled the market.*
David and Tomjust revealed what they believe are theten best stocksfor investors to buy right now... and Wal-Mart wasn't one of them! That's right -- theythink these 10 stocks are even better buys.
Click hereto learn about these picks!
*StockAdvisor returns as of March 6, 2017The author(s) may have a position in any stocks mentioned.
Keith Speights owns shares of Pfizer. The Motley Fool recommends Novo Nordisk. The Motley Fool has a disclosure policy.