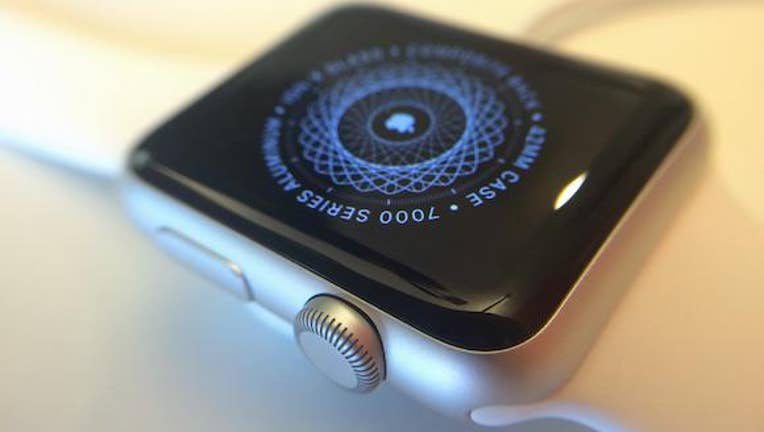 The wearable technology market is growing fast. More than 72 million wearable devices shipped worldwide last year, and that number is forecast to spike to 155 million by 2019, according to IDC.
Many technology companies are already moving into the wearable segment, but some are doing it better than others. Below are three companies that are poised to benefit from wearable tech growth in 2016 and beyond.
The smartwatch leaderApple is still a newbie in the wearable tech world, but it is nearly dominating its part of the market already. Last year, the company shipped more wearable devices than any other tech company, save for Fitbit.
The Apple Watch skyrocketed almost immediately to the top of the smartwatch segment, and now has a 74% market share -- and it's not expected to slow down any time soon.
According to Tractica, the Apple Watch will hold more than half the market share for smartwatches for the next four years at least, and Apple will likely make some huge gains on Fitbit this year.
While Apple may see slowinggrowth in iPhone sales in the coming quarters, its wearable tech pursuits are just getting started.
Source: Under Armour.
The under-the-radar playA company doesn't have to be strictly a technology firm to get into the wearable devices game, and Under Armour is proving that. It debuted several wearable tech devices at the Consumer Electronics Show this year, including smart shoes, a chest-worn heart-rate monitor, a fitness band, a smart scale, and an app to connect them all together.
Over the past year, Under Armour purchased MapMyFitness, Endomondo, and MyFitnessPal, for a total of $710 million, to launch its wearable tech ambitions. It's a big bet for the fitness clothing maker to jump into wearable technology, but the scale of those acquisitions shows just how serious UA is about the market.Under Armour's new Health Box (which includes the fitness band, scale, and chest strap) is already available for purchase, and the company's smart shoes will be on sale at the end of this month.
Under Armour isn't yet a leader in the wearables space by any means, but I think its wearable tech lineup and strong brand could turn the company into a serious player this year.
The hidden wearable tech play There are plenty of companies that don't make wearable consumer devices, but that do make the tech that goes insidethose devices. NXP Semiconductor NV is one such company.
NXP has its hands in a lot of different technologies, but what makes it a wearables play are the near field communication (NFC) chips it makes for Apple's iPhones and Apple Watch. Those chips are the hardware backbone behind Apple Pay, the company's mobile payment system used at point-of-sale payment terminals.
NFC is expected to become more prominent in the wearable tech industry as other companies adopt it for their own payment systems. Samsung and Alphabet's Google already have mobile payment systems, and wearable payments are about to take off. Last year, according to Tractica, $3.1 billion in transactions were made using wearable devices, but the consultancy predicts that number will grow to $500 billion by 2020. NXP is in a position to benefit because all of those transactions will be fueled by NFC-enabled wearable devices.
Of course, NXP isn't only betting on wearable tech. The company recently closed its acquisition of Freescale Semiconductor, which makes it the largest chip provider for the automotive market. But I think as NFCtechnology gains more traction in the wearable market, thecompany is in a great position to benefit.
While none of these companies are sure bets, I think each has its own distinct advantages in the wearable tech space that could prove beneficial this year, and down the road.
The article 3 Top Wearable Tech Stocks for 2016 originally appeared on Fool.com.
Suzanne Frey, an executive at Alphabet, is a member of The Motley Fool's board of directors. Chris Neiger has no position in any stocks mentioned. The Motley Fool owns shares of and recommends Alphabet (A shares), Alphabet (C shares), Apple, NXP Semiconductors, and Under Armour. Try any of our Foolish newsletter services free for 30 days. We Fools may not all hold the same opinions, but we all believe that considering a diverse range of insights makes us better investors. The Motley Fool has a disclosure policy.
Copyright 1995 - 2016 The Motley Fool, LLC. All rights reserved. The Motley Fool has a disclosure policy.