3 Top Warren Buffett Stocks to Buy for Retirement Now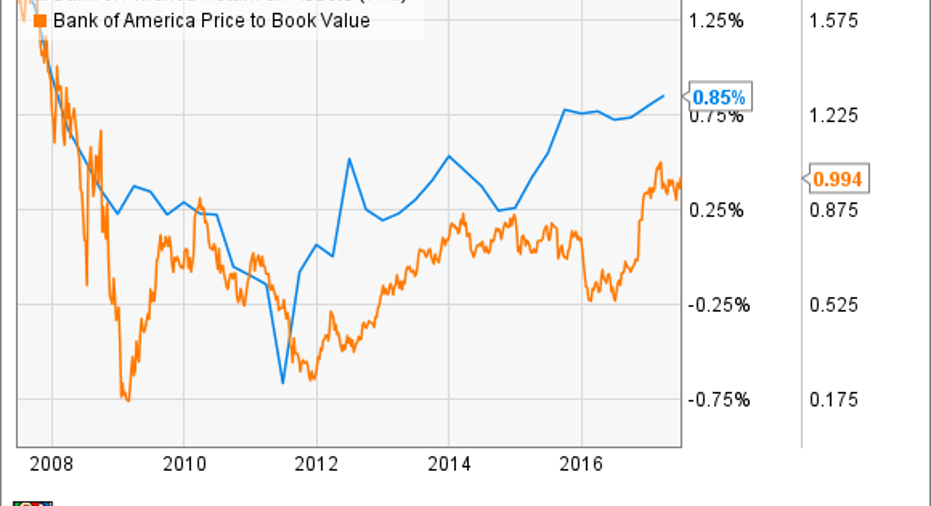 Warren Buffett is the world's wealthiest investor because he buys great stocks at fair prices, and if you're in retirement, following in his footsteps could be a savvy strategy for achieving financial security. Although you might not be able to buy all the stocks that Buffett's Berkshire Hathaway (NYSE: BRK-B)(NYSE: BRK-A) owns, a good place to start could be Bank of America (NYSE: BAC), Apple Inc. (NASDAQ: AAPL), and Coca Cola Company (NYSE: KO).
This bank is still a bargain
Bank of America is one of the country's biggest banks, and Warren Buffett recently said he plans to exercise warrants that will give him ownership of 700 million shares. He acquired the warrants when he bought $5 billion in Bank of America preferred securities during the great recession.
Up until now, he's been happy to sit back and collect interest on his preferred stock, but following Bank of America's decision this week to increase its dividend 60% to $0.48 per year, owning common stock has become a better bet. Once he exercises his warrants, he'll be able to pocket $36 million more in interest annually than he would collect if he kept his preferred stock instead.
No, you can't turn back the clock and get the same deal as Buffett, but there's reason why now might still be a good time to buy. Bank of America's profit on assets has been steadily improving alongside the U.S. economy, and its price-to-book (P/B) value arguably remains in bargain bin territory. Prior to the financial crisis, the P/B ratio was typically north of one, but even after a big move up, it's still below one today.
An expanding net interest margin should allow the bank's financial condition to continue to improve. The spread between its cost of funds and the interest rate it charges on loans has climbed to 2.71% from 2.37% in 2015, and since interest rates are still rising, net interest margin could climb even higher. Washington's focus on rolling back recession-era bank regulations also offers support to profit growth.
If you're still looking for reasons to buy, it doesn't hurt that Bank of America plans on buying back a lot of its common stock. It plans on repurchasing $12 billion in stock between July 1 and June 30, 2018.
The next big thing
Buffett traditionally shies away from technology stocks, but he's made an exception with Apple Inc.
He started buying Apple in 2016 when shares were down and out because of slowing demand in China and lower iPhone volume because consumers weren't upgrading. So far, buying Apple has been an impressively good investment.
After such a big move, it might be tempting to think that this story is all played out. But that thinking could be short-sighted because the company's has new products coming that could increase revenue and earnings.
Recently, Apple announced it will sell a new virtual assistant to compete against Amazon.com's Echo and Alphabet. Also, rumors are swirling that its next iPhone will be packed with features compelling enough to convince consumers to upgrade. Some of the more intriguing features being discussed include 3D sensors that could allow hands free control of the phone, and an OLED display.
Apple continues to have one of the most loyal followings on the planet, and even during its slowing sales last year, it remained a cash generating machine. Its balance sheet boasts more cash and investments than Buffett's Berkshire Hathaway, and that suggests there's plenty of dividend-friendly financial firepower for the future.
Overall, the company's R&D investments position it to remain at the forefront of innovation, its products continue to command profit-friendly premium prices, and it's got an envy-inspiring blue-chip balance sheet. It's hard to argue this stock shouldn't be in retirement portfolios.
Could profit bubble-up?
Warren Buffett is a big believer in running efficient companies, and I don't think it's a stretch to think that new management at Coca-Cola is going to embrace a strategy that balances product development with a lean-and-mean cost structure.
In May, Coca Cola's president, James Quincy, took over the CEO seat from Muhtar Kent, who held the position for almost nine years. As part of its management reshuffling, the company created a new chief growth officer and upgraded its R&D head to chief innovation officer.
The company's already done a good job of diversifying itself away from soda. A push into teas and bottled water helped North American revenue grow 4% last year, and it has quietly become the biggest juice company in the world. The new senior management positions suggest Quincy won't be resting on the company's laurels.
In the future, innovation such as low sugar formulations and new sizes will be good for the growth side of things, but what really interests me about this stock is the opportunity to carve away at its expenses.
Management believes that in 2019 cost initiatives will have removed $5 billion in spending when compared to 2008, but that could only be the start. As part of an operational restructuring, management plans to cut 1,200 jobs by the middle of 2018, and that decision, plus other moves, has it predicting an incremental $800 million in cost-savings. Sure, a lot of that money will get poured back into new brands, but there should still be a lot of money left over to support earnings. In 2017, underlying profit growth is expected to be between 7% to 8%, which is more than double the expected organic revenue growth. As it stands right now, that's got analysts thinking earnings per share will improve to $1.98 next year from $1.89 this year.
With the potential to generate more operating cash, a 55-year track record of dividend increases, and a current dividend yield of 3.3%, I think picking up shares in this long-time Buffett favorite is smart.
10 stocks we like better than Coca-ColaWhen investing geniuses David and Tom Gardner have a stock tip, it can pay to listen. After all, the newsletter they have run for over a decade, Motley Fool Stock Advisor, has tripled the market.*
David and Tom just revealed what they believe are the 10 best stocks for investors to buy right now... and Coca-Cola wasn't one of them! That's right -- they think these 10 stocks are even better buys.
Click here to learn about these picks!
*Stock Advisor returns as of June 5, 2017
Suzanne Frey, an executive at Alphabet, is a member of The Motley Fool's board of directors. Todd Campbell owns shares of Amazon and Apple. His clients may have positions in the companies mentioned. The Motley Fool owns shares of and recommends Alphabet (A shares), Alphabet (C shares), Amazon, Apple, and Berkshire Hathaway (B shares). The Motley Fool has a disclosure policy.