3 Top Tech Stocks to Buy in 2017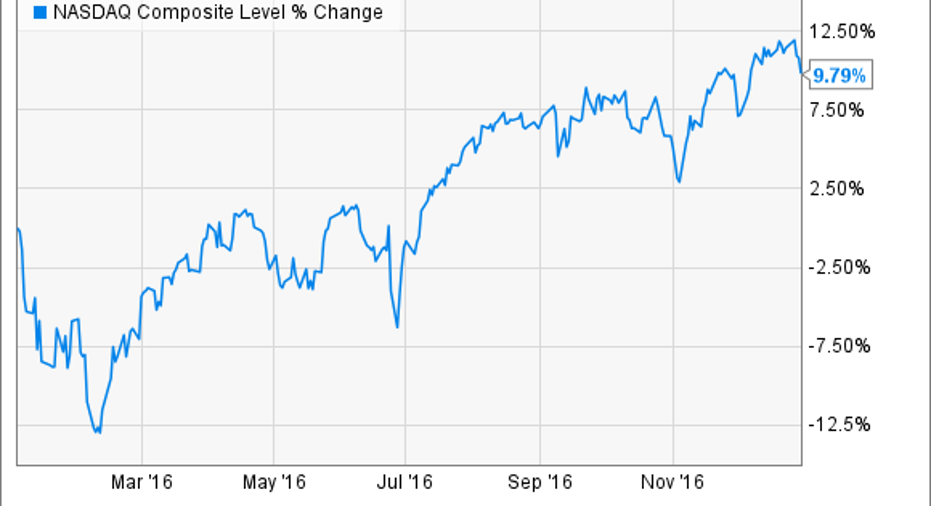 Image source: Getty Images.
Though it may not have seemed like it, 2016 was actually a banner year for the stock market, and tech stocks in particular. After a dismal January and early February, the tech-heavy Nasdaq Composite rallied roughly 25% from its mid-February low to its late-December highs.
With the new year already well underway, investors are still on the lookout for the best tech stocks to buy in 2017. Though "best" is admittedly subjective, here's my short list for the best tech stocks to own in 2017 and beyond: MercadoLibre (NASDAQ: MELI), Netflix (NASDAQ: NFLX), and Facebook (NASDAQ: FB).
| Company Name | Market Capitalization | 2016 % Change |
| --- | --- | --- |
| MercadoLibre | $6.9 billion | 42% |
| Netflix | $52.7 billion | 12% |
| Facebook | $332.2 billion | 12% |
Data source: Google Finance.
Long-time readers will likely recognize these names, and that shouldn't come as a surprise. As avowed long-term investors, we Fools know that buying and holding shares in the most successful companies is a tried-and-true pathway to meeting your financial goals. In this article, we will quickly review what you need to know about each of these three top tech stocks.
1. MercadoLibre
"The eBay of Latin America," MercadoLibre is one of our favorite international growth stocks here at the Fool, and for good reason. Over the past five years, MercadoLibre has demonstrated the ability to generate consistent, above-average growth to great effect. In 2011, MercadoLibre generated $298 million in sales and $76 million in profits. On its 2015 10-K, the company reported $651 million in revenue and $105 million in net income, at a time when foreign-exchange headwinds were dampening its financial performance.
Given its leading brand across a region where eMarketer predicted total e-commerce sales would double from $40 billion in 2015 to $80 billion in 2019, there's a legitimate case to be made that MercadoLibre's growth is truly just getting started. That's perhaps why Wall Street estimates MercadoLibre's sales growth rate will actually accelerate from a projected 27% this year to 33% in 2018. For tech investors looking to add some international flavor to their portfolios, MercadoLibre remains an incredibly enticing opportunity.
2. Netflix
Even as it approaches the inflection point of becoming consistently profitable in the next year or two, Netflix remains a growth stock with ample room for continued share-price appreciation. Despite content costs remaining elevated for the foreseeable future, Netflix's business model is undeniably profitable, as evidenced by its 36% contribution margin -- something resembling operating profit -- in its fairly mature U.S. business. The losses in its international operations currently mask what should become its long-term profit structure, making Netflix stock appear inordinately expensive at 349 times its trailing-12-month earnings.
The company expects to surpass 91 million paid accounts in its upcoming quarterly report, giving it plenty of room to grow subscribers in the 190 countries (and counting) in which it operates. What's more, ideas like adding downloadable offline content should help expand the company's already powerful value proposition. Analysts see Netflix's sales increasing 30% this year and 24% next year, which further underscores why the online video pioneer remains one of the best tech stocks on the market today.
3. Facebook
By virtually any metric, Facebook continues to demonstrate that it is indeed becoming the most powerful online advertising platform this side of Google. In its most recent quarter, Facebook's sales soared 59%, to $6.8 billion, and its GAAP (generally accepted accounting principles) profits rose 166%, to $2.5 billion; 33% profit margins on so large a revenue base are a rare bird indeed. Moreover, Facebook's sales are expected to grow a further 50% this year and 34% next year.
Facebook's cadre of emerging communication platforms -- WhatsApp, Facebook Messenger, and Oculus -- have yet to truly ramp up their own monetization efforts, adding another potential long-term tailwind to the company's growth story. Perhaps more importantly, Facebook figures to be one of two main companies, along with Google's parent Alphabet, to benefit from the continued growth in online advertising spending. Online advertising is widely expected to overtake TV as the largest single advertising medium globally this year. Over the period from 2016 to 2020, it is expected to grow from $68 billion to $105 billion. Like MercadoLibre and Netflix, Facebook is a great core growth stock that appears poised to thrive in 2017 and beyond.
10 stocks we like better than Facebook When investing geniuses David and Tom Gardner have a stock tip, it can pay to listen. After all, the newsletter they have run for over a decade, Motley Fool Stock Advisor, has tripled the market.*
David and Tom just revealed what they believe are the 10 best stocks for investors to buy right now... and Netflix wasn't one of them! That's right -- they think these 10 stocks are even better buys.
Click here to learn about these picks!
*Stock Advisor returns as of January 4, 2017
Suzanne Frey, an executive at Alphabet, is a member of The Motley Fool's board of directors. Andrew Tonner owns shares of, and TheMotley Fool owns shares of and recommends,eBay. The Motley Fool owns shares of and recommends Alphabet (A and C shares), Facebook, MercadoLibre, and Netflix. The Motley Fool has a disclosure policy.