3 Top Stocks You Can Buy on Sale Today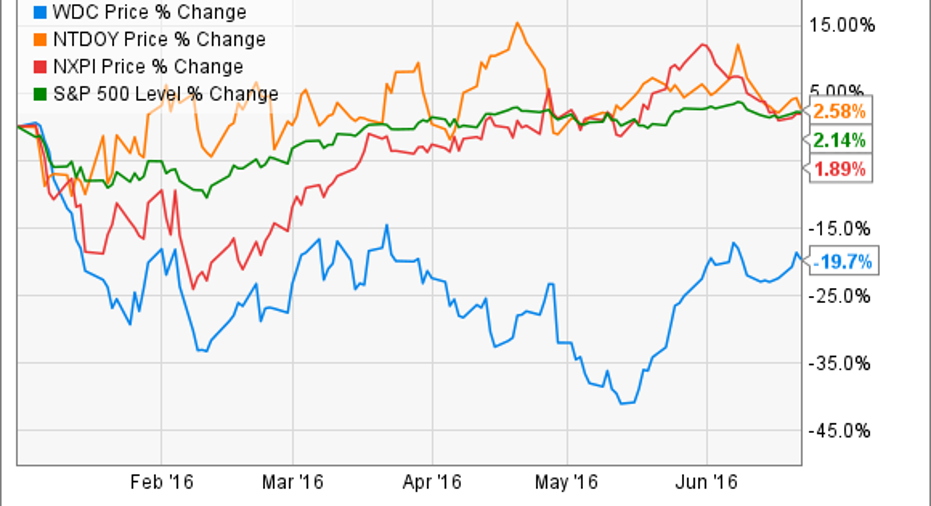 Let's build some wealth. Image source: Getty Images.
In a perfect world, shares of great companies would always rise in perfect harmony with their business prospects. In the real world, however, investors often misjudge strong businesses and overreact to insignificant news. That's one way to unlock great buy-in windows, if you can see past the fog of war to base your decisions on long-term fundamentals.
This isn't an easy feat, of course. If it were, everyone would be doing it all the time and stocks would never be mispriced. Today, I'll help you get started with a look at three top companies whose share prices don't seem to match their true potential. It's not a list of official recommendations, but a starting point for deeper research.
Let's get started in the rapidly evolving world of computer hardware.
Deeply discounted data storage
The pick here is hard drive maker Western Digital . Spinning magnetic disks are going the way of the dodo bird, replaced by much faster and increasingly price-competitive solid-state storage (or SSD) devices. Against that backdrop, Western Digital shares have been treated like a red-headed stepchild of late. Yet, the company actually has a credible path that will enable it to stay relevant in the SSD era.
Western Digital's share price has fallen 15% year to date. The stock is trading at a modest 14 times trailing earnings and 12 times forward estimates, placing it in deep-value territory. Western Digital shares are also heavily shorted, setting the stock up for a potential short squeeze.
All of this would be understandable if the company were stuck in a rut at the wrong time. That is arguably the case for archrival Seagate Technology , which trades at similar multiples after falling 33% in 2016.
But the two drive makers could hardly be more different. Western Digital recently closed a $19 billion buyout that sets the company on the right track. With SSD specialist SanDisk under its wing, the company is now equipped to stay alive in the changing industry. Seagate has no plan B in reserve, other than developing its own SSD platforms from scratch. That is a much tougher avenue.
Long story short, Western Digital shares are selling at bargain-basement prices even though it seems positioned to crush its only significant rival over the next several years. That adds up to a tempting turnaround bet.
Image source: Nintendo.
The business of fun and games
Next up, isNintendo . Yes, this is another turnaround story -- but one with few similarities to the Western Digital situation.
Nintendo won the seventh generation of the video game console wars. The Wii outsold its Xbox and PlayStation rivals from the get-go, and held on to that lead for six solid years. The eighth-generation Wii U launch flopped in 2012, and most major game developers have backed down from supporting Nintendo's current hardware platform.
The Japanese company is champing at the bit to start the ninth generation. The next system, currently code-named Nintendo NX, is slated for release in March 2017 and carries the heavy burden of making Nintendo matter again.
Unlike the Wii U, the NX won't simply add features and computing horsepower to an existing concept. Instead, the console is said to offer "a new way of playing games." So don't expect to wave Wii controllers in front of the NX and its sensors. What will gamers get? That's still a tightly guarded secret. The rumor mill is settling for a low price point and improved multiplayer networking.
So betting on a comeback around the NX launch is a bit of a gamble. Investors have to take Nintendo's word on the game-changing nature of this new system. That's not easy to do with a failure like the Wii U in recent memory.
That being said, it's hard to bet against Nintendo when management has tons of incentive to release a fresh vision. The Wii U may have faltered because Nintendo rested too heavily on its Wii laurels. If the NX truly starts from scratch and leaves the seventh and eighth generation baggage behind, the company could get a Wii-style early lead in this market refresh.
As a reminder, Nintendo shares more than quadrupled in two years when the Wii broke through. Share prices are right back to where they were before the launch, leaving plenty of room for another rise. These shares don't come with mouth-watering P/E ratios, but the company has positive cash flows even in these dark days, along with $2.5 billion in cash on its balance sheet.
You have to assume that Nintendo is lining up its best and brightest content for this launch, which was not the case for the Wii U introduction. So far, a fresh Zelda title has been announced for the NX launch. Keep an eye out for Mario, Donkey Kong, and Metroid updates as well. And the rumored multiplayer improvements would be a perfect match for the Super Smash Bros. melee experience.
Yes, it's a risky play. I'm assuming that Nintendo learned some hard lessons from the lost Wii U years. But the upside is huge, as long as Mario and Link are ready for battle.
Image source: Getty Images.
Smarter cars need more chips
Finally, let's leave the turnaround bets aside. Here's a blossoming growth story that simply isn't getting the Street credit it deserves.
NXP Semiconductors already had a toe in the burgeoning automotive computing sector before it picked up rival Freescale in an $11.8 billion merger. Freescale was a market leader in automotive chips. Together, the two-headed beast is the largest player in this important market. NXP is pulling out all the stops to make the most of this opportunity, right as self-driving cars are poised around the corner and in-car infotainment systems grow more complex and powerful.
Yet NXP shares have declined 17% over the last year as the Freescale merger materialized. The stock's P/E ratio has fallen from 84 to 17. The PEG ratio, which includes long-term growth estimates, stops at 0.44 today. A PEG value of 1.0 to 2.0 is thought to represent a fair valuation, and lower figures point to undervalued stocks.
Given all of these data points, it's not controversial to say that NXP looks cheap. The stock is priced for disaster, such as the Freescale integration going off the rails or the automotive bet being a bad idea. If that's how you see NXP's future playing out, shares should look reasonably valued right now.Otherwise, it's a screaming buy.
The article 3 Top Stocks You Can Buy on Sale Today originally appeared on Fool.com.
Anders Bylund has no position in any stocks mentioned. The Motley Fool owns shares of and recommends NXP Semiconductors. The Motley Fool also owns shares of Western Digital. Try any of our Foolish newsletter services free for 30 days. We Fools may not all hold the same opinions, but we all believe that considering a diverse range of insights makes us better investors. The Motley Fool has a disclosure policy.
Copyright 1995 - 2016 The Motley Fool, LLC. All rights reserved. The Motley Fool has a disclosure policy.