3 Top Stocks With Lots of Room Left to Grow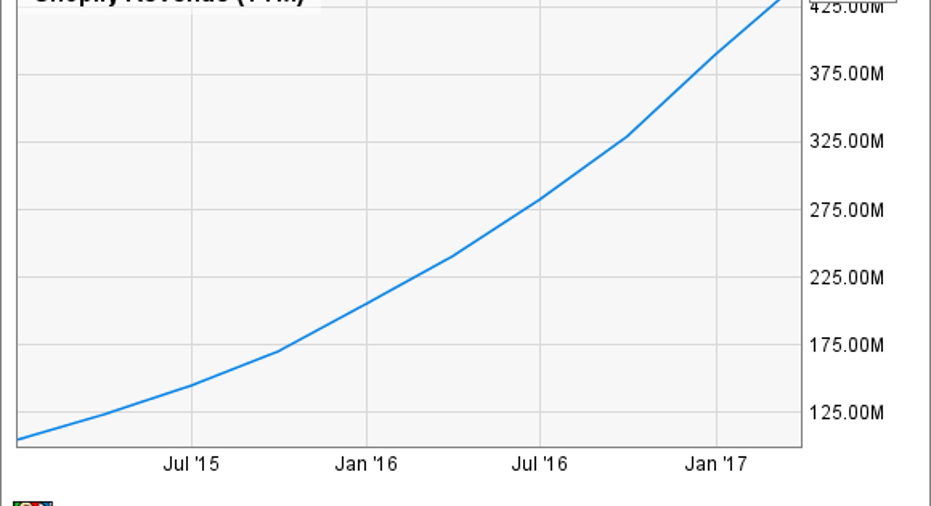 Exact Sciences (NASDAQ: EXAS), LendingTree (NASDAQ: TREE), and Shopify (NYSE: SHOP) operate in different markets, but all three have only begun to tap into growth opportunities that could drive these companies share prices to new highs.
A new approach to finding colon cancer
There are 76 million aging baby boomers in the United States, and guidelines call for anyone between age 50 and 75 to get screened for colon cancer.
IMAGE SOURCE: GETTY IMAGES.
However, more than half of this patient population avoids or fails to stay up to date with screening guidelines, in spite of the knowledge that colon cancer is far more easily treated if it's caught early on.
Fortunately, Exact Sciences has developed a simple to use screening option that's cheaper and less invasive than a colonoscopy, which remains the gold standard for screening. The company launched its Cologuard screening test in 2015, and as more insurers have signed on to pay for it, its use has increased significantly.
For example,Exact Sciences completed 100,000 tests in the first quarter, and that was 150% more than one year ago. This year, management predicts it will complete more than 470,000 tests. If so, it will reflect growth of more than 100% compared with 2016.
It could still be a while before this company's top-line growth translates into profit, because the company is spending heavily on marketing. But sales clocked in at $132 million over the past 12 months, and they're expected to climb to at least $195 million this year. Growth like that,a huge target market, and a big unmet need to increase screening rates suggest it won't be too long before this company's reporting earnings.
EXAS Revenue (TTM) data by YCharts
Money matchmaker
An embrace of online banking and e-commerce means that LendingTree is arguably in the right place at exactly the right time.
The company operates a website that helps borrowers and lenders find each other, and as more lenders increase their advertising spending on digital platforms, LendingTree is enjoying remarkable growth.
The company makes a lot of its money from people searching for mortgages, but increasingly, it's getting a bigger proportion of its sales fromnon-mortgage products. Mortgage-related revenue grew 14% year over year to $62.9 million in the first quarter, whilenon-mortgage revenue soared 75% to $69.6 million. Because of its faster growth, non-mortgage products now account more than half (53%) of LendingTree's total revenue, up from 42% last year.
It doesn't appear that LendingTree has fully tapped its market opportunity, either. LendingTree estimates it has just 2% market share in its core market, and that it's only 3.5% penetrated into U.S. financial-services companies' $12.1 billion in online ad spending. SinceFrost & Sullivan forecasts that spending on digital ads by financial-services companies will grow by a compounded 13.8% annually between 2014 and 2020, there's a lot of opportunity still for sales to head higher.
How much higher is anyone's guess, butLendingTree targets at least $800 million in sales for 2020, and that works out to compounded annual growth of 15% or more. Since the company's adjusted earnings per share was $0.85 in Q1, that kind of top-line growth should be very good for the bottom line, too.
Improving e-commerce
The number of Amazon.com boxes sitting at doorsteps might have you thinking e-commerce is near the end of its expansion phase, but according to the Census Bureau, online sales accounted for less than 10% of the $1.2 trillion in total retail sales in the United States in the fourth quarter of 2016.
Obviously, that suggests there's still a lot of potential growth for retailers hoping to market their products online, and that means there's still a big opportunity for Shopify, a leading provider of e-commerce solutions to retailers of all sizes.
Shopify sells a comprehensive e-commerce solution that can be easily scaled up as retailers get bigger and their needs become more complex. Shopify makes its money through subscriptions and merchant services, such as payment processing.
Earlier this month, Shopify reported first-quarter financial results that show this company's strategy is paying off. A record number of clients resulted in subscription revenue of $62.1 million, up 60% from last year, and record gross merchandise volume at retailers caused merchandise services revenue to grow 92% year over year to $65.3 million. Overall, total sales of $127.4 million were 75% higher than one year ago.
SHOP Revenue (TTM) data by YCharts
Admittedly, it will be a bit before Shopify achieves the scale necessary to produce earnings, but investors might be better served thinking less about that, and more about how this company's transforming retail.
10 stocks we like better than ShopifyWhen investing geniuses David and Tom Gardner have a stock tip, it can pay to listen. After all, the newsletter they have run for over a decade, Motley Fool Stock Advisor, has tripled the market.*
David and Tom just revealed what they believe are the 10 best stocks for investors to buy right now... and Shopify wasn't one of them! That's right -- they think these 10 stocks are even better buys.
Click here to learn about these picks!
*Stock Advisor returns as of April 3, 2017
Todd Campbell has no position in any stocks mentioned.His clients may have positions in the companies mentioned.The Motley Fool owns shares of and recommends Shopify. The Motley Fool has a disclosure policy.