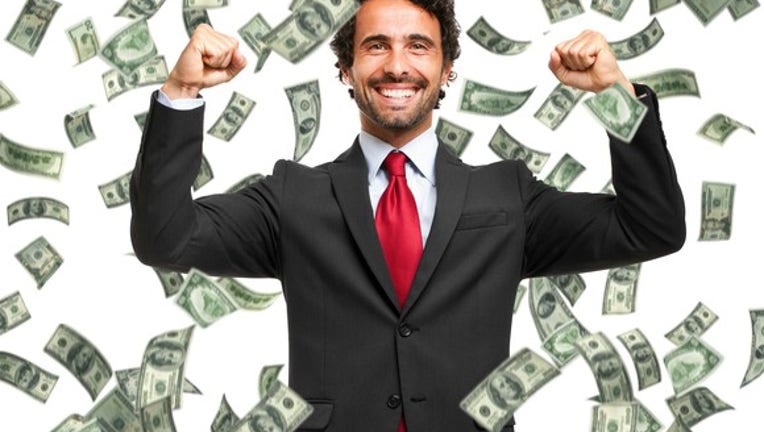 Donald Trump addressed members of Congress this week. During his speech, he asked Congress to support a $1 trillion infrastructure spending program that he says will be the biggest reinvestment back into America since Eisenhower's interstate highway program that was passed in the 1950s. If Donald Trump can strong-arm Congress into approving his plan, it could send sales, profits, and share prices surging atChicago Bridge & Iron (NYSE: CBI), Caterpillar Inc.(NYSE: CAT), and Cliffs Natural Resources (NYSE: CLF).
Pent-up projects
The American Society of Civil Engineers estimates that an eye-popping $3.3 trillion is needed to fund various infrastructure projects through 2025. Those projects are wide-ranging and include everything from energy infrastructure to bridges and roads.
Image source: Getty Images.
It's anyone's guess if Congress will pass a big spending program that increases the national debt. However, if they pass even a fraction of the amount that Donald Trump is requesting, it could still be a windfall forChicago Bridge & Iron (CB&I).
CB&I helps upstream and downstream energy companies complete projects by performingengineering, procurement, and construction services. The company's fabrication business makes its money by building steel-plate structures, such as piping systems. Its various projects include liquefied natural gas terminals, electric power-plant projects, and drinking and wastewater pipelines.
On the campaign trail, Trump was a strong advocate for boosting investment in oil, gas, and water infrastructure. That'sCB&I's wheelhouse, and given that the company generates 70% of its revenue from U.S. projects, it appears to be perfectly positioned to benefit from any increase in infrastructure spending.
Although the company's net income has dipped alongside falling commodity prices, CB&I remains profitable. If demand increases, then leveraging rising sales against fixed costs could help profit jump.In 2016, it produced operating income of $658 million on $10.7 billion in revenue; after taxes, that translated into net income of $4.23 per share.
It's reasonable to think that sales could rebound back to (or beyond) the $13 billion recorded in 2013. If so, a return of operating margin to the historical range of 6% to 9% from about 5% today could make this stock a bargain. Industry analysts think that earnings per share (EPS) will be $4.53 in 2017, which means that investors can buy CB&I shares for less than 7.5 times earnings estimates. That doesn't seem like a lot to pay for a company that could be about to enjoy a growth renaissance.
Pushing up profit
An increase in infrastructure spending could lead to rising demand for Caterpillar's heavy equipment, oil and gas well servicing, construction site generators, and locomotives. The company gets about 50% of its revenue in North America, so it won't benefit as much from rising infrastructure spending as CB&I, but it could still enjoy a big boost to its sales and profit.
Declining demand for equipment because of fewer projects weighed down Catepillar's results in 2016, but that decline has led to cost-savings strategies that could help profit rebound more quickly when revenue begins to increase again.
The company's revenue fell to $38.5 billion in 2016 from $47 billion in 2015. As a result, earnings per share declined to $3.42 from $5.35. An acceleration in construction and mining demand because of infrastructure spending could help the company get back to record earnings quickly because savings programs shaved $2.3 billion in costs last year. Consider this point: Despite sales in the fourth quarter falling to $9.6 billion from $11 billion a year ago, adjusted EPS was unchanged between the two periods, at $0.83.
Admittedly, a return to growth won't happen overnight for this company because there's slack out there in terms of used equipment that will have to be absorbed. Given the potential tailwinds, however, I wouldn't be shocked to see further decelerating sales this year shift back to growth in 2018 or 2019.
U.S. steel demand is bullish
Cliffs Natural Resources is the biggest supplier of iron-ore pellets to U.S. steel companies. If Trump is true to his word, and U.S. steel is used for U.S. infrastructure projects, then Cliffs Natural Resources could enjoy a spike in revenue and profitability as projects get underway.
In 2016, Cliffs Natural Resources continued its debt-reduction strategy, eliminating $600 million in net debt from its books versus 2015. The efforts have reduced its net debt to its lowest levels since 2011, and as a result, the company's net interest expense fell 27% year over year, to $44 million in the fourth quarter. After all the puts and takes, the company's net income was $81 million in Q4, or $0.42 per share.
In 2017, Cliffs expects to generate$510 millionof net income. If it delivers on that target, it would mark a significant jump from its net income of $199 million last year.An improving market for iron ore, particularly high-iron content ore, offers important tailwinds globally, and U.S. pricing could benefit a lot if Trump's trade rhetoric leads to a crackdown on cheap steel from overseas being used in the U.S.
10 stocks we like better than Caterpillar When investing geniuses David and Tom Gardner have a stock tip, it can pay to listen. After all, the newsletter they have run for over a decade, Motley Fool Stock Advisor, has tripled the market.*
David and Tom just revealed what they believe are the ten best stocks for investors to buy right now... and Caterpillar wasn't one of them! That's right -- they think these 10 stocks are even better buys.
Click here to learn about these picks!
*Stock Advisor returns as of November 7, 2016
Todd Campbell owns shares of Cliffs Natural Resources.His clients may have positions in the companies mentioned.The Motley Fool owns shares of Cliffs Natural Resources. The Motley Fool has a disclosure policy.