3 Top Smartwatches Stocks to Buy in 2017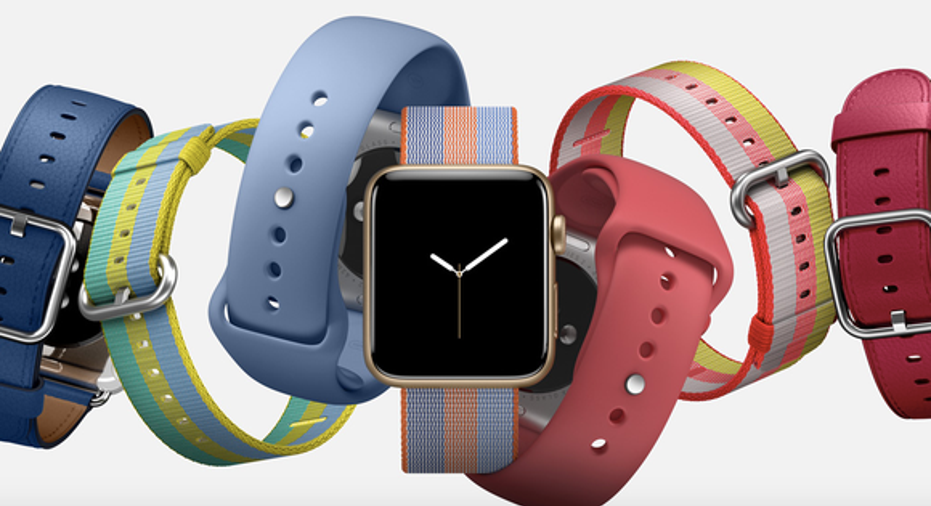 You might have noticed that smartwatches are popping up all around you more than ever before. That's because smartwatch sales spiked to 21.1 million last year, up from just under 5 million in 2014.
Smartwatch shipments are expected to continue growing quickly and reach an estimated 111 units worldwide by 2020, according to IDC.Apple (NASDAQ: AAPL), Garmin(NASDAQ: GRMN), and Samsung (NASDAQOTH: SSNLF) are the top players in the space right now, and investors looking for smartwatch stocks would be wise to give each a hard look.
Image source: Apple.
The leader
Apple is the dominant smartwatch maker right now and holds more than 63% of the smartwatch market.The company's share is down a few percentage points from a couple of years ago because of increased competition, but Apple is still the undisputed smartwatch leader.
The company doesn't report its smartwatch shipments or how much revenue it makes from them, but CEO Tim Cook said on the company's fiscal Q1 2017 earnings call that the Apple Watch had record unit sales and revenue for the quarterand noted that Apple Watch is the best-selling smartwatch in the world.
Strategy Analytics estimates that Apple shipped 5.2 million watches in the calendar fourth quarter, which would be a modest increase of 2% year over year, according to the research firm's estimates. It's worth nothing here that Apple Watch shipment estimates vary. IDC, for example, says Apple shipped 4.6 million watches in the quarter, up from 4.1 million a year ago. But both research firms list Apple as the top smartwatch vendor.
Apple's position in the smartwatch market is unparalleled at the moment, and while competitors are eating up more market share than before, it's unlikely any of them will be able to match Apple's dominance anytime soon.
The challenger
Much as in the smartphone market, Apple and Samsung are pitted against each other in the smartwatch space as well. Samsung is the second highest-selling smartwatch vendor, with 16% of shipments in Q4 2016, according to Strategy Analytics.
Samsung entered the smartwatch space more than a year before Apple and is currently on its third-generation flagship device, the Gear S3. The company shipped about 800,000 smartwatches in the fourth quarter, representing a 38% decline from Q4 2015. That dip probably came because Samsung launched the Gear S3 late into 2016 (mid-November in the U.S.), and two months after Apple had already rolled out its Apple Watch Series 2.
But even though the company has fallen behind Apple's smartwatch shipments, Samsung still easily outpaces its other rivals. "Combined together, Apple and Samsung today account for an impressive three in four of all smartwatches shipped globally, and they are a long way ahead of trailing rivals such as Garmin, Fitbit, and Huawei,"Strategy Analytics' Steven Waltzersaid back in January.
The rising star
Garmin's smartwatch shipments hit an all-time high in the third quarter of 2016 -- surpassing 600,000 units -- and even outpaced Samsung's shipments in the quarter. Garmin's third-quarter numbers showed an impressive 324% year-over-year increase that showed that established Garmin as a rising star in the smartwatch space.
The company didn't have the same breakout quarter in Q4 2016, but there are several reasons smartwatch investors should keep an eye on the company.Part of Garmin's rising position comes from the diversity of its smartwatch lineup, which includes models for running, hiking, swimming, and golfing. This diversity allows the company to cater devices specifically to a user's needs, compared with Samsung and Apple's one-size-fits-all approach.
Garmin has also smartly opened up its watches to developers, allowing them to create new watch faces and other features through itsConnect IQ app store. The store has 2,500 apps, widgets, and watch faces right now and has seen 24 million downloads since it launched. Garmin says its app store is an "important differentiator for our smart wearables" versus other players.
This is just the beginning
While smartwatch sales numbers may seem to be off to a slow start, investors should remember that this segment is still relatively new, and tech companies are still trying to figure out which features users want the most and what price points to sell the devices at. But it's clear from shipment forecasts in the coming years, and growing sales in 2016, that the smartwatch market is poised for much more growth.
10 stocks we like better than AppleWhen investing geniuses David and Tom Gardner have a stock tip, it can pay to listen. After all, the newsletter they have run for over a decade, Motley Fool Stock Advisor, has tripled the market.*
David and Tom just revealed what they believe are the 10 best stocks for investors to buy right now... and Apple wasn't one of them! That's right -- they think these 10 stocks are even better buys.
Click here to learn about these picks!
*Stock Advisor returns as of February 6, 2017
Chris Neiger has no position in any stocks mentioned. The Motley Fool owns shares of and recommends Apple and Fitbit. The Motley Fool has the following options: long January 2018 $90 calls on Apple and short January 2018 $95 calls on Apple. The Motley Fool has a disclosure policy.