3 Top Lumber Stocks to Consider Buying in 2017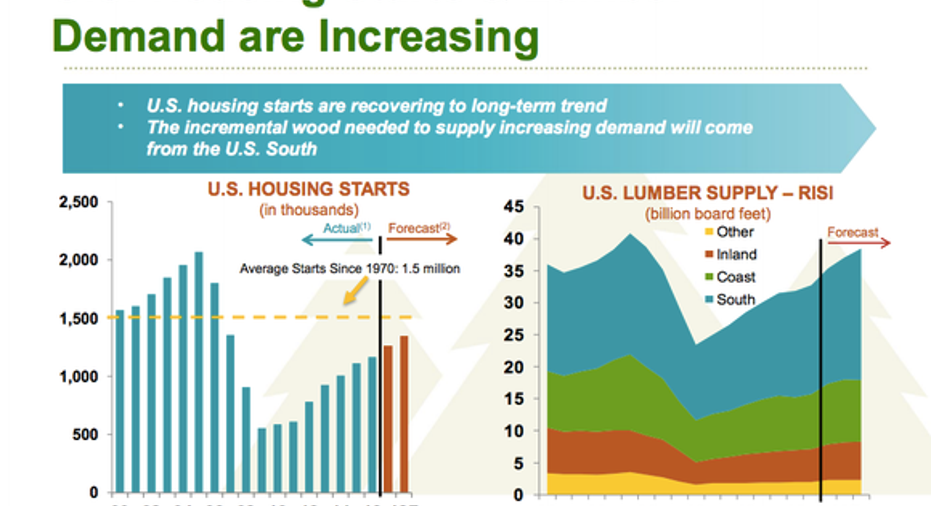 The lumber industry is all about wood. Wood comes from trees, which are a pretty much a renewable resource. All you have to do is let them grow. That's also a fair strategy for investors in timberland industry players Weyerhaeuser Co. (NYSE: WY), Rayonier Inc. (NYSE: RYN), and Potlatch Corporation (NASDAQ: PCH) , which are three of the top lumber stocks to buy in 2017. They look particularly promising now, since the homebuilding business appears to be heating up.
1. The largest owner
Weyerhaeuser is the largest forestland owner in the United States. Last year was transformative for the company because it featured the acquisition of Plum Creek Timber, which helped increase Weyerhaeuser's timberland holdings by a massive 85%. It now owns or controls 13 million acres spread across North and South America.
Image source: Weyerhaeuser Co
Timberland represents roughly 90% of Weyerhaeuser's assets. The rest of the business is tied to using its real estate for other purposes (development, renewable energy) and processing its trees into lumber. That last business, however, generated $4.3 billion in revenue in 2016, nearly 70% of the top line.
Wood is a commodity, so Weyerhaeuser's top- and bottom- lines fluctuate with supply and demand. With the U.S. housing market on the mend, that's a good thing, as homebuilders are the main consumers of lumber. Meanwhile, the timberland it owns is a huge asset that keeps on giving. That, in turn, will support this well-positioned real estate investment trust's ability to keep throwing income off to investors. (The current yield is around 3.75%.) If you are looking to play a lumber uptick, this industry giant should be on your short list for today and the long haul.
2. Much smaller, but still No. 2
Rayonier's holdings are nowhere near as extensive as Weyerhaeuser's: It owns "just" 2.7 million acres of forestland in the Southern United States, the Pacific Northwest, and New Zealand. That's still enough property, however, to make Rayonier the second-largest timberland REIT in the United States. Revenues tied to timberland make up around 70% of the company's EBITDA.
The REIT's relatively small size could actually be a desirable trait if you are focused on growth. The math is pretty simple: It's far easier to find acquisitions that will have a material impact on your top and bottom lines when you are working off of a smaller asset base.
For example, in 2016, Rayonier inked three deals that added nearly 95,000 acres of timberland to its portfolio. That's around 3.5% of its total land holdings -- not huge, but still noteworthy. Deals of that size would represent less than 1% of Weyerhaeuser's timberland. Acquisitions and dispositions have also been used to improve the company's harvest statistics -- another area where less extensive holdings mean moderate changes have a larger relative impact.
Rayonier is using acquisitions to upgrade its portfolio. Image source: Rayonier Inc.
It's also worth noting that Rayonier has a heavy focus on the U.S. South, where a key business in this space is wood fiber, which is processed to make things like diapers and packaging. That tends to be a more stable business than lumber, giving Rayonier a solid foundation even when lumber prices are low. Rayonier's yield is 3.4%.
3. Heavy in lumber
Potlatch is the smallest of this trio, with 1.4 million acres of timberland. Roughly 75% of its assets are located in Idaho and Arkansas. That means it's not nearly as diverse as the other two lumber-related REITs highlighted here. But it has more exposure to the lumber market.
Housing starts look like they're heading up. If that trend continues, it will naturally translate into higher demand for lumber. Image source: Potlatch Corporation
That exposure comes from lumber mills (which isn't unique), and also from the 32% of EBITDDA that comes from log sales tied to the price of lumber. Overall, roughly half of Potlatch's business is driven by lumber prices. That's great if lumber prices are heading higher because an improving housing market is increasing demand. But don't forget that it can be a bad thing when housing starts decline and lumber prices trend lower. Therefore,if you own or are considering buying Potlatch shares (and their 3.3% dividend yield), its vital to keep an eye on the housing market.
It could be a good year
Lumber directly and indirectly impacts Weyerhaeuser, Rayonier, and Potlatch and their extensive timberland holdings. One of the benefits of owning a timberland REIT over, say, a hardware store, is that timberland is a renewable resource. In other words, this trio can just keep harvesting trees in line with demand. Their results will go up and down, but the assets that underpin their business won't run out. With housing looking like its strengthening, now could be a good time to add one of these lumber players to your portfolio.
10 stocks we like better than WeyerhaeuserWhen investing geniuses David and Tom Gardner have a stock tip, it can pay to listen. After all, the newsletter they have run for over a decade, Motley Fool Stock Advisor, has tripled the market.*
David and Tom just revealed what they believe are the 10 best stocks for investors to buy right now... and Weyerhaeuser wasn't one of them! That's right -- they think these 10 stocks are even better buys.
Click here to learn about these picks!
*Stock Advisor returns as of May 1, 2017
Reuben Brewer has no position in any stocks mentioned. The Motley Fool has no position in any of the stocks mentioned. The Motley Fool has a disclosure policy.