3 Top Hollywood Stocks to Buy in 2017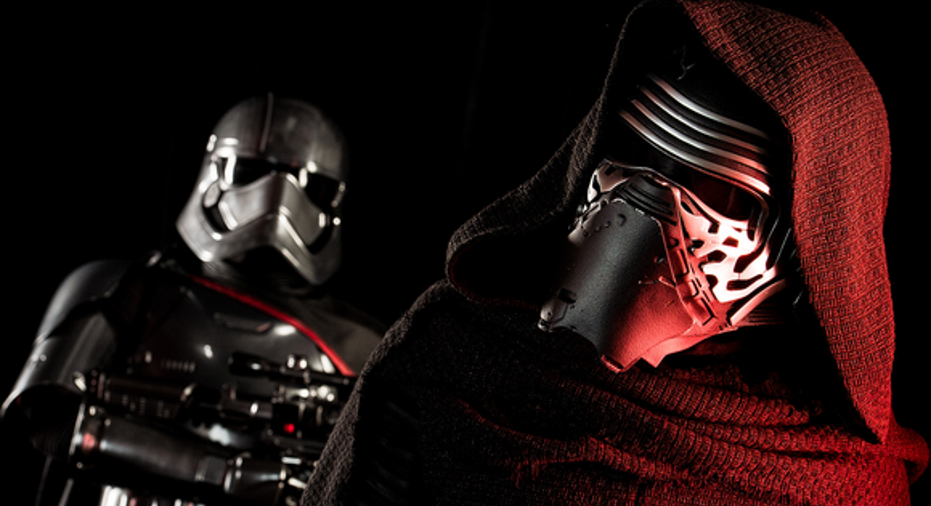 While the way Americans and the world consume entertainment has changed, making movies remains a blockbuster business. In fact, forDisney(NYSE: DIS),Comcast (NASDAQ: CMCSA), and 21st Century Fox (NASDAQ: FOX) (NASDAQ: FOXA) it has become a business where blockbusters drive a big portion of revenue that goes well beyond the actual films.
For film studios, in many ways, the small movie has disappeared, aside from genre films. There's plenty of room for independent productions, especially with the rise of streaming platforms, but those don't drive the bottom line, aside from the occasional oddball hit.
In 2017, box office is driven by franchises, and the three companies mentioned, to different extents, have more of those than their rivals do. It's simply a much safer bet to spend $200 million on the latest entree in a proven series than it is to risk even half that amount trying to build something new.
Disney has a Star Wars live show at some of its theme parks while it builds out new lands based in the hit series. Image source: Walt Disney.
Why are franchises important?
While there's no such thing as a sure thing, an established film-series sequel comes pretty close, and that allows for all sorts of ancillary revenue opportunities. For example, while it's not the biggest of all franchises, a film like Fox's Kung Fu Panda 3 has associated toy lines and a television spinoff. That bolsters profits from a movie that grossed $521 million globally on an estimated budget of $145 million.
Consider that film a sort of bottom-tier blockbuster. Films such as Disney's Star Wars: Rogue One and Comcast's Fate of the Furious routinely produce over $1 billion in global box office while driving everything from toys to TV spinoffs and theme-park rides.
Owning a top franchise allows a movie studio to take some of the risk out of moviemaking, though obviously, there are degrees. Star Wars and Disney's Pixar movies are more of a sure thing than an X-Men movie from Fox, but all three are much less risky than trying to create a blockbuster hit from scratch.
There is a clear order
All three of these companies are bigger than their film divisions, but when it comes to franchises, the impact can carry into many areas beyond movies. In the franchise space, there's a clear pecking order, with Disney having the best lineup, followed by Comcast, and then Fox. These are the top franchises each company owns:
Disney: Star Wars, Pixar, Marvel, Disney Animation, Disney live-action musicals adapted from its animated catalog.
Comcast/Universal: Jurassic World, Fast & the Furious, Minions/Despicable Me, Jason Bourne, various animated titles including the DreamWorks catalog.
Fox: X-Men, Deadpool, Kung Fu Panda, The Planet of the Apes, various second-tier animated franchises.
If you had to pick one of these stocks based on its film slates, and the impact those movies have across the board, Disney would be the clear winner. The company can release a Star Wars film, at least two Marvel movies, a Pixar film or two, an animated film, and a live-action musical each year to nearly certain success. It can then merchandise those films, use them to launch TV shows or video games, and leverage them as theme-park draws.
Comcast doesn't have quite as robust a slate, but its empire of cable channels and the Universal Studios theme parks allow it to exploit its hits, much like Disney. Fox is clearly in third place here, but it understands the model, and it also owns a unique property in The Simpsons,which could produce a second hit movie, but as a TV show it already has the success of a hit movie franchise, with merchandising, video games, and a theme-park ride (in this case licensed to Universal Studios).
This is a steady model
It may be harder to get people to leave their house to see a movie, but blockbusters haven't been affected. A major franchise movie is like a concert or a playoff game, in that it will drive people to get out to see it.
Disney had built a nearly unassailable film business that it can leverage across the entire company. Comcast isn't far behind, and Fox, while it needs more franchises, has made progress in aligning its entertainment business to this model.
10 stocks we like better than Walt DisneyWhen investing geniuses David and Tom Gardner have a stock tip, it can pay to listen. After all, the newsletter they have run for over a decade, Motley Fool Stock Advisor, has tripled the market.*
David and Tom just revealed what they believe are the 10 best stocks for investors to buy right now... and Walt Disney wasn't one of them! That's right -- they think these 10 stocks are even better buys.
Click here to learn about these picks!
*Stock Advisor returns as of May 1, 2017
Daniel Kline has no position in any stocks mentioned. The Motley Fool owns shares of and recommends Walt Disney. The Motley Fool has a disclosure policy.