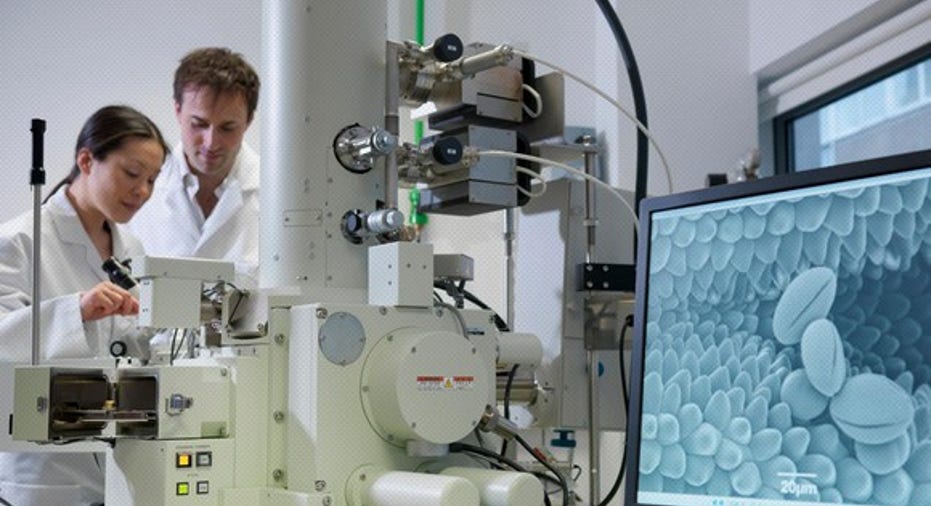 The populations in U.S. and developed nations around the globe are getting older, and their healthcare costs are getting bigger. Whether you're looking for dazzling growth or stability, Celgene (NASDAQ: CELG), Ionis Pharmacuticals (NASDAQ: IONS), and Johnson & Johnson (NYSE: JNJ) are well positioned to provide market-beating returns over the long run.
Image source: Getty Images.
Let's take a closer look at these three very different healthcare stocks to see what makes them the best. Whatever your investment goals might be, I'll bet at least one could be a perfect fit for your portfolio.
1. Celgene
Global spending on cancer medicines reached about $107 billion last year and is projected to reach $150 billion by 2020. You'd be hard-pressed to find another company as well positioned to ride this trend into the clouds. Since earning FDA approval in 2005, Celgene built its blood cancer drug, Revlimid, into a multibillion-dollar foundation upon which it's laying bricks for blazing long-term growth.
In the third quarter, Revlimid sales bounded 30.1% over the previous-year period to an annualized $7.6 billion run rate. Celgene's second- and third-largest revenue streams also surged upward: Year-on-year sales growth of multiple myeloma treatment Pomalyst surged 33%, and Celgene's first anti-inflammatory brand, Otezla, nearly doubled.
At recent prices, Celgene stock was trading at about 20.8 times this year's earnings estimates. That's a bit higher than the benchmark S&P 500 average of around 18.5, but Celgene's product lineup more than justifies the expense. Wall Street expects Celgene's bottom line to grow at a staggering annual rate of about 22.5% over the next five years.
Image source: Celgene.
Looking further out, Celgene has 11 late-stage clinical trials under way, as well as development partnerships with more than 20 biopharma players, which should steadily churn out new growth-drivers. Of particular interest is immune modulator ozanimod. The promising candidate is in two late-stage studies that could support applications for treatment of multiple sclerosis and ulcerative colitis.
2. Ionis Pharmaceuticals
This smaller biotech's bottom line recently crossed into positive territory, and it probably won't be long before it's generating sustainable positive cash flows. While Celgene is a leading spender in development partnerships, Ionis Pharmaceuticals may be the industry's largest receiver of collaboration cash.
Ionis' partner, Biogen, recently submitted applications for the first-ever treatment for the leading genetic cause of infant mortality in the U.S., spinal muscular atrophy. If Spiranza earns its widely expected approvals, the groundbreaking therapy could generate peak annual sales topping out around $2.5 billion. Biogen will market the drug, and if it's successful, Ionis could earn about $150 million in milestone payments, plus a tidy royalty percentage in the mid-teens.
With Biogen's salesforce commercializing Spiranza, Ionis would have plenty of cash to advance volanesorsen, its wholly owned lipid-lowering candidate. It's currently in late-stage studies, with data expected by year's end and in early 2017.
Ionis may be the riskiest healthcare stock in this list, but I believe Spiranza and volanesorsen alone justify its recent market cap of about $5.6 billion. These are just two of about 30 candidates in clinical trials right now, which means this is one of the cheapest biotech stocks you can buy right now.
3. Johnson & Johnson
Celgene and Ionis might not be a great fit for investors approaching retirement, but that doesn't mean those investors should avoid healthcare entirely. In fact, I doubt you could find a more reliable stock than Johnson & Johnson in any sector. It has reported annual adjusted earnings growth for 32 consecutive years, and it's one of just two publicly traded companies with a pristine triple-A debt rating.
You're probably familiar with J&J's iconic brands, such as Band-Aid, Listerine, and Tylenol. You might be surprised to learn it spends more researching and developing new drugs than any other U.S. company.
Image source: Getty Images.
Over the years, returns on R&D investment have been outstanding. Between 2009 and mid-2014, Johnson & Johnson launched 14 new drugs, and seven of these went on to generate more than $1 billion in annual sales.
Looking ahead, the company expects to submit applications for a whopping nine new drug candidates by 2019, all of which could add more than $1 billion in annual revenue. Hyperbolic claims and delusional enthusiasm are rampant among drugmakers, but J&J's track record suggests its forecast is as reasonable as it is impressive.
At recent prices, J&J stock offers a nice 2.8% dividend yield, and investors can expect a bigger quarterly payment next June. With Johnson & Johnson's 54-year history of consecutive annual raises, you can reasonably expect those payments to continue increasing for many years to come.
A secret billion-dollar stock opportunity The world's biggest tech company forgot to show you something, but a few Wall Street analysts and the Fool didn't miss a beat: There's a small company that's powering their brand-new gadgets and the coming revolution in technology. And we think its stock price has nearly unlimited room to run for early in-the-know investors! To be one of them, just click here.
Cory Renauer owns shares of Johnson and Johnson. You can follow Cory on Twitter, @TMFang4apples, or LinkedIn for more healthcare industry insight.
The Motley Fool owns shares of and recommends Biogen, Celgene, and Ionis Pharmaceuticals. The Motley Fool recommends Johnson and Johnson. Try any of our Foolish newsletter services free for 30 days. We Fools may not all hold the same opinions, but we all believe that considering a diverse range of insights makes us better investors. The Motley Fool has a disclosure policy.