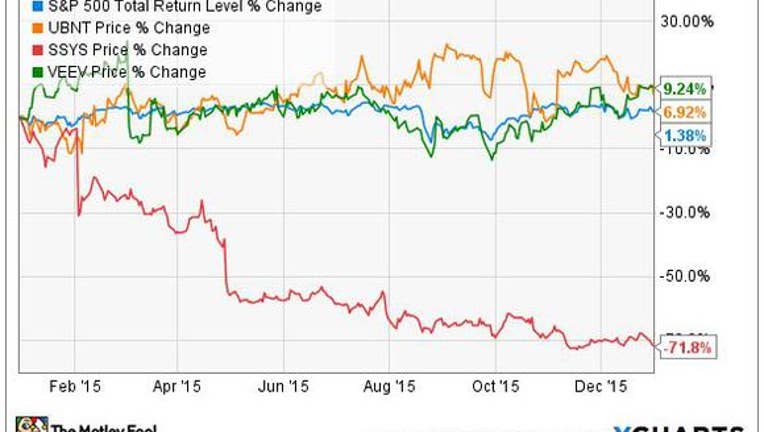 Now that we're officially into 2016, it's time again for me to revealthree growth stocksthat I expected to outperform the market in the coming years.
For 2014, my list included SolarCity,Zillow, andMercadoLibre. In 2015, I went with Ubiquiti Networks , Stratasys , and Veeva Systems .
Here's a look at how each of those stocks have done recently:
| | | | | | |
| --- | --- | --- | --- | --- | --- |
| Company (Ticker) | Recent Price | 2014 Total Return* | 2015 Total Return* | Overall Return | Performance vs S&P 500 |
| SolarCity(SCTY) | $51.02 | (5.9%) | (4.6%) | (14.6%) | (30.9%) |
| Zillow(ZG) | $26.04 | 29.6% | (21.1%) | 3.9% | (12.4%) |
| MercadoLibre(MELI) | $114.34 | 19.1% | (10.1%) | 10.6% | (5.7%) |
| Ubiquiti Networks (UBNT) | $31.69 | N/A | 6.9% | 6.9% | 5.5% |
| Stratasys (SSYS) | $23.48 | N/A | (71.8%) | (71.8%) | (73.2%) |
| Veeva Systems (VEEV) | $28.85 | N/A | 9.2% | 9.2% | 7.8% |
| | | | | | |
| S&P 500 | $2,080 | 14.7% | 1.4% | 16.3% | N/A |
*Total Return figures include S&P dividends. Note that Zillow split into two classes during 2015 (we are tracking "ZG"). Prices and returns as of market close on 12/31/15.
Let's start with the bad news: 2015 was a rough year for highfliers in the stock market. Between stretched valuations, slowing growth in China, and Hillary Clinton tweets, the market raised a dubious eyebrow toward companies who were investing their profit streams into their own future growth (as opposed to paying dividends or buying back shares).
This is a great reminder of a key point, which is thatgrowth investing requires patience. A few of the companies on the list experiencedsignificant volatility last year (just look at Stratasys!), which is enough to scare the majority of risk-averse investors away.
However, volatility is part of the game withRule Breaker Investing. Several of The Motley Fool's most successful investments -- including Netflix,Amazon , and several others -- have experienced more than a 50% loss in a single year.
But companies focused on continually building a better business tend to do quite well over time. Patient investors, able to see the bigger picture of what innovative companies are actually accomplishing, can reap incredible rewards from sticking around for the longer term. The three best-performing picks on our Rule Breakers' scorecard have anaverage totalstock return of 1,589%, which runs over an average holding period of nearly ten years.
In short, innovation takes time. Growth investors should establish a multi-year time horizon upfront, rather than trying to put together 'get rich quick' schemes that span a couple of months.
The Process
I'll be gazing into my crystal ball again this year, and divulging three more companies that I expect to outperform over the longer term. But once again, I'd like to firstfocus on the three reasonsI expect these stocks to outperform:
1)Operational Performance:When you invest, you're buying a stake in a business, so you want to find businesses that are performing very well. Develop a list ofmeaningful operational metricsthat are relevant to the particular industry, and then look for companies that are killing it where it really counts. This means putting less emphasis on the current P/E ratio, and more on metrics that evaluate business performance.
2)Smart and Visionary Management:Growth companies are still...growing. This makes them much more sensitive to managerial decisions -- whether good or bad. Look for leaders who are committed to the long-term success of the company. I like CEOs who are either co-founders, or who have a significant ownership stake -- preferably both.
3)Huge Market Potential:Small companies don't always do so well in price wars. Find industries large enough to support a new player. I look for the company's total annual revenue to be a very small slice of the overall industry.
This Year's List
Without further ado, here are my three top recommendations for 2016.
1) Splunk makes sense of messy data. Whether it's deciphering webstream traffic logs, monitoring the performance of manufacturing equipment, or aggregating data from the Internet of Things, Splunk is the master of analyzing massive amounts of unstructured machine data and making it easy for decision-making managers to understand.
Analysts have recently pegged Splunk's total addressable market to be $45 billion, meaning the company's $600 million of trailing annual revenue represents less than 0.5% share of their market.. But with an impressive customer list that includes Amazon, WalMart , and the US Department of Defense, Splunk is emerging as a leader in real-time data analytics.
Godrey Sullivan recently handed the CEO title to long-term VP of Sales Doug Merritt, though he'll remain as Chairman of the Board. Splunk's customer-focused approach to developing markets has worked very well for them, with their overall customer count, license revenue, and large orders over $100,000 all steadily marching higher.
We think Splunk's platform will have plenty of numbers to crunch in the coming years, which could certainly make sense to any growth portfolio.
2) FireEye is an up-and-comer in the $100 billion cybersecurity industry. Hacks are getting more complex, are becoming more difficult to defend against, and are getting more expensive to clean up (Target has reportedly paid more than $300 million related to its December 2013 data breach). FireEye's cloud-based software subscriptions recognize potential attacks in advance and continually update in real-time, meaning customers will always have the most up-to-date information and protection.
Those cloud-based subscriptions are also important to the company's financials. FireEye's subscription revenue per customer is at an all-time-high, their retention rates remain greater than 90%, and they now have ten products worth more than $10 million in quarterly billings. Chairman Ashar Aziz is a visionary in his field, and he owns nearly 5% of the company's outstanding shares. FireEye's $581 million of trailing twelve month revenue is only about 1% of the $52 billion the US spent on cybersecurity last year.
We think FireEye's dynamic threat intelligence platform is setting them up for years of growth, which could help investors secure some excellent returns.
3) Arista Networks founder/chairman Andy Bechtolsheim became a Silicon Valley legend after being one of the first investors in Google , cutting the company a $100,000 check in 1998 before they had even formally selected a name (he confirmed this investment has personally netted him more than $1 billion).
Similar to the way Google made a smarter Internet search, Arista is building a smarter Internet infrastructure. The company uses an efficient, cloud-based operating system to better manage ethernet switching -- which controls the flow of data traffic in and out of networks and datacenters.
Arista's customer count has increased sixfold during the past four years (from 570 in 2011 to more than 3,500 today) and their market share in high-speed data center switching has increased from 3% to 12% during the same timeframe. Bechtolsheim owns 19% of Arista's shares, with insiders collectively owning more than 44%. Due to massive amounts of data being transferred across the Internet (thanks to high-definition video, genomic sequencing, and a ton of other formats), investment in cloud-computing infrastructure is estimated to grow from $32.6 billion in 2015 to $53.1 billion by 2019.
Arista is riding in the passing lane of the information superhighway, which we think could provide accelerated returns for investors.
The Foolish Bottom Line
Great businesses produce great results. Splunk, FireEye, and Arista Networks all have smart management teams that focus on the right metrics to profit from some of the largest opportunities in the business world. I expect them to be successful for quite some time into the future.
At the Motley Fool, we look for long-term winners who use technology, a business model, or culture as an innovative weapon -- and we call themRule Breakers. All three of the companies mentioned above are active recommendations of ourRule Breakersservice. To see ALL of ourRule Breakersrecommendations, to find out more about our investing process, and to start a risk-free 30 day trial at our lowest rates,CLICK HERE.
The article 3 Top Growth Stocks for 2016 originally appeared on Fool.com.
Suzanne Frey, an executive at Alphabet, is a member of The Motley Fool's board of directors. Simon Erickson owns shares of Amazon.com, Arista Networks, FireEye, MercadoLibre, SolarCity, Splunk, Stratasys, Ubiquiti Networks, Veeva Systems, Zillow Group (A shares), and Zillow Group (C shares). Simon Erickson has the following options: short January 2016 $27 puts on Veeva Systems, short January 2016 $85 puts on Stratasys, long January 2016 $50 calls on SolarCity, short January 2016 $50 puts on SolarCity, long January 2017 $50 calls on SolarCity, short January 2017 $50 puts on SolarCity, short January 2017 $40 puts on SolarCity, long January 2016 $90 calls on MercadoLibre, short January 2016 $90 puts on MercadoLibre, long January 2017 $100 calls on MercadoLibre, short January 2017 $100 puts on MercadoLibre, short January 2017 $30 puts on FireEye, long January 2017 $40 calls on FireEye, and short January 2017 $40 puts on FireEye. The Motley Fool owns shares of and recommends Alphabet (A shares), Amazon.com, Arista Networks, FireEye, MercadoLibre, Netflix, SolarCity, Splunk, Veeva Systems, Zillow Group (A shares), and Zillow Group (C shares). The Motley Fool recommends Stratasys and Ubiquiti Networks. Try any of our Foolish newsletter services free for 30 days. We Fools may not all hold the same opinions, but we all believe that considering a diverse range of insights makes us better investors. The Motley Fool has a disclosure policy.
Copyright 1995 - 2016 The Motley Fool, LLC. All rights reserved. The Motley Fool has a disclosure policy.