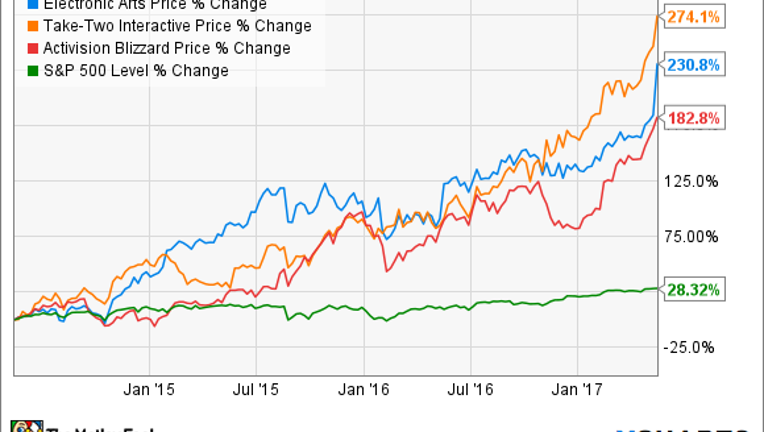 The video game industry has seen impressive growth over the past few years, and that isn't likely to change anytime soon. Market intelligence firm Newzoo has forecast that gaming will produce $109 billion in revenue in 2017, up nearly 8% over last year, and that figure is estimated to grow to nearly $129 billion by 2020.
With that much revenue at stake, what are the best gaming stocks for investors in 2017? Several companies have exhibited impressive performance over the past several years, and that trend is likely to continue. Top choices in the space includeActivision Blizzard, Inc. (NASDAQ: ATVI), Electronic Arts Inc. (NASDAQ: EA), and Take-Two Interactive (NASDAQ: TTWO).
Gaming investments have beaten the stock market by a wide margin. Image source: Getty Images.
More than just World of Warcraft
A company that was once considered a one-trick pony for its World of Warcraft franchise, Activision Blizzard has diversified its offerings to become one of the leading players in the gaming industry. While the company once generated revenue solely from the sale of cellophane-wrapped games in stores, it now generates revenue in a variety of ways, including digital downloads and in-game add-ons.
Activision has a stable of eight franchises that have each generated more than $1 billion in revenue: StarCraft, Diablo, World of Warcraft, Hearthstone, Destiny, Overwatch, Call of Duty, and Skylanders.
The company bought King Digital early last year to gain a foothold in the burgeoning mobile game market, which brought Candy Crush and Bubble Witch into the fold. The company has plans to roll out some of its hit franchises to mobile in the near future. Activision also sees the future of gaming in e-sports, in which games become a spectator sport, and recently announced an e-sports league play for its hit Overwatch, which will begin later this year.
In the most recent quarter, Activision's revenue grew to a record $1.73 billion, up 19% over the prior-year quarter. Revenue from digital channels was a record $1.39 billion, up 50% year over year, and now represents 80% of total revenue. Net income also set a record of $0.56, a 17% increase over the prior-year quarter.
Activision has a stable of eight $1 billion franchises. Image source: Activision Blizzard.
Madden football is just the beginning
Electronic Arts is probably best known for its FIFA 17, the best-selling console game in the world, according to the company, its ubiquitousMadden NFL, and Battlefield 1, which reportedly saw the largest launch in the company's Battlefield franchise to date. The company also made many "best of" lists in 2016 withTitanfall 2. The company has been transitioning from a model dependent on yearly game releases to one embracing downloadable digital content, mobile games, and e-sports. Popular mobile offerings include Plants vs. Zombies and The Sims. EA recently signed an agreement with ESPN to broadcast competitive gameplay of itsFIFA Ultimate Team Championship.
In its most recent quarter, EA reported revenue of $1.5 billion, up 17% over the prior-year quarter. Digital revenue was $934 million, up 30% year over year, representing 61% of the total. Net income was $1.81 per share, compared with $2.79 in the prior-year quarter, but this is misleading since backing out a one-time tax benefit from the prior-year quarter's results leads to a better comparison, with net income of $1.81 compared with the prior-year quarter's earnings of $1.42, a 27% increase. The company also announced that its first quarter generated over $1 billion in operating cash flow.
Titanfall 2 was one of EA's 2016 breakout hits. Image source: Electronic Arts.
On a foundation of Grand Theft Auto
Take-Two Interactive is the smallest of the three but could have the most to gain. Another company that was previously branded a one-hit wonder for its Grand Theft Auto (GTA) franchise, Take-Two has evolved with the introduction of hit games Red Dead Redemption, BioShock, and Borderlands, though it's still highly dependent on the success of its flagship GTA.
Take-Two has been making strong moves in the mobile gaming segment and announced in its most recently quarterly financial release that it had acquired privately held Social Point S.L. for $250 million. Social Point is a highly successful free-to-play mobile game developer, which will help the company in its mobile aspirations. Take-Two already has a good start, as NBA2K17 is among the top mobile apps.
In Take-Two's most recent quarter, it reported revenue of $476.5 million, up 15% from the prior-year quarter. Digital revenue grew 64% to $240.2 million and represented 50% of total sales. The company reported a $29.8 million loss, compared with a $42.4 million in the year-ago period, though it expects to be profitable for the coming year.
Game on!
Growth in the gaming industry has been on a tear, and while the broader market is up 28% over the past three years, each of these three companies has trounced those results by a wide margin. Although historical returns are no guarantee of future performance, it can be a good indicator, and with gaming likely to continue its torrid growth, these three companies offer investors a great place to start.
10 stocks we like better than Electronic ArtsWhen investing geniuses David and Tom Gardner have a stock tip, it can pay to listen. After all, the newsletter they have run for over a decade, Motley Fool Stock Advisor, has tripled the market.*
David and Tom just revealed what they believe are the 10 best stocks for investors to buy right now... and Electronic Arts wasn't one of them! That's right -- they think these 10 stocks are even better buys.
Click here to learn about these picks!
*Stock Advisor returns as of May 1, 2017
Danny Vena owns shares of Activision Blizzard and Take-Two Interactive. Danny Vena has the following options: long January 2018 $25 calls on Activision Blizzard. The Motley Fool owns shares of and recommends Activision Blizzard and Take-Two Interactive. The Motley Fool recommends Electronic Arts. The Motley Fool has a disclosure policy.