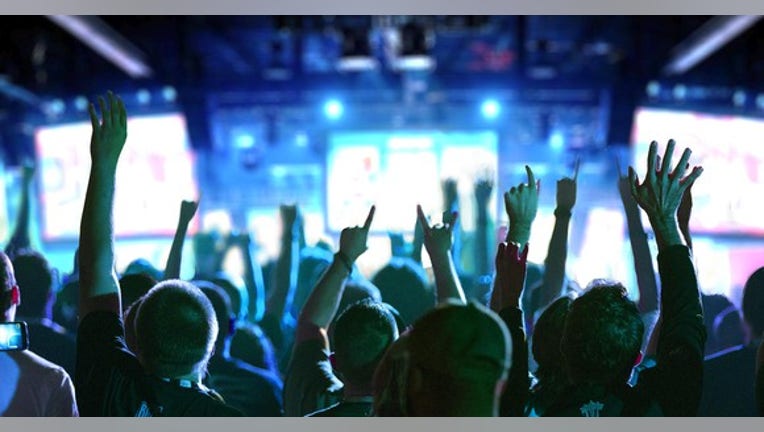 E-sports has grown substantially in the past few years. Today, video game competitions draw thousands of players battling for a cash prize that sometimes numbers in the millions. According to analysts at NewZoo, the e-sports industry is estimated to generate around $700 million in 2017, and it's expected to continue growing quickly in the next few years. New content and new platforms have paved the way for this segment of the video game industry to be one of the fastest-growing, which has caught the eye of savvy investors.
3 top e-sports stocks for 2017
Of the many companies with a stake in the growing e-sports industry, the three that could be best-positioned for outsize growth in the next few years are Activision Blizzard, Electronic Arts, and Take-Two Interactive.
P/E = price-to=earning ratio. Data source: Yahoo! Finance.
Activision is betting big on new franchises
Activision Blizzard is the maker of some of the world's most popular game franchises, including World of Warcraft and, more recently,Overwatch, which quickly became a worldwide hit after the game was released last May. Activision is now taking its market-leading position in video games and hoping to become the biggest name in e-sports as well.
In early 2016, Activision acquired Major League Gaming (MLG), a platform that hosts competitive gaming tournaments and broadcasts them through MLG.tv.Shortly after acquring MLG, Activision announcedits "enhanced viewing experience" for MLG.tv, which provides high-definition video streaming that also shows match statistics, instant leader boards, and insights on the competition that Activision management believes will help make MLG.tv the leader in e-sports broadcasting.
Image source: Activision Blizzard.
One interesting thing to watch from Activision Blizzard in 2017 is further development of the Overwatch competitive league announced last November. The company is planning to use this title to grow its professional-gaming outreach, including a sort of "combine," similar to that of the NFL, that provides a path for amateur players to become high-paid full-time professional gamers within the league. In 2016,Activision doubled its prize pool across all hosted e-sports events to over $3.5 million, and that's likely to grow higher throughout 2017.
EA already dominates in the sports video game genre
In late 2015, EA announced a business division within its company dedicated to competitive gaming, and it has since grown its footprint in this space. One benefit for EA is that the company has a wealth of sporting games, which seem to lend themselves naturally to competitive gaming. The EA FIFA Interactive World Cup Championships is underway now, with the final world championship happening in late May. The tournament drew more than 2.3 million participants in 2016 and is likely to draw even bigger crowds this year.
One particularly interesting part of EA's e-sports strategy to watch in 2017 is how the company continues to expand its competitive-gaming audience through traditional broadcast partners. In the company's fiscal Q3 earnings call in January, CEO Andrew Wilsonnoted that EA plans to also expand with "new sponsors and broadcast partners, and original programming." The company recently announced a partnership with ESPN (owned by Disney) to stream itsFIFA Ultimate Team Championship Series in over 60 countries, while similar series for its Madden competitive-gaming tournaments will appear on NFL Network and Univision.
Take-Two blurs the lines of physical and digital sports
Take-Two is a much smaller company by market cap than Activision and EA, but it's made a name for itself with popular franchises such as Grand Theft Auto. It could also be one of the biggest movers within e-sports this year following its February announcement that it has partnered with the NBA on a new e-sports league that will blur the lines of physical and digital sports.
NBA Commissioner Adam Silver (left) and Take-Two CEO Strauss Zelnick (right).Image source: Take-Two/NBA.
Take-Two and the NBA will jointly runan e-sports league that allows NBA teams to run their own virtual teams, where NBA players can interact with video game players competing worldwide. The two organizations announced recently that NBA Senior Vice PresidentBrendan Donohue has been appointed to oversee the e-sports league operations, and that NBA teams participating in the inaugural season will be announced in the coming weeks. They expect more than half of the league teams to participate.
Speaking in the recent release regarding Donohue's appointment, Take-Two CEO Strauss Zelnicksaid, "The league will have all of the structure and polish of the NBA, coupled with the thrills and engagement of our industry-leading NBA 2K franchise to provide an exciting new entry into the world of competitive gaming."This new NBA e-sports league starts at the beginning of the 2018 NBA season, but we can expect more announcements about it throughout 2017 as it continues to develop.
While e-sports is certainly an exciting opportunity for new growth in the years ahead, it's only one small part of the overall gaming industry that itself is growing substantially, reaching a record $91 billion in 2016, according to SuperData. That's helped each of these companies' stocks to reach lifetime highs in recent weeks, and e-sports could be one more growth driver to help send those stocks even higher in 2017 and beyond.
10 stocks we like better than Electronic ArtsWhen investing geniuses David and Tom Gardner have a stock tip, it can pay to listen. After all, the newsletter they have run for over a decade, Motley Fool Stock Advisor, has tripled the market.*
David and Tom just revealed what they believe are the 10 best stocks for investors to buy right now... and Electronic Arts wasn't one of them! That's right -- they think these 10 stocks are even better buys.
Click here to learn about these picks!
*Stock Advisor returns as of May 1, 2017
Seth McNew owns shares of Walt Disney. The Motley Fool owns shares of and recommends Activision Blizzard, Take-Two Interactive, and Walt Disney. The Motley Fool recommends Electronic Arts. The Motley Fool has a disclosure policy.