3 Top Dividend Stocks in the Autonomous Car Industry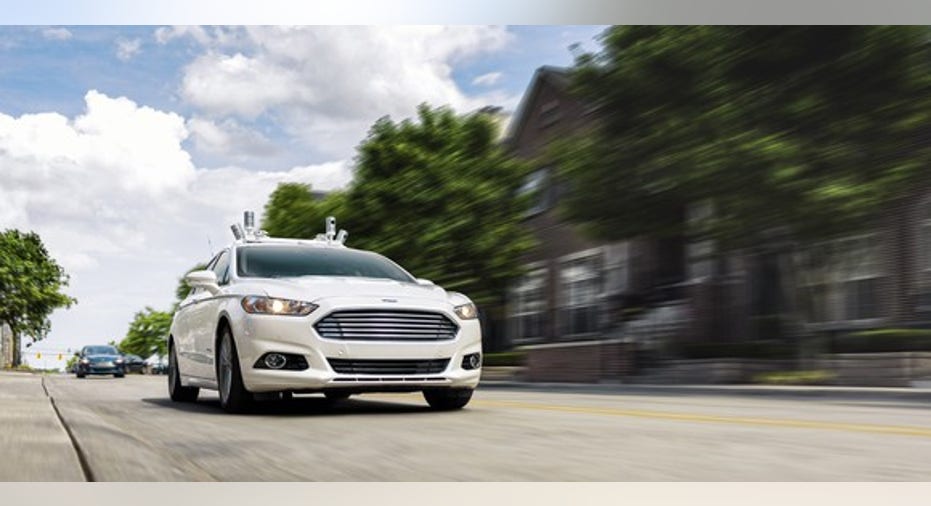 Autonomous cars are coming. Vehicles that drive themselves, at least under some circumstances, are headed to market over the next couple of years. It's possible that autonomous-vehicle technology could transform the way we get around -- while opening up some big profit opportunities for investors.
But that said, it could be a while before the profits from autonomous-car technology start to emerge. Here are three companies that all stand a chance to profit big from autonomous cars -- and that have solid dividends and some growth potential that could pay off while we wait: Autoliv (NYSE: ALV), Ford Motor Company (NYSE: F), and Qualcomm (NASDAQ: QCOM).
Autoliv
Autoliv is a major auto-industry supplier that specializes in safety-related products. Based in Sweden, the company has become the world's largest suppler of automotive safety systems, a category that includes everything from airbags to automatic braking systems. Its clients include most of the world's major automakers.
Autonomous-car control systems are a natural extension of its existing product line, which already includes products like adaptive cruise control that rely on overlapping technologies. That existing technological base, plus its enviable client book, put Autoliv in an excellent position to be a key provider of systems and products for autonomous vehicles.
It's already well down the path. Last year, Autoliv announced a partnership with Volvo Cars to develop a Level 4 autonomous-vehicle system. About 200 employees drawn from both companies are working on the system now. When it's ready, Autoliv will have the right to sell the system to other automakers, a potentially (very) lucrative opportunity.
Meanwhile, Autoliv is a good investment right now. Its leadership team has a long track record of careful management, and it pays a solid, sustainable dividend yielding about 2.3% at current prices. At around 16 times last year's earnings, Autoliv's stock isn't super-cheap -- but I'd argue that it's still good value for a well-managed company that's in a strong position to thrive and profit as autonomous vehicles become commonplace.
Ford is quietly emerging as a leader in autonomous-car technology. Image source: Ford Motor Company.
Ford Motor Company
There are good reasons to think that Ford is a value buy right now. Ford CEO Mark Fields has a very good plan to transform Ford into both a more profitable automaker and a mobility provider that can thrive in a world full of autonomous cars. But the market hasn't quite caught on to the profit potential in Fields' plan.
I suspect it will, and that opens an opportunity for a patient investor now. Autonomous-vehicle technology is a big part of Fields' plan. Without much fanfare, Ford's self-driving effort has surged to the front of the pack in recent months.
Part of the story involves a new start-up called Argo AI, a Ford-funded venture led by veterans of Waymo (a subsidiary of Alphabet) and Uber; it is creating the "brain" for Ford's autonomous vehicles, in a corporate structure designed to give employees the upside of a start-up with big-company security.
Argo AI gives Ford a big advantage in hiring and retaining the best autonomous-vehicle development talent. That's expected to start paying off in a few years: Ford plans to begin mass production of a dedicated self-driving vehicle for commercial use (think ride-hailing and car-sharing) in 2021.
Ford may also be laying the groundwork for ride-hailing and car-sharing services to be offered under its own brand, via an app called FordPass. Ford's vision is of an integrated mobility offering that includes everything from urban bike rentals to a slew of automated mobility options to services (like directions to parking) for traditional motorists, all in one app.
Meanwhile, Ford is booking solid profits from strong sales of trucks, SUVs, and performance vehicles around the world, and Fields' plan includes several initiatives to boost and optimize the profitability of Ford's traditional auto-making business as well. Long story short: Market-beating profit growth, from autonomous vehicles (among other things), is very likely over the next several years
But Wall Street hasn't quite caught on to the upside of Ford's story yet. Right now, Ford's stock is trading at just 6.5 times its expected 2017 earnings, and its very sustainable dividend is yielding an outstanding 5.5%. You'll need to be patient with this one, but you'll get paid quite well to wait.
Qualcomm
Chip giant Qualcomm has a lot more going on than autonomous-car technology. But it's moving aggressively into the space by acquiring NXP Semiconductors (NASDAQ: NXPI), which specializes in chips for automotive applications.
Autos are a hostile environment for delicate technology, making this a specialized niche. Systems in cars are expected to work for a decade, through wide temperature swings and constant vibration -- challenges that NXP has mastered.
NXP offers chips that can process inputs from camera and radar systems. It also offers a package called BlueBox, which puts together several of the processors into a pre-wired "brain" for use by autonomous-vehicle developers. That puts it directly in competition with NVIDIA and its popular Drive PX 2 system -- and it'll give Qualcomm a ready-to-go offering in this hot space.
Qualcomm's acquisition of NXP is expected to close by the end of 2017. The combined company is expected to have annual revenue of about $30 billion, up about 25% from Qualcomm's 2016 result, so it's a significant move.
Qualcomm's forward price-to-earnings ratio is just under 14, so it's a decent value right now. That value price gives it a forward dividend yield of about 4.1% -- and it's worth noting that Qualcomm has raised its dividend annually in each of the last 14 years. There's more to Qualcomm than autonomous-vehicle tech, but NXP's product range might turn out to be a catalyst for significant bottom-line growth in the coming years.
10 stocks we like better than QualcommWhen investing geniuses David and Tom Gardner have a stock tip, it can pay to listen. After all, the newsletter they have run for over a decade, Motley Fool Stock Advisor, has tripled the market.*
David and Tom just revealed what they believe are the 10 best stocks for investors to buy right now... and Qualcomm wasn't one of them! That's right -- they think these 10 stocks are even better buys.
Click here to learn about these picks!
*Stock Advisor returns as of May 1, 2017
Suzanne Frey, an executive at Alphabet, is a member of The Motley Fools board of directors. John Rosevear owns shares of Ford. The Motley Fool owns shares of and recommends GOOG, GOOGL, Ford, Nvidia, and Qualcomm. The Motley Fool recommends Autoliv and NXP Semiconductors. The Motley Fool has a disclosure policy.