3 Top Big Pharma Stocks to Buy Now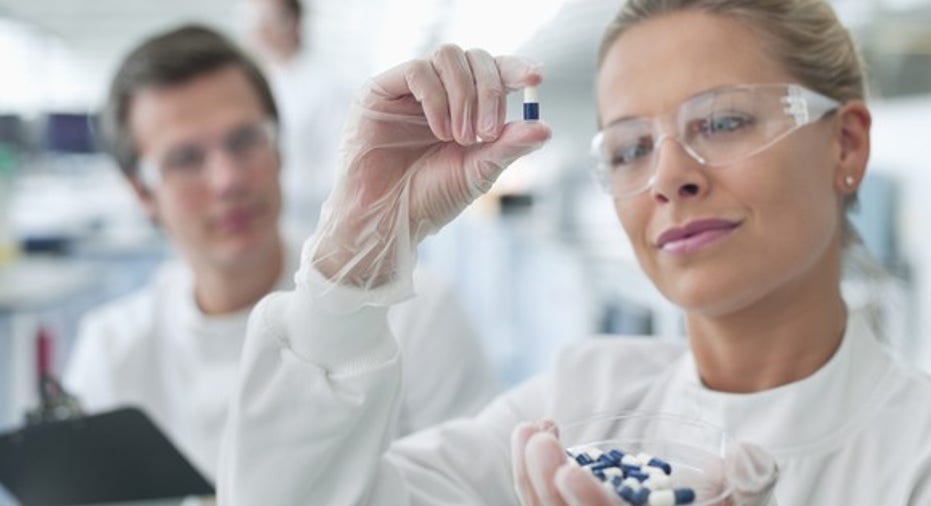 Despite the ongoing political storm over U.S. prescription drug prices, major drug manufacturers -- or "Big Pharma" -- remain, on balance, an attractive group of equities for long-term investors. The fact of the matter is that major pricing reforms aren't even on the political radar for either party at this point, and the pharma industry has multiple tailwinds working in its favor.
So if you're looking to take advantage of this investor-friendly environment, I think AbbVie (NYSE: ABBV), Bristol-Myers Squibb (NYSE: BMY), and Pfizer (NYSE: PFE) are three top Big Pharma stocks worth buying right now. Here's why.
Image Source: Getty Images.
AbbVie: Buy the fear
AbbVie's forward price to earnings ratio of 10 suggests that this pharma stock is an outright bargain. After all, this value is markedly lower than prevailing industry norm of roughly 14.22-- especially for a pharma stock with a dividend yield of almost 4% and the highest total return on capital within its peer group over the past four years.
The culprit behind AbbVie's cellar-dwelling valuation is the potential introduction of copycat versions of top-selling anti-inflammatory drug Humira in both the U.S. and the EU sometime in 2018. Long story short, Amgen is primed to launch its FDA-approved biosimilar of Humira called "Amjevita" late next year, and biosimilars are close to becoming a reality in the EU as well after a British court found two of Humira's core patents to be invalid.
While more competition is never a good thing for a company's flagship product, the market's concerns about the durability of Humira's revenue streams are probably overblown to a large degree.
The reality is that biosimilars haven't caused branded drugs in the EU to fall off the map like traditional generics. Biosimilars, after all, tend to come with only modest discounts, on the order of 10% to 15% relative to their branded counterparts, lowering the financial incentive for doctors to switch patients to unproven alternatives.
So, if this pattern holds for Humira -- and there's no good reason to think it won't -- AbbVie's emerging oncology portfolio should be able to easily offset these losses and keep the company's top line headed northward.
Bristol's double-digit decline is a great buying opportunity
Over the past year, Bristol's shares have lost a little over 16% of their value, thanks to Opdivo's late-stage miss as a first-line monotherapy for lung cancer.A deeper dive, though, suggests that the market might be letting the perfect be the enemy of the good when it comes to this pharma stock.
Although a first-line lung cancer drug is potentially worth several billion in sales (and that's a big deal for even a company of Bristol's size), Opdivo has still racked up a whopping 11 approvals for other indications in just the past two years.Bristol's top immuno-oncology drug has also attracted the attention of numerous smaller biopharmas hoping to develop novel combination therapies for various hard-to-treat malignancies. In other words,Opdivo's star is far from fading. And, if anything, its footprint is only going to expand from here on out.
Another key issue to understand is that Bristol exited 2016 with five major blockbuster drugs already in its product portfolio (Opdivo, Orencia, Sprycel, Yervoy, and Eliquis), and a pipeline chock-full of exciting drug candidates for high-value indications like oncology, heart failure, andnon-alcoholic steatohepatitis.
The point is that Bristol has multiple value drivers that are probably being overlooked by the market due to its laser-like focus on Opdivo's fate in front line lung cancer -- perhaps creating a golden opportunity to add this top pharma stock to your portfolio on the cheap.
Pfizer is a no-brainer
If you want a top notch balance sheet, a ginormous clinical pipeline, and pricing power galore, Pfizer is definitely your best bet. As an added bonus, this titan of the pharma industry offers an extremely attractive valuation, with a forward price to earnings ratio of just 12.3 -- making it one of the cheapest stocks across the entire industry.
Why is Pfizer trading at such a deep discount relative to its peers? While there's a lot of moving parts with any company this large (with an enterprise value of $228 billion), the company's woes can arguably be distilled down to two overarching factors.
First and foremost, Pfizer has taken a lot of flack for its regular price increases for its older medicines -- price increases that are absolutely necessary to keep its legacy portfolio from falling off a cliff revenue-wise. Put simply, investors are worried that political pressures may curtail these price increases, which would weigh heavily on the company's top line going forward.
Next up, Pfizer's top-selling pain medicine Lyrica is set to face generic competition in the U.S. in early 2019. Even though this event is still a ways away, Lyrica did make up roughly 10% of the drugmaker's total revenues in 2016, showing its importance to Pfizer's top and bottom-lines.
These two risk factors, however, probably shouldn't loom as large in the company's valuation as they seem to. Pfizer's dove headfirst into oncology through its acquisition of Medivation for the blockbuster prostate cancer drug Xtandi. That, combined with Pfizer's wide-ranging immuno-oncology collaboration with Merck KGaA, should provide more than enough financial firepower to blunt the impact of either of these events, after all.
And, coming full circle, the drug pricing debate is unlikely to result in legislative action while Congress is tied up with ostensiblymore pressing issues at the moment.
10 stocks we like better than PfizerWhen investing geniuses David and Tom Gardner have a stock tip, it can pay to listen. After all, the newsletter they have run for over a decade, Motley Fool Stock Advisor, has tripled the market.*
David and Tom just revealed what they believe are the 10 best stocks for investors to buy right now... and Pfizer wasn't one of them! That's right -- they think these 10 stocks are even better buys.
Click here to learn about these picks!
*Stock Advisor returns as of February 6, 2017
George Budwell owns shares of Pfizer. The Motley Fool has no position in any of the stocks mentioned. The Motley Fool has a disclosure policy.