3 Top Beer Stocks to Buy Today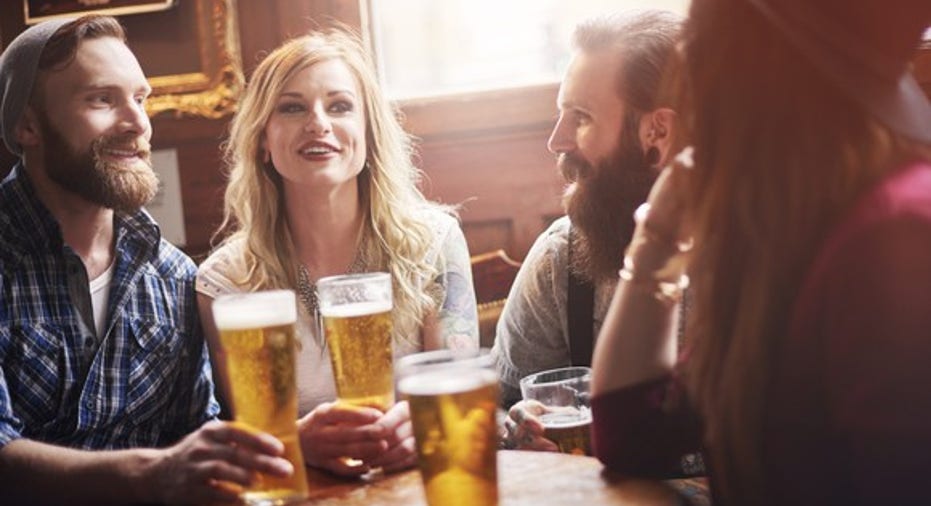 Beer stocks can make great long-term investments. Not only do customers tend to stick to their favorite sudsy brands, but raw material costs are relatively low, and so publicly traded brewing companies earn some of the best profit margins around.
Today I'll highlight three of the strongest stocks I see in the industry: Constellation Brands , Anheuser Busch In Bev , and Boston Beer .
Here's a look at how some of the key players in the industry stack up against each other:
| Metric | Constellation Brands | Anheuser Busch | Diageo | Molson Coors | Boston Beer |
| --- | --- | --- | --- | --- | --- |
| Market cap | $33 billion | $208 billion | $68 billion | $21 billion | $2 billion |
| Sales growth | 9% | (7%) | 5% | (16%) | 6% |
| Profit margin | 45% | 61% | 58% | 33% | 52% |
| Dividend yield | 1% | 3.8% | 2.4% | 1.7% | N/A |
| Price/Earnings | 35 | 38 | 19 | 18 | 24 |
Sales growth is over the past complete fiscal year. Sources: Company financial filings and S&P Global Market Intelligence.
Mexican beer stock buy: Constellation Brands
Constellation Brands is best known for a wine portfolio that includes Clos du Bois and Robert Mondavi, but lately its growth has been powered by surging beer sales. The Corona and Modelo brands helped push beer volume up 15% last quarter. Rising prices contributed even more growth so that overall its beer segment was up 19%, year over year.
Image source: Constellation Brands.
These operating successes have funded head-turning financial results. Constellation's profitability is marching higher and its net income is improving at a better than 20% clip. The hefty cash flow that has produced is giving management plenty of ammunition to invest in future growth by building additional Mexican breweries.
Shareholders are also seeing more direct benefits in the form of a recently initiated dividend.
All of that good news has pushed shares up to a record high lately and there's no denying that Constellation is richly valued at 35 times the past year's profits. Yet the company is building a foundation for long-term gains in the beer segment, which is likely to produce solid rewards for investors.
Craft beer stock buy: Boston Beer
Craft beer specialist Boston Beer's sales are shrinking as new craft breweries sprout up across the country. Craft drinkers value novelty, and so the market leader has plenty to lose if its new introductions fail to catch on.
Image source: Getty Images.
That's exactly what happened last quarter when overall beer sales fell as innovations in the Sam Adams Nitro line failed to make up for drops in the blockbuster Angry Orchard and Sam Adams brands. Boston Beer lowered its full-year outlook and said that profits will be hurt as well since it needs to invest more heavily in marketing given the brutal competitive environment.
Investors with a long time horizon can take advantage of what appears to be temporary struggles. Boston Beer has the brand strength, scale, and operating prowess to survive even in this cut-throat environment. The same can't be said for the dozens of small-batch brewers that have raced on to the scene lately and will likely fold up their operations just as quickly. In the meantime, I see the stock's drop as a good opportunity to buy a quality company at its lowest valuation in years.
Light beer stock buy: Anheuser Busch In Bev
For stable growth plus a hefty dividend, take a look at global beer titan Anheuser Busch. The company's collection of premium brands such as Stella Artois and Goose Island are snatching market share at the high end, which is helping steady the ship against losses in the value based Bud Light business. Meanwhile, Michelob Ultra has improved its volume by 20% in the last year, making it the fastest growing brand over that time.
Yet the best reason to like this stock is its market-thumping profitability. Gross profit margin ticked up to 61% of sales last year from an already-stellar 60%, which shows the power of having a truly global distribution network. Sure, investors aren't likely to see big growth from a massive $43 billion annual sales pace. But Anheuser Busch is well positioned to generate healthy profits, cash flow, and dividend gains even if certain niches (like craft beer) and geographies (like Brazil) underperform in the coming years.
The article 3 Top Beer Stocks to Buy Today originally appeared on Fool.com.
Demitrios Kalogeropoulos owns shares of Boston Beer. The Motley Fool owns shares of and recommends Boston Beer. The Motley Fool recommends Anheuser-Busch InBev NV and Diageo. Try any of our Foolish newsletter services free for 30 days. We Fools may not all hold the same opinions, but we all believe that considering a diverse range of insights makes us better investors. The Motley Fool has a disclosure policy.
Copyright 1995 - 2016 The Motley Fool, LLC. All rights reserved. The Motley Fool has a disclosure policy.