3 Top Bargain Stocks to Buy Today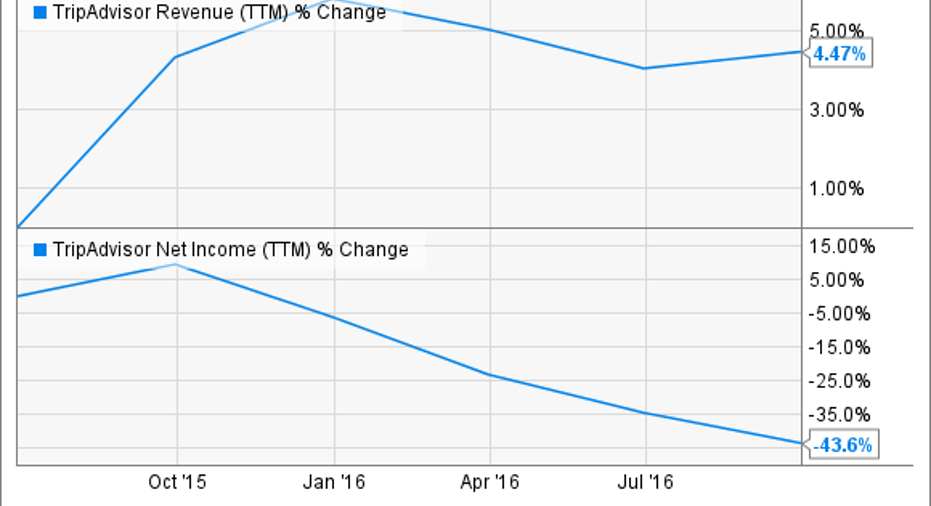 As the stock market indices continue to climb a "wall of worry," there's plenty of reason to view the market as being expensive -- maybe downright overvalued. After all, the averageS&P 500 stock sells for over 26 times earnings at recent prices. That's a steep premium to historic levels.
In fairness, there's more to it than just the market's P/E ratio, but value-minded investors are having a harder time finding stocks that offer both a solid business and a reasonable price.
Yet, there are values to be had, if you know where to look. Three stocks worth a hard look right now? Auto-salvage expertCopart, Inc.(NASDAQ: CPRT); a surprising tech leader with huge profit potential,Yandex NV(NASDAQ: YNDX); and beaten-up online travel review siteTripAdvisor Inc.(NASDAQ: TRIP).
Image source: Getty Images.
On top of the junk pile
Jason Hall(Copart, Inc.): It's somewhat ironic to have found Copart as a great bargain stock to buy. After all, the company is in the business of selling junked, wrecked, and otherwise salvaged cars. But with its stock trading at a price-to-earnings multiple of just over 18 and a PEG ratio around 1, it's a lot like finding a pristine 1964 1/2 Mustang buried in the weeds at your neighborhood salvage yard.
And Copart isn't just a cheap stock. Over the past five years, the company has grown earnings per share almost 150%, through a combination of expansion, cost efficiency, and share buybacks. Over that period, net income has increased 121%, while management has repurchased almost 10% of shares outstanding.
And there's more growth in Copart's future. The company has done a solid job growing its business and expanding its relationships with some of the United States' largest auto insurers, but the auto-salvage business is still ripe for further consolidation both domestically and in the other 11 countries Copart operates in. And as one of the largest players in the business, Copart's scale is a real competitive advantage that should help it continue growing for years to come.
Put it all together, and you have an industry leader with solid growth prospects, trading at its cheapest valuation in years. That's a textbook bargain stock to buy.
An expensive-looking Russian company that isn't quite so expensive
Brian Stoffel(Yandex): Tell me if this sounds like a bargain stock to you: It trades for 63 times trailing earnings and has seen its net income fall 60% in the past two years.Oh, yeah -- and it's a company operating primarily in Russia -- a bastion of excellent business prospects. (Yes, that's sarcasm).
OK, so maybe this isn't your prototypical "bargain" stock, but I think shares of Yandex are appealing at today's prices. Hidden underneath all the doom and gloom of the company's falling profit is that sales have been climbing at an impressive rate, up 28% per year over the past four years.
The real reason Yandex's profit hasn't kept up is that it's been aggressively reinvesting in itself. Product and development costs have jumped 270% since 2012, and sales, general, and administrative expenses are up 265% over the same time frame. What are these investments in? Primarily, the future of Yandex: e-commerce, online-to-offline (O2O) investments such as tickets and taxi-hailing services, and even TV programs.
Those types of investments take a lot of up-front cash, and success isn't guaranteed. But Yandex is building a moat around itself by differentiating what Google currently offers in Russia. Eventually, the spending on that infrastructure will subside, and profits can boom.
If you're looking for a real reason to believe that Yandex is a bargain, look no further than the company's price-to-sales ratio, which currently sits at 6. That's a full 75% cheaper than it was at the end of 2011.
Dark clouds I can see through
Brian Feroldi(TripAdvisor): Online travel-review site TripAdvisor has been a tough stock to hold over the past few years. Shares have fallen by more than 60% from their peak because management made the bold decision in 2015 to become a one-stop shop for customers.
The company wants to control the entire consumer experience by becoming an online travel agent, just like ThePriceline GroupandExpedia. To realize this dream they rolled out an"Instant Booking" feature across the site, which allows customers to make their travel arrangements without ever leaving the company's platform. In theory, this move should lead to outsize revenue and profit growth for years to come.
However, TripAdvisor has struggled to translate this business model change into financial success. The company's top line has stagnated since 2015, which isn't something growth investors like to see. To make matters worse, the Instant Booking rollout has proven to be expensive. When combined, TripAdvisor's profits have tanked.
TRIP Revenue (TTM) data by YCharts
Despite the company's financial struggles, a look below the headline numbers shows that the TripAdvisor community is as strong as ever. As of the end of 2016, TripAdvisor welcomed an average of 390 million unique visitors per month. That figure compares quite favorably with the315 million unique visitors recorded as of the end of 2014. Meanwhile, the number of reviews and listingson TripAdvisor's platform also continues to exhibit strong growth.
In all,TripAdvisor continues to demonstrate that its platform and brands are as popular as ever with customers. If you believe that the company's Instant Booking rollout will be a success in the long term, then buying shares today could prove to be a smart decision.
10 stocks we like better than TripAdvisorWhen investing geniuses David and Tom Gardner have a stock tip, it can pay to listen. After all, the newsletter they have run for over a decade, Motley Fool Stock Advisor, has tripled the market.*
David and Tom just revealed what they believe are the 10 best stocks for investors to buy right now... and TripAdvisor wasn't one of them! That's right -- they think these 10 stocks are even better buys.
Click here to learn about these picks!
*Stock Advisor returns as of April 3, 2017
Brian Feroldi owns shares of TripAdvisor. Brian Stoffel owns shares of Yandex. Jason Hall owns shares of TripAdvisor. The Motley Fool owns shares of and recommends TripAdvisor. The Motley Fool recommends Copart and Yandex. The Motley Fool has a disclosure policy.