3 Top American Fiber-Optic Stocks to Invest In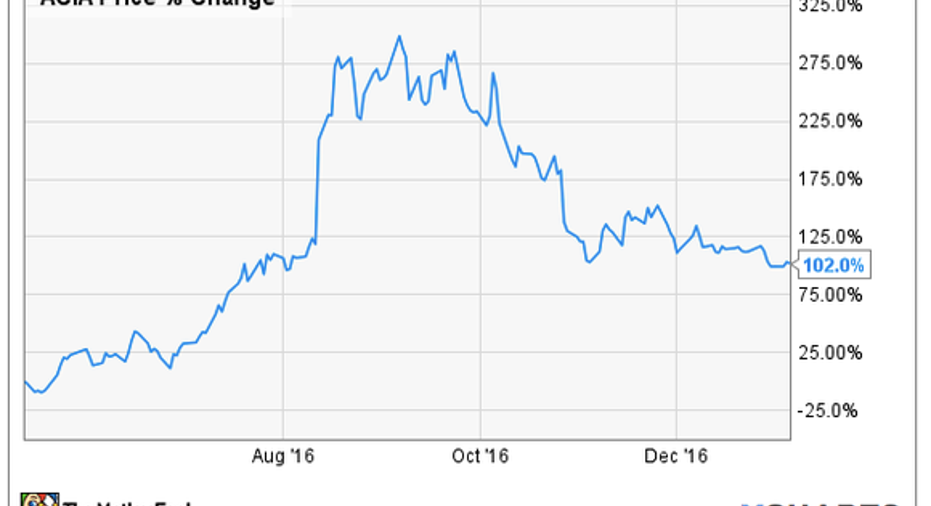 Image source: Getty Images.
Fiber-optic companies are a good way for investors to tap into the expansion of high-speed cable internet connections across the U.S. and around the world. A handful of companies are setting themselves apart in the industry, includingOclaro(NASDAQ: OCLR),Ciena Corporation (NYSE: CIEN), and Acacia Communications (NASDAQ: ACIA).
| | | |
| --- | --- | --- |
| | Market Cap | Forward Price-to-Earnings Ratio |
| Oclaro | $1.4 billion | 13.89 |
| Ciena Corporation | $3.47 billion | 12.63 |
| Acacia Communications | $2.35 billion | 17.37 |
Data source: Yahoo Finance.
Oclaro and Acacia have already delivered solid returns for investors over the past couple of years, but each could see growth as more fiber-optic connections are rolled out for cloud computing, 5G, and faster home internet services.
Let's a take a more detailed look at each company.
How Oclaro is performing in fiber optics
Oclaro provides nearly every type of component -- lasers, subsystems, modules, etc. -- for fiber-optics communications, the industrial sector, and consumer laser markets around the world.That's paying off as telecoms are expanding their last-mile connections and demand increases for higher speeds and bandwidth.
Oclaro reported in its fiscal Q1 2017 earnings in November that revenue hit $135.5 million -- an increase of 56% year over year -- andadjusted earnings per share (EPS) of$0.14, up from a loss of $0.01 in the year-ago quarter.
Image source: YCharts.
"These results were driven by our 100G and beyond portfolio, where sales grew by approximately 20% for the fifth consecutive quarter," Greg Dougherty, the company's CEO, said in a press release.
And Oclaro believes the good times should continue into fiscal 2017 as business picks up in China and metro areas. Oclaro expectssecond-quarter revenue to fall between $146 million to $154 million, which would represent a more than 59% increase year over year at the midpoint.
Ciena's fiber-optic opportunities
Ciena provides equipment, software, and services to manage voice, data, video, and data traffic on networks around the world. The company reported mixed fourth-quarter 2016 results, withrevenue rising by just3.5% year over year, to$716.2 million, but that was on par with analyst predictions. Non-GAAPEPS was $0.44, an increase of about 4.7% year over year.
Image source: YCharts.
While the fourth quarter was a bit of a mixed bag, the company is optimistic about 2017: "We believe that the combination of our leading technology, strategic investments, global scale and business diversification will enable us to continue to take market share and drive operating leverage in fiscal 2017," Ciena CEO Gary Smith said in press release.
The company expects first-quarter revenue to fall somewhere between $615 million to $645 million, which would represent a nearly 10% increase year over year at the midpoint. Ciena's stock price has been anything but consistent over the past several years, but if the company's 2017 turns out as good as management says it'll be, then this year may be the time when Ciena investors finally benefit from the growing fiber-optics industry.
Acacia's high-speed growth in the industry
Acacia provides high-speed interconnection products across the world, for long-haul, metro, and data markets. The company just went pubic in May of last year, and so far, it's delivered a 102% return for initial investors.
Image source: YCharts.
The company reported a fantastic third-quarter 2016, with revenue spiking 107% year over year, to $135 million, and EPS jumping an astounding 330%, to $0.86.
The company believes that Q3 is more than just a one-off quarter, as well, and expanded its manufacturing processes to keep up with continued demand. Acacia is also smartly diversifying its revenues across a handful of companies. That's a switch from the beginning of 2016 when ZTE Corporationaccounted for nearly 32% of Acacia's revenues.On top of all that, Acacia's balance sheet is free of debt.
Final thoughts
It's worth mentioning that each of these companies will likely experience cyclical highs and lows, as cable and telecom companies build up their fiber-optic networks and then slowly pull back. But right now, the trend for the industry is pointing toward more fiber-optic expansion, and each company could benefit as a result.
10 stocks we like better than Ciena When investing geniuses David and Tom Gardner have a stock tip, it can pay to listen. After all, the newsletter they have run for over a decade, Motley Fool Stock Advisor, has tripled the market.*
David and Tom just revealed what they believe are the 10 best stocks for investors to buy right now... and Ciena wasn't one of them! That's right -- they think these 10 stocks are even better buys.
Click here to learn about these picks!
*Stock Advisor returns as of January 4, 2017
Chris Neiger has no position in any stocks mentioned. The Motley Fool has no position in any of the stocks mentioned. The Motley Fool has a disclosure policy.