3 Things You Probably Didn't Know About AbbVie Inc.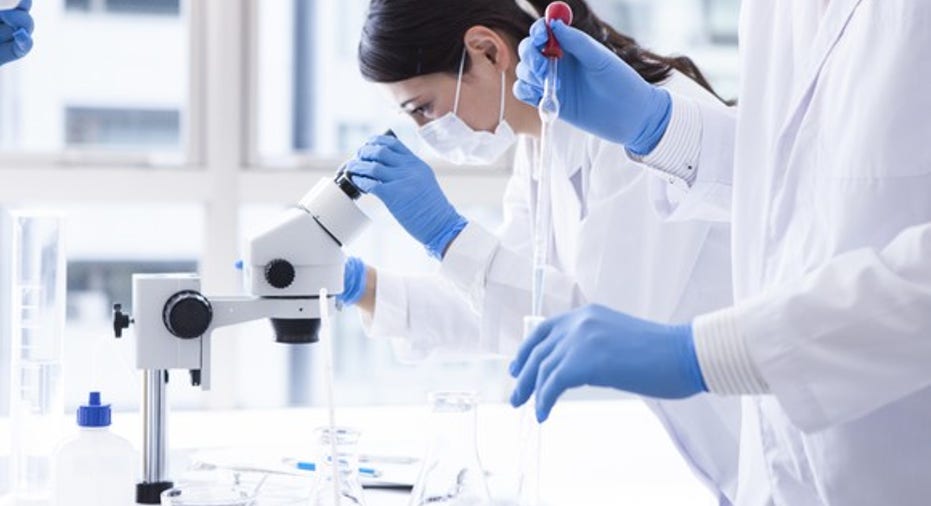 Since its spinoff from Abbott Laboratories (NYSE: ABT) in 2013, AbbVie (NYSE: ABBV) has become one of the hottest big biotech stocks on the market. When AbbVie was formed, its market cap was close to Abbott's. Now, however, the biotech's market cap is nearly 35% higher than that of its parent company.
There's much for investors to like about AbbVie now -- but there are also some reasons for concern. Here are three things you might not know about this successful biotech.
Image source: Getty Images.
1. One of the fastest-growing dividends
You probably already know that AbbVie currently boasts the highest dividend yield of any biotech stock. The company's yield of 3.9% easily tops the next-best contenders, Gilead Sciences and Amgen.
But did you know that AbbVie's dividend growth is among the highest of any stock on the market, regardless of industry? Over the last three years, AbbVie's dividend increased by an average annual rate of more than 17%.If we include Abbott's dividend track record, AbbVie has increased its dividend for 45 years in a row.
Even better, AbbVie appears to be poised to keep the dividend hikes coming. The company currently uses less than 63% of its earnings to fund the dividend program. That leaves plenty of room for more increases, especially considering that AbbVie's earnings are expected to grow significantly in the coming years.
2. One of the strongest product portfolios
Since Abbott spun it off, AbbVie has primarily been known for its huge blockbuster autoimmune disease drug, Humira. Sales for the company's other products were so much smaller in comparison that I nicknamed AbbVie's lineup "Humira and the seven dwarfs." That moniker isn't applicable today.
The 2015 acquisition of Pharmacyclics allowed AbbVie to pick up Imbruvica. The cancer drug could generate annual revenue of $5 billion by 2020 with approval of additional indications. AbbVie's buyout last year of Stemcentrx brought another cancer drug, Rova-T, into its pipeline. Rova-T is expected to launch next year and could reach peak annual sales of up to $5 billion.AbbVie partnered with Roche to develop yet another cancer drug, Venclexta, which could hit annual sales of up to $2 billion by 2020.
Humira could be joined in the next couple of years by two experimental autoimmune-disease candidates in AbbVie's pipeline. The company expects to launch risankizumab in 2019 for treating psoriasis and ABT-494 the same year for treating rheumatoid arthritis. Additional indications could also follow for both drugs.
3. One of the biggest debt loads
The acquisitions of Pharmacyclics and Stemcentrx came at a cost. AbbVie now has a total debt of nearly $37 billion. The only drugmaker with a higher level of debt is Pfizer. However, if you counted only long-term debt, AbbVie would rank at the top among all biopharmaceutical companies.
The buyout of Stemcentrx last year causedMoody's Investor Service to downgrade AbbVie's senior unsecured long-term rating to Baa2 from Baa1, which reflects a moderate credit risk. AbbVie's shareholders probably don't want the company to take on much more debt.
However, AbbVie's strong earnings and cash flow should allow the biotech to easily service its current debt. Earnings growth could also enable AbbVie to retire some of the debt more quickly, if it chose to do so.
One thing no one knows
There's at least one thing that no one knows about AbbVie: When will Humira's sales begin to fall? That uncertainty could make some investors wary of buying the stock.
I think, though, with its strong dividend and portfolio full of potential winners, AbbVie remains a smart pick. Abbott's spinoff has paid off nicely so far. My take is that it will continue to pay off for at least a few years to come.
10 stocks we like better than AbbVieWhen investing geniuses David and Tom Gardner have a stock tip, it can pay to listen. After all, the newsletter they have run for over a decade, Motley Fool Stock Advisor, has tripled the market.*
David and Tom just revealed what they believe are the 10 best stocks for investors to buy right now... and AbbVie wasn't one of them! That's right -- they think these 10 stocks are even better buys.
Click here to learn about these picks!
*Stock Advisor returns as of February 6, 2017
Keith Speights owns shares of AbbVie, Gilead Sciences, and Pfizer. The Motley Fool owns shares of and recommends Gilead Sciences. The Motley Fool has the following options: long June 2017 $70 calls on Gilead Sciences. The Motley Fool has a disclosure policy.