3 Things You Need to Know Now That Sarepta Therapeutics Has Reported First-Quarter Results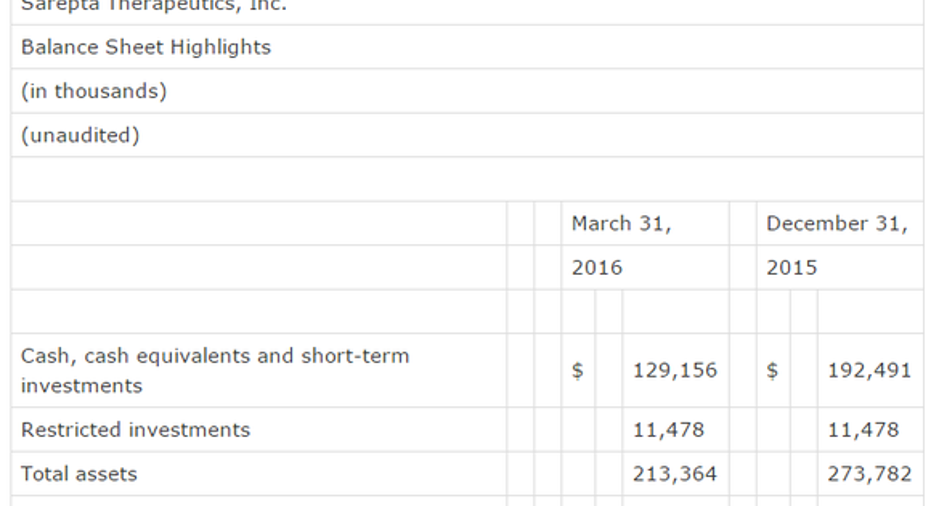 After updating investors on its first-quarter financials,investors may be wondering if clinical-stage drug developer Sarepta Therapeutics' shares should be bought or sold. Here are three key takeaways from Sarpeta Therapeutics' report that offer insight into whether this company is worth owning in portfolios.
No. 1: Burn baby burnInvestors have focused on the pending application for approval of the company's therapy for Duchenne muscular dystrophy (DMD), but they might also want to spend some time considering Sarepta Therapeutics' balance sheet.
During the first quarter, the company spent $38.8 million on R&D and another $20.9 million on selling, general, and administrative expenses. As a result, management reports that the company's cash stockpile dropped from $192 million in December to $129 million.That's not a lot of money given the company's cash burn rate and the potential it will have to finance a commercial launch of its DMD drug eteplirsen, if it gets approved.
No. 2: Up in the airIf it does win approval, eteplirsen revenue will go a long way toward covering the company's expenses, but an approval of eteplirsen is far from guaranteed.
On April 25, a FDA advisory committee met to discuss the pros and cons associated with approving eteplirsen, and the committee's conclusion raised as many questions as it answered. Although it voted 7 to 6 against the early approval of eteplirsen, comments made by the FDA's head of drug evaluation, Janet Woodcock, sparked enthusiasm that the FDA may ignore the committee vote and approve the drug anyway.
The stakes are incredibly high. DMD is a rare disease, and this drug may only help 13% of people diagnosed with it, but there aren't any approved DMD therapies available currently, and the prognosis for DMD patients is poor. Sadly, most DMD patients succumb to their disease by their 30s.
Although there's a big unmet need for new DMD treatment options, that doesn't necessarily mean eteplirsen will get a green light from the FDA. The trial that's serving as a basis for the FDA decision included just 12 patients and relies on efficacy relative to a historical control. Historical controls can effectively demonstrate efficacy, but documents provided by the FDA to its advisory committee raise concerns that this isn't the case with eteplirsen.
Specifically, the FDA wrote in its briefing document that it
No. 3: Few levers to pullSarepta Therapeutics didn't highlight any other drugs in its pipeline in its first-quarter earnings press release; it only updated investors on eteplirsen. That's because eteplirsen is the only drug in its pipeline that's in advanced clinical trials. Despite Sarepta Therapeutics conducting research on other DMD drugs and treatments for infectious disease, including Ebola, those programs are only in the early stages of development, and therefore, it could be years before any of them make it to market. That means an eteplirsen rejection would bea significant blow to the company.
Image source: Sarepta Therapeutics.
Looking forwardThe FDA is scheduled to make its official decision on eteplirsen on May 26. If it approves the drug, there's a good likelihood it will be quickly adopted by doctors and patients. If so, then revenue from eteplirsen will go a long way toward offsetting future cash burn associated with any required confirmatory studies.
However, if the FDA rejects eteplirsen, then Sarepta Therapeutics' future becomes murkier. The company could conduct a larger, placebo-controlled study in hope of refiling another FDA application later, but such a trial would be costly, and its findings could still come up short.
In both of these scenarios, investors should consider that Sarepta Therapeutics' cash position may not be big enough, and if that's true, investors should factor in the potential for a future dilutive stock offering before buying shares in this company. Overall, it appears the eteplirsen decision will be a binary event, and that should scare all but the most risk-tolerant investors away from this stock.
The article 3 Things You Need to Know Now That Sarepta Therapeutics Has Reported First-Quarter Results originally appeared on Fool.com.
Todd Campbell has no position in any stocks mentioned.Todd owns E.B. Capital Markets, LLC. E.B. Capital's clients may have positions in the companies mentioned. Like this article? Follow him onTwitter, where he goes by the handle@ebcapitalto see more articles like this.The Motley Fool has no position in any of the stocks mentioned. Try any of our Foolish newsletter services free for 30 days. We Fools may not all hold the same opinions, but we all believe that considering a diverse range of insights makes us better investors. The Motley Fool has a disclosure policy.
Copyright 1995 - 2016 The Motley Fool, LLC. All rights reserved. The Motley Fool has a disclosure policy.