3 Things You Need to Know About Ionis Pharmaceuticals' Pipeline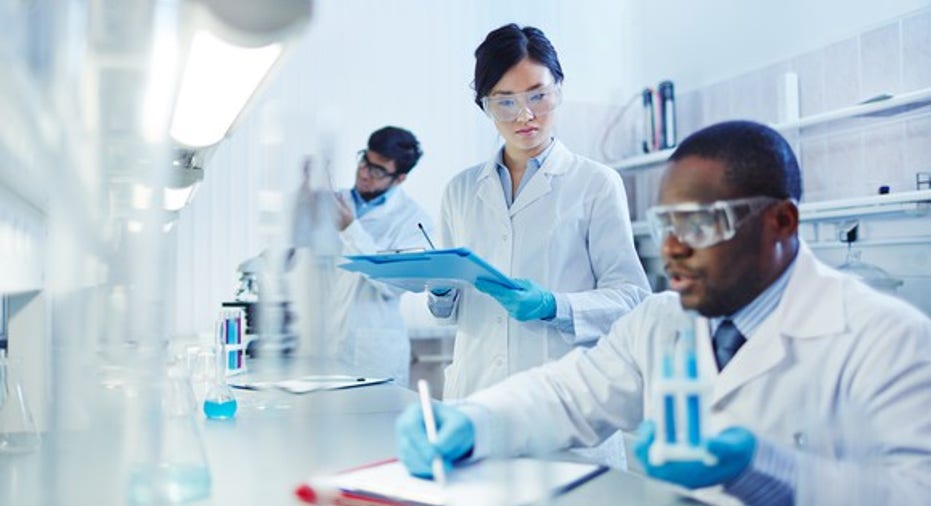 Few biotechs have as robust of a pipeline as Ionis Pharmaceuticals (NASDAQ: IONS). The company has certainly experienced ups and downs in 2016 with its pipeline candidates, but Ionis is ending the year on a good note.
Wade Walke, vice president of corporate communications and investor relations for Ionis, spoke at the Piper Jaffray Healthcare Conference on Wednesday about his company's pipeline. Here are three things you need to know from Walke's comments.
Image source: Getty Images.
Spinraza getting ready to roll
As you might expect, Walke highlighted the positive results from late-stage studies of Spinraza in treatingspinal muscular atrophy. Although the drug hasn't obtained regulatory approval yet, it's fair to say that Ionis and partner Biogen (NASDAQ: BIIB) are pretty confident.
Walke wouldn't directly answer questions about potential pricing for Spinraza, stating that all pricing decisions would be made by Biogen. Wall Street expects the drug's list price will be around $250,000. That could translate into peak annual sales approaching $2 billion. Ionis stands to gain another $150 million in milestone payments from Biogen, plus royalties on sales of Spinraza.
What about potential competition down the road from AveXis (NASDAQ: AVXS)? Walke said that interim results from an early-stage study of AveXis's gene therapy program were "encouraging." He said that it was "exciting for patients that there could be two therapies" for spinal muscular atrophy, which currently has no approved treatment.
It doesn't sound like Ionis is worried about AveXis, though. Walke stated that the smaller biotech was focused only on treating patients with type 1 spinal muscular atrophy, while Spinraza could treat patients with types 1, 2, and 3 of the rare disease. His take was that there would only be a "limited amount of competition" should both Spinraza and AveXis's AVXS-101 ultimately gain regulatory approval.
Good near-term potential for volanesorsen
Walke was bullish on prospects for volanesorsen. The pipeline candidate is in two late-stage clinical studies, one targeting treatment of familial chylomicronemia syndrome (FCS), and the other targeting treatment of familial partial lipodystrophy (FPL). Both are rare diseases with patients experiencing very high triglyceride levels.
When asked about results that showedvolanesorsen increased LDL cholesterol, Walke dismissed any negative implications. He said that this "apparent" LDL increase wasn't really a problem, since non-HDL cholesterol in total was reduced, along with triglyceride levels. Walke also noted that all triglyceride-lowering drugs except for fish oils produced a similar profile seen with volanesorsen.
Walke admitted that Ionis's LICA-conjugated antisense drug currently in a phase 2 clinical study would eventually replacevolanesorsen. However, he thinks the trade-off would be good for patients and for Ionis because of a larger patient population that the LICA drug would target. Ionis anticipates lining up a partner for the LICA drug in the next couple of years.
Confident about IONIS-TTR Rx despite rivals' challenges
Ionis's third potential near-term commercial opportunity comes from its experimental familial amyloid polyneuropathy (FAP) drug, IONIS-TTR Rx. However, there have been concerns about the safety of TTR drugs. Alnylam (NASDAQ: ALNY) discontinued its development ofrevusiran in October after patients in the company's late-stage study of the drug experiencedperipheral neuropathy.
Walke said that Ionis uses "a different chemistry" than Alnylam. Walke expressed confidence that Alnylam's difficulties won't carry over to Ionis.He said that Ionis is "comfortable we won't likely see the same [toxicology] issues" with IONIS-TTR Rx.
But what about Pfizer'ssluggish European sales for its TTR drug, Vyndaquel? Walke said that Pfizer's studies simply didn't show "substantial benefit." He thinks that IONIS-TTR Rx should be different and have a better market opportunity than Vyndaquel.
Looking ahead
Wade Walke briefly discussed other candidates in Ionis's pipeline, but these were definitely the big three prospects for the biotech's immediate future. Was his optimism warranted? I think so.
Ionis'sbiggest catalyst opportunities in 2017 center around Spinraza,volanesorsen, and IONIS-TTR Rx. My hunch is that the biotech will get good news from all three programs, beginning with a likely approval for Spinraza. Ionis is ending 2016 on an upswing that I think will carry into the New Year.
10 stocks we like better than Ionis Pharmaceuticals When investing geniuses David and Tom Gardner have a stock tip, it can pay to listen. After all, the newsletter they have run for over a decade, Motley Fool Stock Advisor, has tripled the market.*
David and Tom just revealed what they believe are the 10 best stocks for investors to buy right now... and Ionis Pharmaceuticals wasn't one of them! That's right -- they think these 10 stocks are even better buys.
Click here to learn about these picks!
*Stock Advisor returns as of November 7, 2016
Keith Speights has no position in any stocks mentioned. The Motley Fool owns shares of and recommends Alnylam Pharmaceuticals, Biogen, and Ionis Pharmaceuticals. Try any of our Foolish newsletter services free for 30 days. We Fools may not all hold the same opinions, but we all believe that considering a diverse range of insights makes us better investors. The Motley Fool has a disclosure policy.