3 Things to Watch With Gilead Sciences, Inc. Q1 Results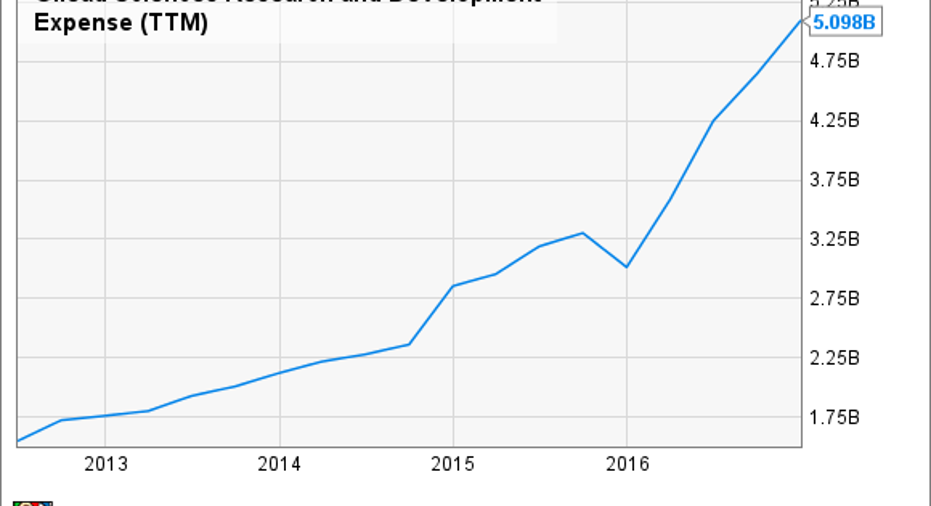 Don't expect good news when Gilead Sciences (NASDAQ: GILD) announces its first-quarter results on May 2. The big biotech has already set expectations quite low for 2017.
However, there are several factors that could determine whether Gilead meets those low expectations. Here are three things in particular for investors to watch when the company reports its results.
Image source: Getty Images.
1. Genvoya sales growth
Just like the Gilead Sciences of several years ago, HIV has again become the strongest area of focus for the biotech. While Truvada remained Gilead's top-selling HIV drug in 2016, Genvoya is the real drug to watch in the first quarter.
Genvoya won U.S. regulatory approval in November 2015.Since then, it has enjoyed the most successful commercial launch of any HIV drug in history.
Image source: Gilead Sciences.
It wouldn't be surprising to see Genvoya overtake Atripla in the first quarter to become Gilead's No. 2 HIV drug. Even if not, strong sales growth for Genvoya is critical for the company to avoid an earnings disappointment.
2. International hepatitis C franchise declines
Gilead's management team hasn't been shy about telling anyone who will listen that hepatitis C virus (HCV) patient starts will likely fall significantly in 2017. Most of the focus has been on declining U.S. patient starts. However, it could be more important to watch what happened outside of the U.S. in the first quarter.
Image source: Gilead Sciences.
As the above charts show, there were nearly as many non-U.S. HCV starts as there were U.S. patient starts last year. The U.S. figure for 2016 included one-time uplifts of around 20,000 patients due to additional access to Veterans Administration (VA) patients and a major commercial payer as well as from warehousing of patients with genotypes 2 and 3.
Excluding these one-time uplifts, the expected declines of HCV patient starts in 2017 outside of the U.S. will be worse than in the U.S. Japan could be especially problematic. Part of the challenge in Japan is that around 40% of HCV patients are over 80 years old and often under the care of a general practitioner rather than a specialist. Specialists are more likely to recommend treatment for these older patients.
How accurate will Gilead's forecasts be? Even the company doesn't know for sure. It's possible that Gilead was overly pessimistic in its projections. If so, there could be a pleasant surprise. However, it's also possible that reality proves worse than expected. Either way, how much international HCV sales declined in the first quarter should be critical.
3. Research and development spending
Most of investors' attention will be on Gilead's revenue figures in the first quarter. That's understandable. However, another key thing to watch is the company's spending -- in particular, its research and development (R&D) spending.
GILD Research and Development Expense (TTM) data by YCharts.
Gilead's R&D spending has been increasing significantly. In 2016, the biotech spent nearly 70% more on research and development than it did the previous year. That's not a bad thing, since Gilead certainly needs its pipeline to produce to help offset falling HCV product sales.
However, when it comes to hitting earnings estimates, spending is just as important as revenue. For what it's worth, though, Gilead projects non-GAAP R&D expenses in 2017 of between $3.1 billion and $3.4 billion. That's less than the non-GAAP R&D spending of $3.7 billion in 2016.
Looking past the numbers
All three of these things will be tremendously important for Gilead in the first quarter. An even more crucial key to the company's future, though, is what actions Gilead will take to beef up its portfolio to restore growth.
Gilead's executives won't be able to say much about details of any plan. However, investors can look for clues and hints in statements made by Gilead's management. This assumes, of course, that Gilead doesn't announce an acquisition when it reports first-quarter results. If that happens, Genvoya sales growth, international HCV declines, and R&D spending won't seem nearly as important.
10 stocks we like better than Gilead SciencesWhen investing geniuses David and Tom Gardner have a stock tip, it can pay to listen. After all, the newsletter they have run for over a decade, Motley Fool Stock Advisor, has tripled the market.*
David and Tom just revealed what they believe are the 10 best stocks for investors to buy right now... and Gilead Sciences wasn't one of them! That's right -- they think these 10 stocks are even better buys.
Click here to learn about these picks!
*Stock Advisor returns as of April 3, 2017
Keith Speights owns shares of Gilead Sciences. The Motley Fool owns shares of and recommends Gilead Sciences. The Motley Fool has the following options: short June 2017 $70 calls on Gilead Sciences. The Motley Fool has a disclosure policy.