3 Things to Watch When Sturm, Ruger Reports on Monday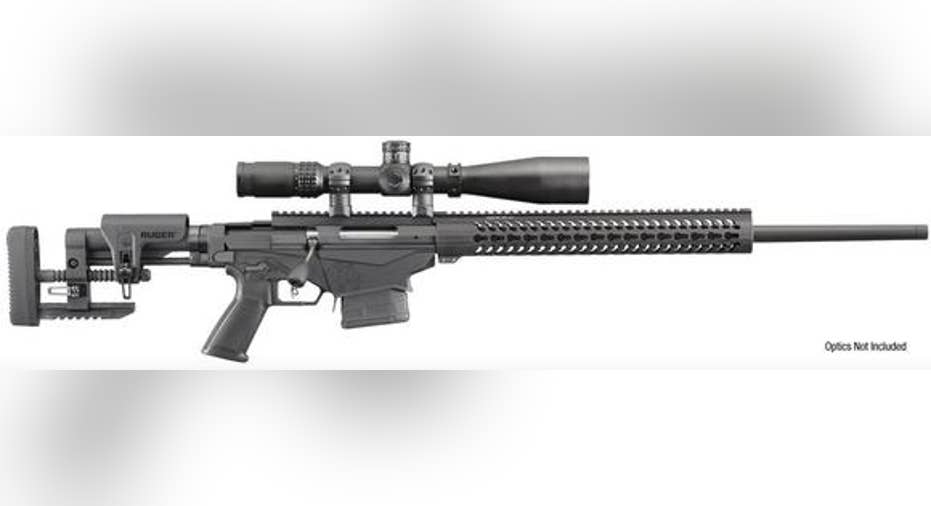 Bullets not included, either. Image source: Sturm, Ruger.
It's earnings season on Wall Street, and all the biggest names in corporate America are rolling out their first-quarter reports. Few, however, are expected to report as big a jump in earnings as famed gunsmith Sturm, Ruger .
Sturm, Ruger reports its fiscal Q1 2016 earnings on Monday. Here's what we know today.
What analysts say:
Buy, sell, or waffle?According to S&P Global Market Intelligence, only two analysts follow Sturm, Ruger stock -- but both of them rate it a "buy."
Revenue. These analysts believe that its quarterly revenues grew about 6% to $147.4 million.
Earnings. It's expected to report that profits grew three times faster than revenue -- up 18% to $0.96 per share.
What management says:It's been barely two months since Sturm, Ruger stock last updated investors on its earnings. In February, management was hailing a rebound in gun sales after a weak 2014. Sales in 2015, said the company, were following "typical historical seasonal patterns." Use of the National Instant Criminal Background Check System (NICS) was ticking up nicely (foreshadowing even stronger sales), and management was sounding optimistic heading into 2016.
What management does:The trick was to turn those accelerating sales into greater profits -- but Sturm, Ruger handled this with aplomb. Judging from what we can see in margin trends, the company has been squeezing more and more profitable pennies out of each revenue dollar. Margins have been rising for two straight quarters now.
| | 9/14 | 12/14 | 3/15 | 6/15 | 9/15 | 12/15 |
| --- | --- | --- | --- | --- | --- | --- |
| Gross | 33% | 31% | 29.2% | 29.5% | 30.2% | 31.2% |
| Operating | 20.4% | 17.8% | 16.2% | 15.3% | 16.2% | 17.1% |
| Net | 13.2% | 7.1% | 5.8% | 5% | 5.8% | 11.3% |
Data source: S&P Global Market Intelligence.
What to watch tomorrowBut here's where things get interesting: Obviously, on Monday, we're all going to first check and see if Sturm, Ruger "made its numbers" on sales and earnings. That's a no-brainer. If it beats estimates on these two numbers, its stock will probably go up. If it misses, it will go down.
More important than the headline numbers, though, is this: Earlier this month, the NICS database showed a sharp plunge in background checks run on consumers seeking to purchase handguns -- and rifles and shotguns, as well. Reviewing the numbers, one analyst exclaimed that the decline in background checks in March was the largest he had seen in 10 years. Background checks on handgun purchases fell 13.2% sequentially, and on long guns, they fell 8%.
That news prompted multiple analysts to downgrade shares of Smith & Wesson . But not one single analyst cut its rating on Sturm, Ruger! Admittedly, that could be because only two analysts even follow the stock, versus the eight analysts who have ratings on Smith & Wesson. But even so, the lack of downgrades over the past three weeks puts Sturm, Ruger shareholders in a rather unsettling situation heading into earnings.
If we see sales rise strongly on Monday, no one will be surprised. Wall Street already promised as much, so we can't expect much positive reaction from investors. But if sales fall short -- indeed, if Sturm, Ruger management even hints at the possibility that sales are about to slacken -- that will confirm the fears of all the folks who dumped Smith & Wesson stock earlier this month. It will signal to them that Sturm, Ruger is not immune to what's ailing Smith & Wesson, and could spark downgrades of Sturm, Ruger stock, as well.
Caveat emptor, investors: No matter how good the news is, I fear Monday will be a day when heads, Sturm, Ruger loses; and tails, Sturm, Ruger just can't win.
The article 3 Things to Watch When Sturm, Ruger Reports on Monday originally appeared on Fool.com.
Fool contributorRich Smithdoes not own shares of, nor is he short, any company named above. You can find him onMotley Fool CAPS, publicly pontificating under the handleTMFDitty, where he's currently ranked No. 297 out of more than 75,000 rated members.The Motley Fool has no position in any of the stocks mentioned. Try any of our Foolish newsletter services free for 30 days. We Fools may not all hold the same opinions, but we all believe that considering a diverse range of insights makes us better investors. The Motley Fool has a disclosure policy.
Copyright 1995 - 2016 The Motley Fool, LLC. All rights reserved. The Motley Fool has a disclosure policy.