3 Things to Watch When Kratos Defense and Security Stock Reports Wednesday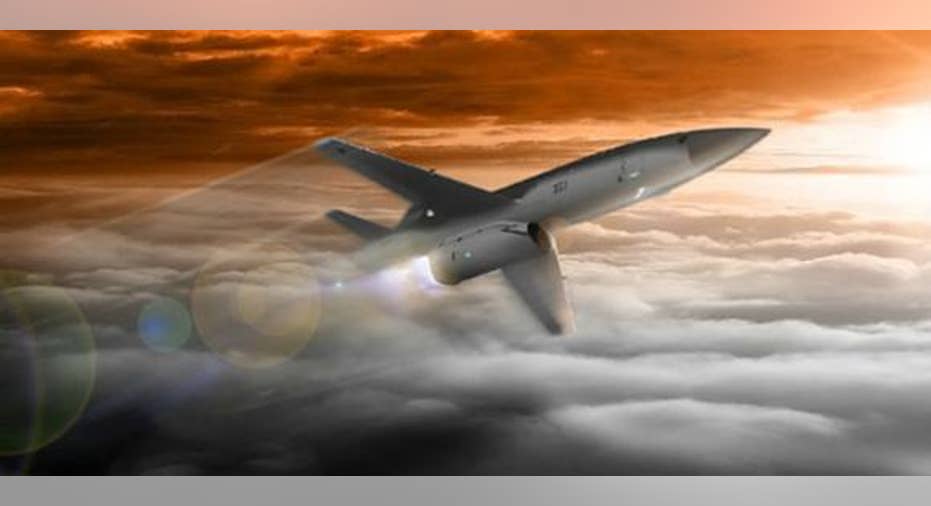 Kratos is investing millions to develop a jet-powered, unmanned combat drone for the military. Image source: Kratos Defense.
It's earnings season on Wall Street, and last week featured earnings reports from just about all of the nation's biggest aerospace and defense companies. This week, the focus turns to the second-stringers -- smaller up-and-coming defense companies still striving to break into the big leagues. Companies like... Kratos Defense and Security Solutions .
Kratos is due out with its fiscal Q1 2016 earnings report on Wednesday. Here's what we know today,
What analysts say
Buy, sell, or waffle?:According to data from S&P Global Market Intelligence, only four analysts have published ratings on Kratos -- three "buy"s and a "hold."
Revenue:On average, these analysts expect to see revenues decline 16% on Wednesday, to $154 million collected in Q1.
Earnings:Kratos is expected to book a $0.09-per-share loss-- which would at least be less than the $0.25 lost one year ago.
What management saysThose are pretty grim numbers. But to hear management tell it, this is about to change. "We believe that Kratos will return to organic growth in 2016," said Kratos CEO Eric DeMarco in last quarter's earnings update. And "as we begin 2016 we believe that major areas of our Company are well positioned for growth, including Unmanned Systems, Satellite Communications, Missile Defense and Microwave Electronics, driven by specific program opportunities Kratos is involved in and under contract on, and an improving overall U.S. DoD budgetary environment."
What management doesKratos wasn't specific on the size of the growth it's expecting to see in 2016, however, or when precisely it would materialize. Meanwhile, with revenues in decline, profit margins are all over the map. Gross margins were climbing pretty steadily (up until last quarter). Net margins still are climbing. Operating profit margins, however, which are arguably the most important for (trying to) establish a trend, have been up one quarter, down the next.
| | Sept. 2014 | Dec. 2014 | April 2015 | July 2015 | Oct. 2015 | Dec. 2015 |
| --- | --- | --- | --- | --- | --- | --- |
| Gross | 24.3% | 23.5% | 25% | 25.5% | 26.2% | 24.6% |
| Operating | 1% | 0.9% | 2.1% | 1.3% | 2% | (0.8%) |
| Net | (10.3%) | (10.2%) | (9.3%) | (5.5%) | 2.8% | 3% |
Data source: S&P Global Market Intelligence.
What to watch WednesdayIn short, the trend at Kratos is that there is no clear trend. To illustrate just how lumpy the results at this company can be (and to prepare you for the surprise that Wednesday might hold), Kratos "missed" earnings by 108% in Q1 last year, then by 575% in Q2. It followed that up with earnings "beats" of 450% and 118%, respectively, in Qs 3 and 4. (Kratos lost money in all four quarters, however.)
Obviously, then, the first thing we'll be looking for at Kratos Wednesday is some indication from management of when it expects to turn profitable again. Analysts think 2017 could be the year that it happens.
DeMarco noted last quarter that the company is "currently in pursuit of certain new large opportunities including in the Unmanned Systems area," which would permit Kratos to expand its presence in "the strategically important tactical unmanned systems market." A win here could be the thing that turns Kratos profitable -- so we'll be looking especially hard at progress in finding a customer for thecompany's new UTAP-22 combat drone (pictured above).
And finally, with UTAP still in development, we'll be looking to see how much cash that project is consuming. Kratos' operations consumed cash in 2015 -- the first time that had happened since the bad old days of the 2008 financial crisis. But the company has been free cash flow-negative for two straight years. With little money in the bank, and nearly $450 million in debt at last report, we'd really like to see Kratos turn cash-profitable sooner rather than later.
And on Wednesday, we'll finally get some insight into how close Kratos is to making that happen.
The article 3 Things to Watch When Kratos Defense and Security Stock Reports Wednesday originally appeared on Fool.com.
Rich Smithdoes not own shares of, nor is he short, any company named above. You can find him onMotley Fool CAPS, publicly pontificating under the handleTMFDitty, where he's currently ranked No. 294 out of more than 75,000 rated members.The Motley Fool has no position in any of the stocks mentioned. Try any of our Foolish newsletter services free for 30 days. We Fools may not all hold the same opinions, but we all believe that considering a diverse range of insights makes us better investors. The Motley Fool has a disclosure policy.
Copyright 1995 - 2016 The Motley Fool, LLC. All rights reserved. The Motley Fool has a disclosure policy.