3 Things to Watch When Kinder Morgan Inc. Reports Earnings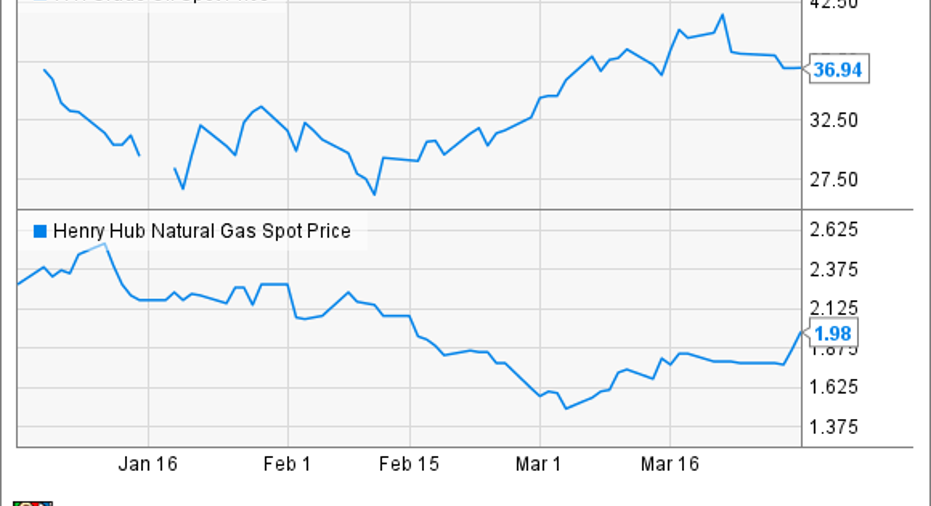 Image source: Kinder Morgan.
Energy infrastructure juggernaut Kinder Morgan is expected to report its first-quarter results on Wednesday after the markets close. It will be a closely watched report given all that has happened to the company and the energy sector in recent months. In particular, investors will want to keep a close eye on what the company says about cash flow, credit, and capex.
First, let's reviewBefore we get to that, let's take a quick look back at last quarter. Kinder Morgan reported $1.233 billion of distributable cash flow for the quarter, which was down slightly from the fourth quarter of 2014 when it delivered $1.278 billion in distributable cash flow. The culprit was the slight impact the company experienced from weaker oil prices in its carbon dioxide segment as well as the impact from two coal company bankruptcies in its terminals segment:
DATA SOURCE: KINDER MORGAN EARNINGS RELEASE. CHART BY AUTHOR. DOLLAR FIGURES IN MILLIONS.
Outside of those issues, Kinder Morgan's underlying cash flow was pretty steady last quarter thanks to the boatload of fee-based assets it owns, which is why its overall cash flow remained relatively flat.
Did cash flow miss the mark?Investors would like to see that cash flow remain relatively stable again during the first quarter. The company's current outlook is that it will generate a total of $4.7 billion in distributable cash flow this year, which after paying an estimated $0.50 per share in dividends will yield roughly $3.6 billion in excess cash flow based on its base case for commodity prices:
Image source: Kinder Morgan investor presentation.
Those assumptions, however, are proving to be a bit optimistic, at least during the first quarter. In fact, neither oil nor natural gas spent much time at or above its base case of $38 per barrel of oil and $2.50 per MMBTU for gas.
WTI Crude Oil Spot Price data by YCharts.
That will have a bit of a negative impact on first quarter cash flow. In addition to that, another one of the company's coal customers recently went bankrupt, which could have had a negative impact on earnings within its terminals segment.
What's unknown is if Kinder Morgan was able to overcome these weak spots through strength elsewhere in its portfolio or by cutting costs. On the other hand, there is always the possibility thatthere were additional areas of weakness that had an impact on cash flow last quarter, which is what investors will want to keep an eye on. Anything that deviates from expectations could have a big impact on how investors view this report.
Is its access to credit getting any better?With conditions within the energy sector growing weaker over the past six months, it has had a negative impact on the availability of credit within the sector. That's a big reason why Kinder Morgan slashed its dividend 75%, planning to use the $3.6 billion in excess cash flow to plug a funding holeafter the capital markets effectively closed, leaving the company without access to the inexpensive funding it needed to pay for its 2016 capex plans.
In addition to its decision to fund capex internally, the company also bypassed the capital markets and went straight to its banksto refinance upcoming debt maturities. That said, it can't tap its banks forever given that the banking sector is starting to stress out over the cash it has already lent to oil and gas producers. Because of that investors will be all ears to hear what Kinder Morgan has to say about the credit market. While the company said it has no plans to access the capital markets this year,if the market start to show any sign of thawing, that would still be a very welcome sight.
Image source: Kinder Morgan.
Is capex coming down any further?Kinder Morgan has slowly been cutting its capex budget in response to industry conditions. Initially, it expected to fund roughly $4.2 billion in capex projects in 2016. However, it has now cut that budget down to $3.3 billion.
With the company in the process of high-grading its backlog, this could lead to an even more meaningful reduction in future capex spending,especially after the company had topress pause on its Palmetto Pipeline projectdue to eminent domain issues.That could potentially supply the company with a bit more excess cash flow than expected, which could be used toward debt reduction, buying back stock, or even boosting the dividend above its current target before the year is out.
Investor takeawayInvestors will be watching Kinder Morgan this quarter, paying close attention to the three Cs of cash flow, credit, and capex. If the company shows improvement in all three areas, it could provide a big boost to investor confidence. That said, if any area shows signs of stress, especially cash flow, it would likely weigh heavily on the stock this week.
The article 3 Things to Watch When Kinder Morgan Inc. Reports Earnings originally appeared on Fool.com.
Matt DiLallo owns shares of Kinder Morgan. Matt DiLallo has the following options: short Jan. 2018 $30 puts on Kinder Morgan and long Jan. 2018 $30 calls on Kinder Morgan. The Motley Fool owns shares of and recommends Kinder Morgan. The Motley Fool has the following options: short June 2016 $12 puts on Kinder Morgan. Try any of our Foolish newsletter services free for 30 days. We Fools may not all hold the same opinions, but we all believe that considering a diverse range of insights makes us better investors. The Motley Fool has a disclosure policy.
Copyright 1995 - 2016 The Motley Fool, LLC. All rights reserved. The Motley Fool has a disclosure policy.