3 Things to Watch When Huntington Ingalls Reports Tomorrow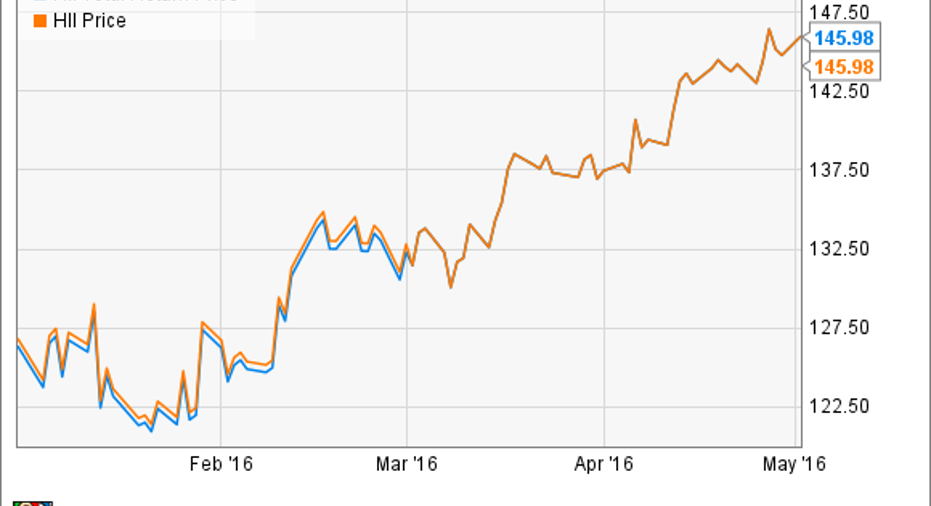 Huntington Ingalls stock has gone nowhere but up this year, recently hitting an all-time high.HII Total Return Price data by YCharts.
It's earnings season on Wall Street, and last week we looked at the earnings reports from just about all of the nation's biggest aerospace and defense companies. This week, our focus turns to second-stringers with a bit less name recognition -- companies such as military shipbuilder and Northrop Grumman spinoff Huntington Ingalls .
Huntington Ingalls stock reports fiscal Q1 2016 earnings on Thursday. Here's what we know today.
What analysts say
Buy, sell, or waffle?:According to data from S&P Global Market Intelligence, a baker's dozen of analysts follows Huntington Ingalls. Seven rate it a "buy," five call it a "hold," and one says "sell."
Revenue:On average, these analysts expect to see revenue rise less than 1% to $1.58 billion.
Earnings:Profits, however, could surge as much as 19% -- to $2.13 per share.
What management saysCommenting on his company's last earnings report in February, Huntington Ingalls CEO Mike Petters called 2015 "a pivotal year for HII as we achieved the 9-plus percent segment operating margin goal we established when we stood up the company back in 2011." (Operating margins for Huntington Ingalls stock as a whole, by the way, have already run up past 11%.)
What management doesAnd 2016 could be even better. Huntington Ingalls grew its revenue a bit less than 1% last year, to $7 billion. But the company added $7.6 billion in new orders in 2015, increasing its total backlog of work to be done to $22 billion, and giving the company a "book-to-bill" ratio of 1.08 for the year.
Result: With new orders coming in faster than old orders are fulfilled, revenue at Huntington is bound to rise this year -- perhaps faster than analysts' current estimates give the company credit for. And as for the profits Huntington Ingalls stock is earning on the bottom line, those, too, have been trending up:
| | Sept. 2014 | Dec. 2014 | April 2015 | July 2015 | Oct. 2015 | Dec. 2015 |
| --- | --- | --- | --- | --- | --- | --- |
| Gross | 18.9% | 20.4% | 20.4% | 22.5% | 20.2% | 19.9% |
| Operating | 9.4% | 10.8% | 10.8% | 12.8% | 11.1% | 11.1% |
| Net | 5.4% | 4.9% | 4.8% | 5.6% | 5.8% | 5.8% |
Data source: S&P Global Market Intelligence.
What to watch tomorrowAt a recent high of nearly $147 a share, Huntington Ingalls stock has never been more richly priced than it is today. What's more, the stock is just pennies away from hitting the magic "1 times sales" valuation that seems to be the touchstone for defense stocks.
So what will we look for tomorrow? More orders coming in, obviously -- replacing orders fulfilled and building up backlog. That's what will secure further sales growth, and the possibility of further share price growth, in the future. At the same time, we have to bear in mind that defense budgets are tight, and the Pentagon isn't spending as freely as it once was. That's going to make it hard to grow sales and make it even more important for Huntington Ingalls to continue expanding its profit margins to keep earnings growth going.
Last but not least: free cash flow. As I wrote earlier this month, Huntington Ingalls' rebounding stock price has pushed the stock's P/S ratio up near 1.0 -- and its P/E ratio past 17. As a result, the stock is starting to look like less of a bargain than it once was. At last report, however, Huntington Ingalls was still doing a pretty fantastic job of generating cash from its business, to the extent that its price-to-free cash flow ratio looks about 40% cheaper than its P/E ratio.
As long as that remains true, there's still a case to be made for buying Huntington Ingalls stock. Tomorrow, we'll find out if it is still the case.
The article 3 Things to Watch When Huntington Ingalls Reports Tomorrow originally appeared on Fool.com.
Rich Smithdoes not own shares of, nor is he short, any company named above. You can find him onMotley Fool CAPS, publicly pontificating under the handleTMFDitty, where he's currently ranked No. 294 out of more than 75,000 rated members.The Motley Fool has no position in any of the stocks mentioned. Try any of our Foolish newsletter services free for 30 days. We Fools may not all hold the same opinions, but we all believe that considering a diverse range of insights makes us better investors. The Motley Fool has a disclosure policy.
Copyright 1995 - 2016 The Motley Fool, LLC. All rights reserved. The Motley Fool has a disclosure policy.