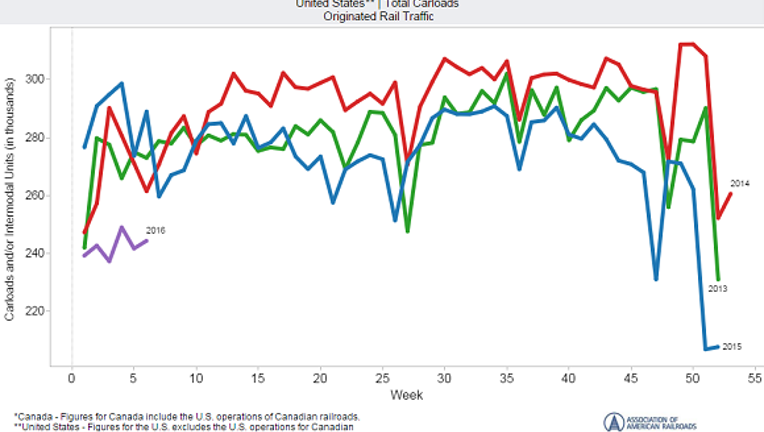 Berkshire Hathaway will report fourth-quarter earnings on Friday, and though the company has a large number of moving pieces, these three things will have the most impact on its results.
1. How's the Gecko?Berkshire's insurance underwriting results have come in light so far for 2015. GEICO is struggling with drivers who are driving more miles, getting in more accidents, and causing more damage with each accident. Meanwhile, its reinsurers suffered from significant catastrophe losses in the Q3 2015 after escaping the first three quarters of 2014 with not one loss of greater than $100 million.
Competing insurer Allstateguided for continued increases in accident frequency and severity for 2016. The company saw its losses and expenses rise 3.2% in the fourth quarter compared to a year ago. That's a telling sign that Berkshire's underwriting, though excellent, likely won't perform as well as did in fiscal 2013 or 2014, when its insurers put up $3.1 billion and $2.7 billion in combined annual underwriting profits, respectively.
Berkshire reported $1.3 billion in combined underwriting profits in the first nine months of 2015. Of course, it says something that an underwriting profit in excess of a billion dollars in less than a year is somewhat disappointing. Most insurers are lucky to have underwriting profits at all, whereas Berkshire is in a league of its own in generating underwriting profits year after year.
2. How are the rails?After years of higher volumes from oil and commodity shipments, railroad traffic declined in 2015. So far, 2016 is also proving to be a tough year, based on weekly rail traffic data from the Association of American Railroads.
Berkshire's Burlington Northern Santa Feobviously isn't immune to the decline in rail traffic. Fortunately, a decline in fuel prices has offset some of BNSF's operating expenses, helping to counterbalance a decline in shipments. Unfortunately, other publicly traded railroads have disappointed investors with fourth-quarter earnings reports and guided lower for 2016 due to declines in volumes.
3. How's the portfolio?Berkshire's 25 largest stock positions, as reported in its Sept. 3013F filing, broadly advanced in the fourth quarter. I calculate that Berkshire Hathaway should record a gain of about $4.4 billion from these investments.
Big contributors to those gains included Wells Fargo, Kraft Heinz, and Coca-Cola, which generated about $1.6 billion, $900 million, and $1.3 billion in unrealized gains plus dividends in the quarter. Berkshire's Bank of America warrants should also see a positive mark, though the gains are likely to be reversed in the first quarter of 2016, as bank stocks have been hard hit year-to-date.
Of course, Berkshire takes the long view. We know from its 13F that it made very few changes to its portfolio in the fourth quarter, consistent with its buy-and-holdinvestment philosophy.
The article 3 Things to Watch in Berkshire Hathaway's Earnings Report originally appeared on Fool.com.
Jordan Wathen has no position in any stocks mentioned. The Motley Fool owns shares of and recommends Berkshire Hathaway and Wells Fargo. The Motley Fool has the following options: short March 2016 $52 puts on Wells Fargo. The Motley Fool recommends Bank of America and Coca-Cola. Try any of our Foolish newsletter services free for 30 days. We Fools may not all hold the same opinions, but we all believe that considering a diverse range of insights makes us better investors. The Motley Fool has a disclosure policy.
Copyright 1995 - 2016 The Motley Fool, LLC. All rights reserved. The Motley Fool has a disclosure policy.