3 Things to Watch as Celgene Corporation Reports Earnings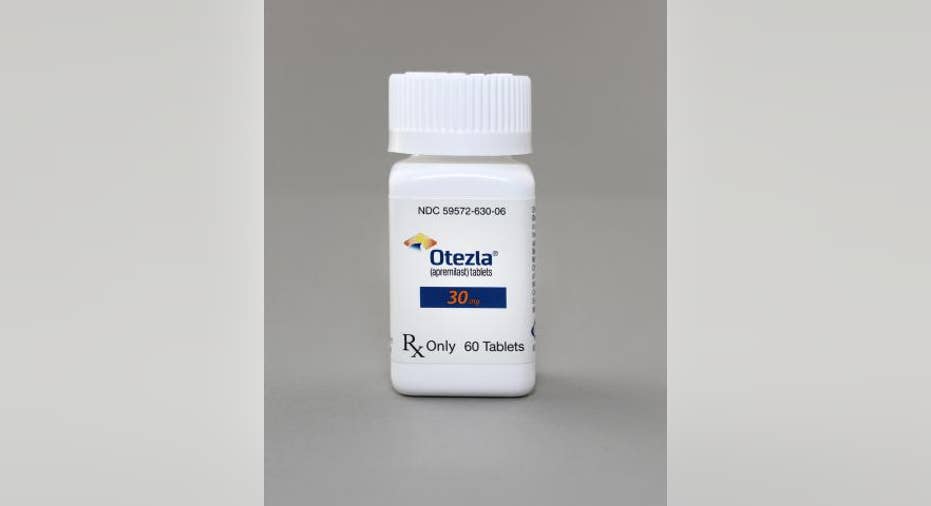 Celgene(NASDAQ: CELG) is down about 11% this year, but well off its March lows as investors look forward to the biotech's first-quarter earnings release on Thursday. Here are three things investors should be watching.
IMAGE SOURCE: CELGENE.
Otezla growthRevlimid dominates Celgene's revenue number, and Pomalyst is coming up fast, but long-term investors should be focused on Otezla. The actual volume of sales won't move the overall revenue that much -- Otezla was 7% of products sales -- but the quarter-over-quarter growth will show Otezla's trajectory, especially in Europe.
The drug has already launched in Germany and some smaller European countries, but selling in many of the significant European countries won't start until this year, allowing for easy year-over-year comparisons.
Beyond the additional long-term sales, Otezla also offers Celgene a diversification away from oncology. Branching out into psoriasisand other auto-immune diseases that Otezla can treat will help future expansion including the potential for ozanimod in multiple sclerosis and ulcerative colitis.
Pullback of 2017 guidance?In Jan. 2015, Celgene's management reaffirmed 2017 guidance of revenue between $13 million and $14 million and adjusted earnings of approximately $7.50 per share, but we haven't heard much about the guidance since then. That's led analysts and investors to guess that the company might not be able to achieve the guidance.
On the fourth-quarter conference call, CFO Peter Kellogg hinted that the revenue number might come down due to changes in foreign exchange (ForEx) rates with the stronger dollar hurting sales outside the U.S., although the effect on earnings can be negated through hedges the company puts in place:
"So we are calibrating on that and we do intend to provide an update as we get closer to2017based on where these ForEx rates, look like they are going to land in2017."
With a pullback in guidance largely expected, it appears a downward adjustment should have a minimal effect on the share price if it happens, perhaps offering upside if management doesn't shave much (or any) from the earnings guidance if the hedges worked well.
Partners' progressCelgene's growth beyond 2022 when Revlimid starts to see generic competition will need to come from the numerous licensing deals that the biotech has set up with promising start-ups. It's easy to brush off because 2022 it's still a ways away, but it takes years to get therapies through the marathon of drug development. Baby steps now put the company headed toward that goal.
For instance, earlier this month, Celgene exercised its option to develop and commercialize the Juno Therapeutic's (NASDAQ: JUNO) CD19 program outsideNorth AmericaandChina, which includes JCAR015, JCAR017, and JCAR014. Juno's JCAR015 is furthest along in a phase 2 trial for patients with relapsed or refractory acute lymphoblastic leukemia. Exercising the option required a $50 million payment to Juno, and Celgene will share global development expenses with Juno Therapeutics, but that's a small price to pay if Juno's CAR-T therapies work.
Beyond comments about Juno, look for management to highlight other partnerships that will help the company reach its long-term goals.
var FoolAnalyticsData = FoolAnalyticsData || []; FoolAnalyticsData.push({ eventType: "ArticlePitch", contentByline: "Brian Orelli", contentId: "cms.203358", contentTickers: "", contentTitle: "3 Things to Watch as Celgene Corporation Reports Earnings", hasVideo: "False", pitchId: "2518", pitchTickers: "", pitchTitle: "", pitchType: "", sfrId: "" });