3 Things to Love About Shopify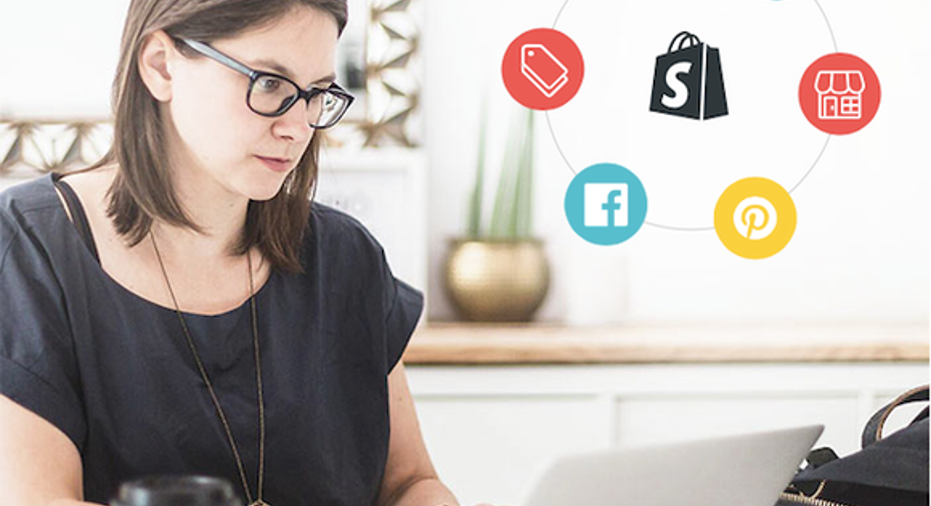 Shopify (NYSE: SHOP) investors have had plenty of reasons to cheer since its IPO in May 2015. Shares are up over 58% in just 15 months, albeit with a heavy dose of volatility.
Shopify provides large and small merchants with solutions to run their businesses across multiple sales channels, including web and mobile storefronts, social-media storefronts, and physical retail locations. The Shopify platform provides back-office solutions that allow merchants to manage products and inventory, process orders and payments, ship orders, and provide analytics and reporting.
Shopify's main focus is on small and medium businesses, which it charges anywhere between $9 and $299 per month. With rapid growth and demand for e-commerce, it's not surprising that Shopify isn't the only game in town. Companies like Demandware, Bigcommerce, and Magento are a few of the providers that offer similar solutions. However, Shopify has proven itself to be the cream of the crop
In its most recent quarter, year-over-year total revenue and gross merchandising value grew 93% and 106%, respectively. The Shopify platform has processed over $20 billion in sales through 300,000 stores.
While its tremendous growth and early success as a publicly traded company have helped fatten the pockets of early investors, those waiting on the sideline may feel that they have missed out on the growth. Trading at 12.5 times sales, the stock is not cheap. However, there are still reasons to believe the future is as bright for Shopify as its past. Let's take a closer look at three of them.
Founder-led company
Tobias Luetkeisn't exactly a household name like Steve Jobs, Jeff Bezos, or Mark Zuckerberg. Yet much like the popular founders who continued to lead their companies, he's proving himself to be an ambitious, customer-focused leader.
Shopify CEO Tobias Luetke. Image source: Shopify.
According to his Wikipedia page, Tobias Luetke began rewriting code of the games he played at the age of 11 or 12. Instead of going to college, Luetke attended a German apprenticeship aimed at producing computer programmers. By his mid-20s, he had decided to sell high-end snowboards online, which is where he found a need for a better e-commerce platform.
It is often difficult for computer geeks to make the transition to business leaders, but Luetke appears to be doing just that. Trevor Oelschig, a venture capitalist for Silicon Valley Partners, spoke very highly of Luetke:
Venture capitalists aren't the only ones singing Luetke's praises. Daniel Weinand, a friend and partner, said, "it feels like he is going a few years into the future and is coming back with positive information and sharing it with us."
According to Glassdoor employer reviews, 88% of current and former Shopify employees would recommend the company to their friends, and 94% approve of Tobias Luetke. So although Luetke isn't in the same league as Zuckerberg and Bezos, investors should feel good about a talented founder-leader at the helm.
A study by Harvard Business Review found that returns to shareholders of companies that are currently led by their founders are three times higher than those of other companies. At only 35 years old, Luetkehas plenty of time to continue to lead his company to higher levels.
Savvy partnerships
In 2010, Amazon.com (NASDAQ: AMZN) launched Webstore, a platform that allowed SMB retailers to create their own custom e-stores to help them sell on Amazon. Just six years later, it will be shutting down and using Shopify as its partner for third-party merchants. The move was a huge validation that Shopify offers a superior product.
Amazon isn't the only large internet player partnering with Shopify to take advantage of the enormous e-commerce opportunity. Shopify is also the platform behind the "Buy" button on Facebook, Twitter, and Pinterest. Merchants can now also utilize Facebook Messenger to communicate with its customers.
Furthermore, last May, Shopify revealed that developers can start building sales channels for popular apps and sites, Ebates, Houzz, and Wanelo. To reduce the friction of repeatedly entering credit card and shipping information, Shopify announced thatApple Payand Android Pay will be available on all Shopify stores this fall.
Expanding its partner program is a key component of Shopify's growth strategy. Its recent moves make it easier for merchants and shoppers to have a seamless, well-integrated shopping experience -- which, of course, leads to higher retention rates and the expansion of Shopify's overall merchant base.
Huge market opportunity
As mentioned earlier, Shopify does not appear cheap. However, with a market capitalization of $3.5 billion and trailing 12-month revenue of just under $300 million, the company has plenty of room to run. According to Gartner, worldwide spending on digital commerce platforms is expected to grow at over 14% annually, reaching $8.544 billion by 2020. Shopify estimates its global total addressable market at $46 billion. I'm usually wary of company estimates of its addressable markets, but with 2016 global online sales estimated at $1.9 trillion, Shopify's figures don't appear to be far-fetched.
Salesforce.comsaw the enormous opportunity in digital commerce platforms when it spent $2.8 billion to acquire Demandware, a previously publicly traded Shopify competitor. Shopify is currently trading at a 25% premium to Salesforce's acquisition price, but its business performance relative to Demandware shows that it may still be a bargain
In its final quarter reporting quarterly results, Demandware expected 2016 revenue of $308 million and gross merchandising value (GMV) growth of 19%. Shopify expects to finish 2016 with $367 million in revenue, and grew GMV an astounding 106% in its latest quarter.
Like many technology companies in the early stages of high growth, Shopify is not yet profitable. Therefore, investors can expect a lot of gut-wrenching gyrations in the stock price -- much like they've seen over the past 15 months. Shopify stock isn't for everyone, but long-term investors should have a lot to look forward to if they're willing to ride out the volatility.
A secret billion-dollar stock opportunity The world's biggest tech company forgot to show you something, but a few Wall Street analysts and the Fool didn't miss a beat: There's a small company that's powering their brand-new gadgets and the coming revolution in technology. And we think its stock price has nearly unlimited room to run for early in-the-know investors! To be one of them, just click here.
Palbir Nijjarowns shares of Amazon.com, Apple, and Facebook. The Motley Fool owns shares of and recommends Amazon.com, Apple, Facebook, Gartner, Salesforce, Shopify, and Twitter. The Motley Fool has the following options: long January 2018 $90 calls on Apple and short January 2018 $95 calls on Apple. Try any of our Foolish newsletter servicesfree for 30 days. We Fools may not all hold the same opinions, but we all believe thatconsidering a diverse range of insightsmakes us better investors. The Motley Fool has adisclosure policy.