3 Things to Look For During Sonus Communications' Q1 2017 Report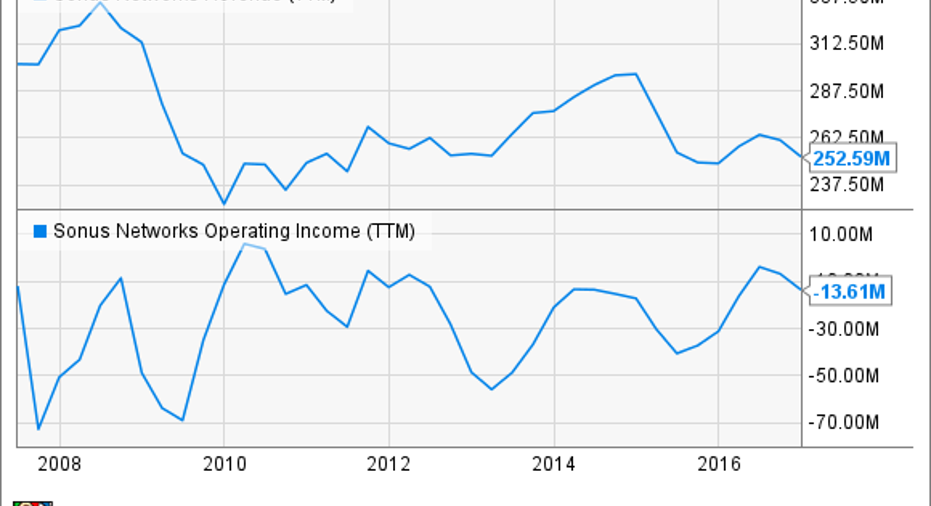 Sonus Communications (NASDAQ: SONS) will report on its results for the first quarter of the year on April 26. The company has been struggling for years to return to growth and made a strategic acquisition last year to try to jump-start business. Here are three things to look for in the press release and earnings call.
Coping with buyer's remorse
Last fall, Sonus purchased a small software-service provider called Taqua for $20 million. The acquired business provided services such as voice-over-LTE and voice-over-Wi-Fi, technology at the core of helping wireless providers transition from old legacy networks.
Image source: Sonus.
During the last release, it was reported that Taqua's sales were coming in much lower than projected at the time of purchase -- $1.9 million, instead of the $4 million to $5 million forecast. It was stated on the last earnings call that Taqua's results would no longer be broken out from Sonus' financials, which is just as well so as not to give investors heartburn over less-than-hoped-for results.
At any rate, it was reiterated that the acquisition was made for strategic reasons, not financial ones. Taqua's tech complements Sonus' plans for future growth, so an update on how those initiatives are working out will be in order.
Heading in a new direction
And that leads nicely into the discussion about Sonus' overall business shift. The company got its start selling hardware that enabled communications via the internet. In recent years, though, mobile networks have come to operate very similarly to the internet and present a big growth opportunity.
The company now offers bothhardware and virtual cloud-based services geared toward mobile operators, helping them make a full switch to 4G networks. The value proposition? Cost savings, an increasingly important item for a telecom industry that is fighting over subscribers.
Sonus has recently announced new contracts with telecom companies. Korea Telecom selected Sonus hardware to help it upgrade its signaling network, or the connection between two callers; and cloud-communication company Telegate is using the virtual SBC SWe session border controller for its peering network, which is the connection between two internet service providers. An update on the new contracts in the world of telecom will go a long way to confirm that the company is making headway in its new strategic initiatives.
Replacing the old box of hardware, Sonus' SBC SWe is a cloud-based solution for securing online communications. Image source: Sonus.
Loving the color red
It's been a long time since Sonus has been in any kind of growth mode. Revenue has been inconsistent and overall flat for the last decade.
Throughout this time, the company has invested to try to change the trend, but to no avail. Along the way, the company has also consistently run at an operating loss, a trend that needs to stop. Running in the red is only acceptable if it results in ever-increasing sales growth (think Amazon.com), but that is not the case here.
Data by YCharts.
The sales outlook for 2017 wasn't great, with management saying revenue would come in between flat and a low-single-digit increase compared with last year. Expectations were for another bottom-line loss.
To be fair, the team at Sonus has said financial results will be inconsistent as it tries to service the cutthroat telecom industry. It always takes time for a new strategy to pay off. But investors should be on the lookout for some added clarity on what to expect and the rationale behind the company's so-far struggling initiatives.
10 stocks we like better than Sonus NetworksWhen investing geniuses David and Tom Gardner have a stock tip, it can pay to listen. After all, the newsletter they have run for over a decade, Motley Fool Stock Advisor, has tripled the market.*
David and Tom just revealed what they believe are the 10 best stocks for investors to buy right now... and Sonus Networks wasn't one of them! That's right -- they think these 10 stocks are even better buys.
Click here to learn about these picks!
*Stock Advisor returns as of April 3, 2017
Nicholas Rossolillo has no position in any stocks mentioned. The Motley Fool has no position in any of the stocks mentioned. The Motley Fool has a disclosure policy.