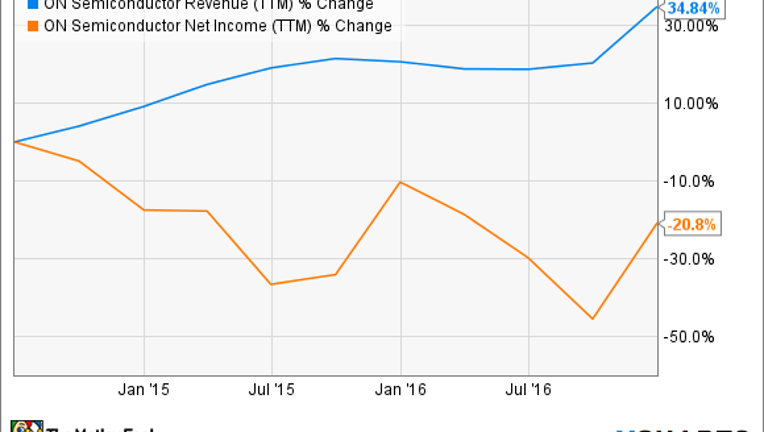 On May 8, ON Semiconductor (NASDAQ: ON) will report its financial results from the first quarter of 2017. The company's stock has been rallying since last summer on an improving tech-industry outlook and an acquisition made in the fall. Here are three things to pay heed to.
Data by YCharts.
Making waves or blowing smoke?
Last September, ON completed its purchase of former rival Fairchild Semiconductor for $2.4 billion. The move is one that's become familiar in the semiconductor industry in the past couple of years: consolidate existing business while setting up a platform for future growth.
Speaking to the benefits of consolidating, ON announced at the time of purchase that it expected the newly merged companies to generate $160 million in cost savings by year's end, with that number growing to $225 million by 2019. That's asignificant 15% savings in 2017 and21% by 2019, considering operating expense totaled $1.1 billion last year. At last report, management said the slimming-down effort was ahead of schedule.
Another reason for the buyout was that the two companies had little overlap in products and end customers. Merging not only helped diversify revenue sources, but it also provides possible revenue gains as the new ON Semiconductor can offer more to its existingclients. Look for a progress report on cost-cutting and sales from the still-recent Fairchild deal.
Image source: Fairchild Semiconductor.
A world of new possibilities
Just a decade ago, ON was primarily in the business of providing power-management and commodity chipsets to computer companies. As that industry slowed down when the world went mobile, the company has been undergoing a transformation, expanding its specialized lineup of products for new industries.
Chief among those new lines of business are connected automobiles, connected industrial parts, and telecom. As the Internet of Things has grown to encompass just about everything, ON's bid has paid off: 75% of its business is now derived from sales outside traditional computers and consumer electronics.
Connected autos have especially been a big driver of growth as of late, and the Fairchild purchasefurthers those efforts as well. A provider of power-supply and connection solutions for the car industry, ONcan nowexpand on its suite of tech andservices in the fast-growing segment. Investors will want to look for signs that the company is continuing to make headway in that realm.
Image source: Getty Images.
Will profits rise?
The stock has had a big run-up since the merger, and revenue has been on the rise. Excluding Fairchild results, sales were up 7% during the last quarter, confirmation that ON's efforts to grow into new product offerings are paying off.
Expectations are that the cost savings will begin to yield results, but that is yet to be seen in the bottom line. Look for year-over-year profitability increases to confirm that the Fairchild acquisition is working as planned.
Data by YCharts.
However, also important to ON is free cash flow, or money left over after basic expenses and capital expenditures. That important metric will be key as the company looks to stay on the offensive while it expands its lineup of tech and with more potential acquisitions down the road.
Data by YCharts.
It's a big year for ON Semiconductor. The newly merged company could break $5 billion in sales this year for the first time, and profitability is expected to begin following suit. The first quarter will be telling for the company and show investors if stated financial goals are still achievable this year.
10 stocks we like better than ON SemiconductorWhen investing geniuses David and Tom Gardner have a stock tip, it can pay to listen. After all, the newsletter they have run for over a decade, Motley Fool Stock Advisor, has tripled the market.*
David and Tom just revealed what they believe are the 10 best stocks for investors to buy right now... and ON Semiconductor wasn't one of them! That's right -- they think these 10 stocks are even better buys.
Click here to learn about these picks!
*Stock Advisor returns as of April 3, 2017
Nicholas Rossolillo has no position in any stocks mentioned. The Motley Fool has no position in any of the stocks mentioned. The Motley Fool has a disclosure policy.