3 Things To Know About Yum! Brands Inc's Big Split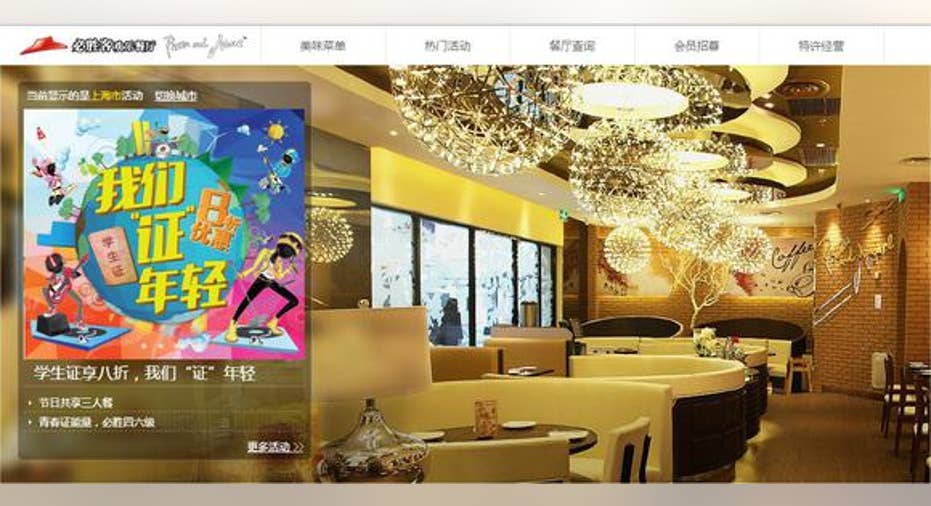 Back in October, Yum Brands , the parent company of KFC, Pizza Hut, and Taco Bell, announced that it would split into two new companies -- Yum Brands and Yum China. On Dec. 10, the company unveiled new details about the upcoming split. Let's discuss the three key things investors should focus on.
Source: KFC.
1. Meet Yum ChinaYum's China division posted solid growth in previous years, but the division's numbers have been declining due to market saturation, breakouts of avian flu, and a brand-tarnishing scandal involving expired meat last year. Although the new Yum China will initially be listed on the NYSE, Yum is reportedly considering adual listing in Hong Kong. The new company will still be led by current Yum China CEO Micky Pant.
Yum's China business generated over half of the company's revenue and operating profit last quarter. During that quarter, comparable store sales only rose 2% annually, completely missing expectations for 9.6% growth. Growth slightly returned with 6% comps growth in September and 5% growth in October, but fell 3% in November. KFC, Yum's top brand in China, posted a 1% decline in November, while Pizza Hut reported a 9% drop.
Despite those troubles, Yum's sales in China rose 8% annually last quarter and still outpaced the combined company's global sales growth of 2.4%. Yum's top rival McDonald's , which was also implicatedin the meat scandal, reported that sales in its "high growth markets" (which include China) fell 4.5% annually last quarter.
Yum will shift to a completely franchised model in China, which should boost its margins by passing overhead risks onto franchisees. Local management could also better tune Yum's menus for regional customers. Looking ahead, Yum plans to open 700 new restaurants this year in China and eventually expand its presence from 6,900 to 20,000 locations. The company plans to test its first Taco Bell restaurants in China within a year, expand into Tibet, and test out new concepts like home delivery. Last year, the division generated $6.9 billion in revenues.
Pizza Hut's Chinese website. Source: Pizza Hut.
2. Meet Yum BrandsExcluding China, Yum Brands generated $6.3 billion in revenues last year. The new company, which will have a global base of 41,000 restaurants, will continue to open around 2,000 new locations annually. Yum's current CEO Greg Creed will continue leading the slimmed down company.
Over time, Yum Brands plans to become a "pure play" franchisor with at least 95% of its restaurants owned or operated by franchisees by the end of 2017. Last quarter, 91% ofYum's U.S. locations were already franchised. McDonald's, by comparison, only franchises about 82% of its systemwide stores.
Yum claims that the new company will have an "extremely attractive" business model with "stable earnings, high profit margins, low capital intensity, and strong cash flow conversion". Yum Brands will remain very diversified geographically. Only 24% of KFC sales and 55% of Pizza Hut sales actually came from the U.S. last quarter. This means that currency impacts, which reduced operating profit by $29 million, will continue weighing down Yum Brands' bottom line. That breakdown is similar to McDonald's, which only generates a third of its revenue from the U.S.
Excluding China, system sales at KFC and Pizza Hut fell annually last quarter, but Taco Bell posted positive growth. Taco Bell's biggest market is the U.S., where innovative products like Doritos Loco Tacos and new breakfast products have propped up sales.
During Yum's annual investor conference, the company claimed that both Yum China and Yum Brands could eventually deliver 15% annual earnings growth, compared to its prior guidance of 10% earnings growth for the combined company.
Yum also plans to return $6.2 billion to shareholders, $1 billion of which will be used for buybacks, before the split completes late next year. By comparison, Yum spent just $680 million on buybacks and $711 million on dividends over the past 12 months.
On its own, Yum China will likely post stronger sales growth than Yum Brands. However, the stock will also be completely tethered to the Chinese economy, which could make it a more volatile stock. Yum Brands will likely be a more stable play, but its shareholders will completely miss out on China's growth as the market stabilizes.
The article 3 Things To Know About Yum! Brands Inc's Big Split originally appeared on Fool.com.
Leo Sun has no position in any stocks mentioned. The Motley Fool has no position in any of the stocks mentioned. Try any of our Foolish newsletter services free for 30 days. We Fools may not all hold the same opinions, but we all believe that considering a diverse range of insights makes us better investors. The Motley Fool has a disclosure policy.
Copyright 1995 - 2015 The Motley Fool, LLC. All rights reserved. The Motley Fool has a disclosure policy.