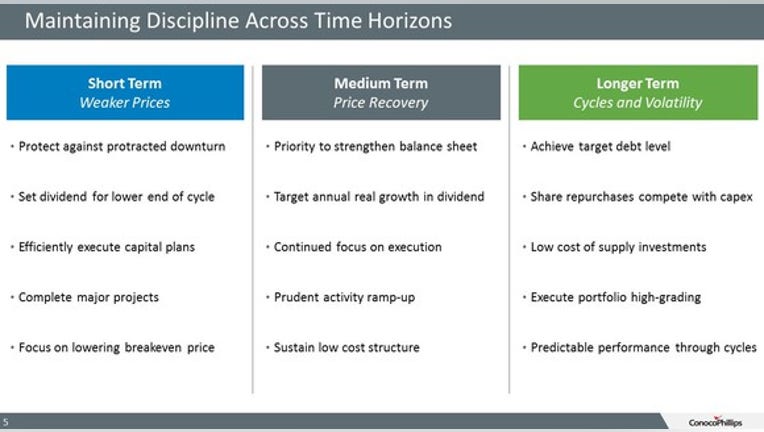 Image source: ConocoPhillips.
Like most oil companies, ConocoPhillips has been forced to readjust how it operates in light of the downturn in oil prices. As such, the company is now managing its business along three time horizons -- short-, medium-, and longer-term -- instead of focusing the bulk of its attention on longer-term growth. In the short term, that means avoiding a repeat of past mistakes by defending against lower oil prices. Meanwhile, for the medium and longer terms, the company has three primary goals: improving its balance sheet, prudently growing production, and returning capital to shareholders. These time horizons were a focus of CEO Ryan Lance's comments on the company's first-quarter conference call.
Medium-term goals
On the call Lance pointed investors to the following slide:
Source: ConocoPhillips investor presentation.
The company's discipline over the short term to protect against weaker prices, he noted,
In a lot of ways, the company's medium-term focus will be on reversing some of the actions the company took to protect against weak oil prices in the short term. For example, after raising $4.6 billion in low-cost debt last quarter to bolster its cash position, the company's goal as prices recover is to pay down that debt. Likewise, after slashing its dividend in light of weaker prices, ConocoPhillips is planning to deliver dividend growth as prices rise. That said, the company plans to remain diligent in one area: keeping a lid on costs.
Longer-term plan
Lance then turned to the company's longer-term focus, saying that its
As Lance notes, over the longer term the company wants to get its debt back below its target level, which would mean reducing it from a current total of $29.5 billion to less than $25 billion. Further, it will strive to run its business so that it can be cash flow neutral at cycle lows. That being said, as prices increase the company has additional options. Lance explained:
Image source: ConocoPhillips.
In other words, over the longer term the company will be focused on two things: returning additional cash to shareholders via share buybacks, and prudently funding investments to grow its production. What is different about this approach from its past plan is the elimination of an absolute growth target, which prior to the downturn had been set at 3% to 5% annually, even if it didn't have the cash flow to support that growth. Going forward the company is ditching this absolute growth target, in favor of per-share growth to be supported by share repurchases.
That approach is more in line with the one taken by oil behemoth ExxonMobil , which typically grows its absolute production by a low-single-digit annual rate. However, ExxonMobil's per-share production growth has been much higher because of share repurchases. In fact, from 2003 to 2013 the company's absolute production just grew by 1% annually; however, thanks to a shrinking share count, production surged 48% on a per-share basis. That focus on share repurchases over absolute growth is one reason why ExxonMobil typically leads its peers in return-driven metrics by a wide margin.
Investor takeaway
ConocoPhillips has three primary goals over the medium and longer terms:
Strengthen its balance sheet by repaying debt to bring it below its target level;
Return cash to shareholders through a growing dividend and share buybacks;
Prudently grow production, with a focus on per-share growth over absolute growth.
The company sees these goals improving its flexibility and its returns, which will enable it to create more value for investors throughout the oil cycle.
The article 3 Things to Expect From ConocoPhillips in the Future originally appeared on Fool.com.
Matt DiLallo owns shares of ConocoPhillips. The Motley Fool owns shares of ExxonMobil. Try any of our Foolish newsletter services free for 30 days. We Fools may not all hold the same opinions, but we all believe that considering a diverse range of insights makes us better investors. The Motley Fool has a disclosure policy.
Copyright 1995 - 2016 The Motley Fool, LLC. All rights reserved. The Motley Fool has a disclosure policy.