3 Things SunEdison Inc. Really Has to Show Investors - Soon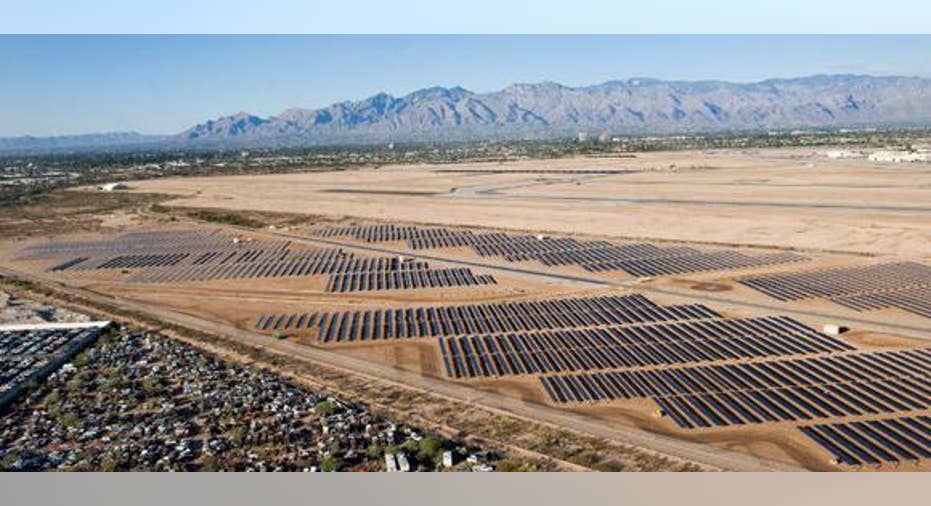 Image source: SunEdison.
SunEdison Inc. still hasn't released its 2015 annual report, delaying for a second time due to what it described as "material weakness" in its internal financial reporting controls. For that reason, we don't know exactly where the company stands or how it's performing against its own, newly formed, strategic plans.
When we do hear from SunEdison about the fourth quarter of 2015 and the start of 2016, here are three questions we have to hear satisfactory answers for -- or the company will be in deep trouble.
Can SunEdison sell projects for a profit? When SunEdison laid out its financial plans for 2016, it assumed it would be able to sell the renewable energy projects it builds to third parties for a 17% gross margin. Operating expenses were also forecast to decline to $600 million per year. If those two assumptions proved accurate, it could build 3.5 GW of projects a year, sell them, and break even on operations (we'll leave out financing costs for now).
The problem with this is that TerraForm Power and TerraForm Global have fallen so far that there's no way they'll buy projects in the near future. SunEdison says it can use warehouse vehicles to house projects, but we don't know what they'll be willing to pay for projects. With the yieldco market in shambles, and the number of third-party buyers limited, I'm not sure who is going to buy $7 billion or more in assets this year alone.
SunEdison needs to prove that it can build and sell renewable energy projects for a gross margin of 17% or better. If it can't, it won't stand a chance of keeping up with debt payments.
Image source: SunEdison.
Can it handle its debt? The most alarming move SunEdison made in the past year was swapping convertible debt for new debt with an adjustable interest rate and an 11% floor. That's an insanely high interest rate in the renewable energy industry.
As of the end of Q3 2015, debt at SunEdison was $7.9 billion and $3.0 billion was full recourse to SunEdison. That's not sustainable at interest rates of 5% or 6%, much less 11% or more. Progress has to be made on reducing it, or SunEdison is in real trouble.
Can it execute? The sale price of projects and the repayment of debt both hang on one key factor -- executing on building projects effectively. That's why Hawaiian Electric canceling contracts with SunEdison last month was so alarming. SunEdison had missed multiple project deadlines, and it wasn't clear when the projects would have been completed.
If SunEdison can't build projects efficiently, nothing else in the business model matters. And there's uncertainty that it can even get that right.
There's a lot to prove when SunEdison finally files its 10-K. If it doesn't execute well, generate strong margins, and have a plan to reduce debt, the company may be in trouble.
The article 3 Things SunEdison Inc. Really Has to Show Investors - Soon originally appeared on Fool.com.
Travis Hoium has no position in any stocks mentioned. The Motley Fool has no position in any of the stocks mentioned. Try any of our Foolish newsletter services free for 30 days. We Fools may not all hold the same opinions, but we all believe that considering a diverse range of insights makes us better investors. The Motley Fool has a disclosure policy.
Copyright 1995 - 2016 The Motley Fool, LLC. All rights reserved. The Motley Fool has a disclosure policy.