3 Things NVIDIA Is Doing Right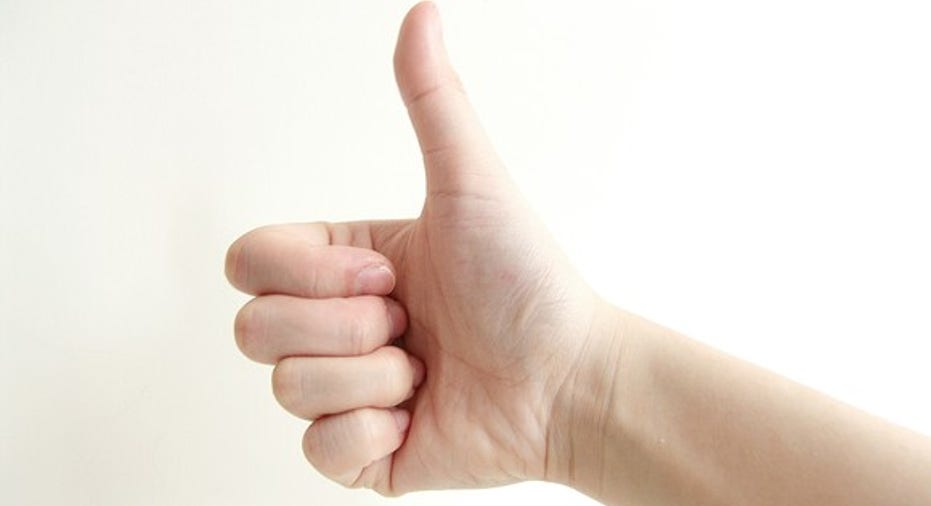 Image source: Getty Images.
NVIDIA's stock price is up 113% over the past 12 months, the company's revenues were up 13% year-over-year in the first quarter of its fiscal 2017, and CEO Jen-Hsun Huang says the company is seeinggrowth across all of its platforms.
So why is NVIDIA in such a good position, and how might it stay there? Let's take a look at three things the company is doing well to answer that.
NVIDIA's dominant graphics processing business
The most obvious advantage the company has right now is its graphics processing unit (GPU) business. NVIDIA currently holds 76% of the discrete desktop GPU market, and it's continually growing the business.
Most of the company's GPU revenue comes from its gaming chip business, which saw revenues grow 17% year-over-year in Q1. And that growth came even before the company introduced its new Pascal GPU architecture. The Pascal processors just went on sale last month, so investors should start seeing the benefits in the coming quarters.
Not only should Pascal help GPU sales overall, but it could give the company an advantage in the virtual reality market. NVIDIA's GeForce GTX 970 and 980 GPUs are already in PCs that power the Oculus Rift and HTC Vive high-end VR headsets. But Pascal takes this even further by adding features like realistically simulating how audio travels around a room, to make VR even more immersive.
TrendForce expects the U.S. virtual reality market to reach $70 billion market by 2020, giving NVIDIA plenty of room for more growth.
Diving into automotive technologies
Let's get this out of the way first: NVIDIA does not make a lot of money from its automotive segment right now -- just 8.6% of revenues in the most recent quarter. But I think NVIDIA is wise to focus on the auto segment as the industry is pivots toward autonomous cars.
NVIDIA is already on its second-generation driverless car computer, the Drive PX 2, and is currently working with 80 automakers and Tier 1 suppliers to test out the technology. And the company recentlydebuted its DGX-1 supercomputer, which can be be paired with Drive PX 2 to process real-time autonomous driving information from the cloud.
On top of that, NVIDIA's processors are already used by automakers for in-car infotainment systems, and the company's overall automotive revenues were up 47% year-over-year in Q1.
Growing its machine learning business
Machine learning, which is a part of the larger artificial intelligence segment, is where computers learn to recognize new information or patterns without have to be preprogrammed to identify them. And tech companies are increasingly looking to GPUs to power machine learning systems.
Facebook uses NVIDIA's Tesla M40 GPU accelerators to help power itsBig Sur machine learning computer servers. NVIDIA's tech allows deep neural networks to process data 10 to 20 times faster than other neural network computers. NVIDIA says its GPUs also help neural networks learn new information in just a few hours, as opposed to days or weeks with rival systems.
Machine learning is part of the reason behind NVIDIA's development of the Tesla P100 GPU, which will help power enterprise data centers. The company's move into machine learning could help it gain a piece of a cognitive computing market expected to reach $12 billion in revenues by 2019.
Investor takeaway
NVIDIA's gaming segment is still the big revenue driver for the company, bringing in about 52% of total revenue. But the company's automotive and machine learning prospects prove the company knows how to apply its GPU prowess in new markets. It still has a long way to go in those spaces, but the company's hardware innovations show me that it is on the right track to build out its empire even further.
The article 3 Things NVIDIA Is Doing Right originally appeared on Fool.com.
Chris Neiger has no position in any stocks mentioned. The Motley Fool owns shares of and recommends Facebook and Nvidia. Try any of our Foolish newsletter services free for 30 days. We Fools may not all hold the same opinions, but we all believe that considering a diverse range of insights makes us better investors. The Motley Fool has a disclosure policy.
Copyright 1995 - 2016 The Motley Fool, LLC. All rights reserved. The Motley Fool has a disclosure policy.